At the Dew Tour Championships in Las Vegas in October, BMX pro Dennis McCoy finished out his 25th year as a professional rider. To say that this was a huge accomplishment for the 43-year-old vet from Kansas City, Mo., would be an understatement; it's a monumental feat that might never be repeated. And not only that, McCoy has remained a top competitor for all 25 of those years, spanning flatland, vert, park, street and dirt.
McCoy's roots as a pro date back to the mid-'80s, when he turned pro for Haro. Throughout the late '80s, McCoy (better known as "DMC") placed in the top spots in flatland and ramps. And when freestyle entered into a recession in the early '90s, McCoy was one of the only '80s-era pros to continue riding at a professional level. Throughout the '90s, McCoy continued to dominate both flatland and ramp contests, claiming his 10th year-end overall title in 1995, a "decade of domination" as it has come to be known.
Following the turn of the century, McCoy focused more on park and vert, but continued to compete at the professional level at the X Trials, X Games, Gravity Games, Vans Triple Crowns and any other professional BMX contest around. In fact, Dennis has competed at every X Games since the event started in 1995. DMC has remained a fixture in the vert class to this day, even grabbing third place at his most recent contest, the Dew Championships in Vegas -- his best vert-contest placing in several years.
This is Dennis McCoy. Legend. Influence. True BMX pioneer.
ESPN.com: How does it feel to be finishing your 25th year as a pro?
McCoy: It's a great finish to the year for me, getting third place in vert at the Dew Tour in Las Vegas.
Dennis McCoy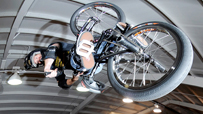 WIDTH="203" HEIGHT="114" BORDER="0" ALT="">
For 25 years, Dennis McCoy has been at the forefront of BMX competition. Here's the proof. Gallery

Is that your best placing in vert in a few years?
Yeah, unless you count overseas comps. But before that, I got second place at the Gravity Games in '05. Obviously, when you've got [Jamie] Bestwick winning a lot, and vert being as competitive as it is, getting in the top few spots isn't that easy. It felt good in Vegas, to get third by riding well. It wasn't a situation where I got third because other people had an off day. I just had some new stuff that I was waiting all year to do. The year started out great for me, but as far as contests go, and I'm talking about my 25th year of competing, we didn't get started until late July. And my first run, on an invert 5, I slid out, and I thought, "Well, that's not how I wanted to start things off." And less than a week later, at the X Games, I took another unfortunate knock to the head and got knocked silly. Typically, the X Games are the place where I can think of a way to make something happen. Even if it's not a medal, it's top 5. And this year, things didn't go that way. So to have it end in a good way was definitely satisfying. It's felt to me like it's time for me to turn the page on a new chapter. I've really gotten the itch to continue learning new tricks. Call it a third wind, I don't know. I'm just amped to take my riding to the next level.
What would you say is the biggest difference between your early days on the AFA circuit and today, besides the obvious, like tricks and technology?
Those are the biggest differences, but it's been such a gradual change. It didn't happen overnight. One thing that's always been there is the progression. You just knew that next year, someone was going to come out with something ridiculous. To me, there's never been some point where it was eye opening, like, wow, everything is different. Honestly, since the X Games came about 16 years ago, it's changed since but not drastically. It's always been incremental. To have competed through all of this, there's never been one year where I thought that everything was going to be different. Obviously, the people you compete against changes. My first halfpipe contest was competing against Mike Dominguez, and then it went to me and Mat Hoffman for a couple of years, and then to [Dave] Mirra and [Jay] Miron, and so on. Throughout the years, it's been cool to have different guys to share the deck with.
How does it feel to be the one person who outlasted everyone else in the vert class?
I don't give it too much thought. The guys I mentioned could still tear up a vert ramp. But occasionally, when I think of when 1992 rolled around, and I was the one pro rider hanging over from the early AFA days, it was suddenly like, "Wow, I'm competing against these guys now," meaning Hoffman, Mirra and Miron. Then the X Games rolls around, and Kevin Robinson started ripping it up, and then Bestwick came over from England, and all of a sudden, there are all these new faces, and before I know it, the whole lineup had changed and everyone is asking themselves when the old-timer is going to hang it up. I guess it goes back to the fact that I've been motivated year in and year out. I continued going to contests, and if I did well, that motivated me. And if I did badly, that motivated me, too. I've had my fair share of injuries, but I've ridden through them. I mean, what else am I gonna do? Sit around and do yard work all day?
src="https://a.espncdn.com/i/story/design07/dropQuote.gif" />
What else am I gonna do? Sit around and do yard work all day?
src="https://a.espncdn.com/i/story/design07/dropQuoteEnd.gif" />
--Dennis McCoy
Do you still ride park contests at all?
Not contests. I'd like to, and I'd love to go to something in the middle of the winter where I'm not worried about the upcoming season. But I made a conscious decision the past couple of years not to ride it. This year, it was six days before the X Games, and it didn't make a lot of sense for me to get hurt. I'd go out there, and I can't stop myself from trying to abubaca the biggest thing on the course, and I could get hurt. It's made it a lot less stressful, too. I have on-site responsibilities at events, and I don't wanna worry about figuring out my park run while I'm busy. I'm not done with it in any way, shape or form. I'm just taking a break and focusing on vert.
A lot of people these days don't know that you were also the top flatland pro in the late '80s. What made you step back from flatland?
Before I officially stopped competing in flatland, I was putting a lot less time into it. Once you commit yourself to building ramps in yards, and doing demos on the road, I didn't have the time to dedicate to flatland like I once did, which was 8-10 hours in a parking garage each night. But really, tearing my wrist ligament at the first X Games in '95 had an impact. I had to get surgery, and I went from having a normal range of motion to about 30 percent of what it once was. All of a sudden, the things I was into doing, like hang gliders, were completely painful. I finished out that year riding injured, and went on to win the overall title in my 10th year. But it was getting to where flatland was the most painful discipline for me to ride. Not to downplay ramp riding, but if you can drop in and let the transition do the work for you, it amazes me how many injuries you can get away riding with. But that's not the case with flatland. You have to support your body weight, and if something's hurt, you're gonna know it.
Do you have a most memorable contest in your 25 years of competing?
I guess I'd have to go with the '86 Velodrome, where I had a runoff with R.L. Osborn for the flatland title. Large Ray referred to it as one of the top 10 moments in sports [laughs]. It's so funny, because for me at the time, it wasn't a big deal. In hindsight, it was my rookie year as a pro, I'm going for the year-end flatland title against the dude I grew up looking at in magazines. And we did five-minute runs at the time, with a one-minute runoff. I guess some people thought I had already won. I knew R.L. did a perfect run, so I wasn't arguing the point. I remember someone saying that they wanted to protest the results. And then I heard that it was a tie, and that I had to do a runoff. It never entered my mind that I'd go out and choke; I just went and did my run again. R.L. went out and touched on his first trick. So it was a foregone conclusion that I was probably gonna win it, but then I went out and rode anyway. And if another one stood out, it was the 2001 Vans Triple Crown when I won park. There were probably 75 guys in that class, and my run included an abubaca on an 8-foot wall, stuff I really loved to do that nine times out of 10 will make you slide out and crash on. And I had dual wrist surgery lined up for the next morning. So to finish off that year with a victory in a big park comp before going under the knife, that felt good.
And what would your worst memory be?
I wouldn't remember the worst memories, because those are the ones where I'm completely knocked out cold. I remember riding a comp in Orlando once, and my back was in horrible shape. But I still managed to get second in vert, and I pulled my first flair on a vert ramp. But I remember standing on top of the vert wall, thinking, "Why am I doing this?" But there was that part of me that thought, "I'm here to compete, so I might as well." And it was also the time where I had started the Rider's Coalition. I got news a few days before leaving that we would be practicing at 8 a.m. and competing at 9 a.m. I was livid. We went from 10 p.m. finals at Scrap in Chicago to 9 a.m. I felt like we were losing control because of the TV thing. So I put together a list of what we considered demands, and marched up to [X Games founder] Ron Semaio. And he was cool with everything. If I had known it would've been that easy, I would've asked for more prize money [laughs]. But who looks forward to riding at 9 a.m. with a bad back? I rode pretty good there and took a few days off, but I didn't enjoy myself during the contest.
Was there any one contest where you thought that the riding had progressed, as far as trick progression?
I could go way back, '85 Venice Beach. Seeing some of the pros ride then, I was still amateur. But also, flatland was so new that everyone was bringing their own style to the table. So many different directions came out, and I wasn't really doing the type of riding that all of the pros were doing. I'd show up and see guys doing balance tricks, and that didn't really interest me. I was more into combinations and links.
I know you've had your fair share of injuries, right?
I've torn both scaphoid ligaments in both wrists. It's great to throw that out there if you don't properly tweak a table. I've torn both ACLs, and I've had those artificial ligaments put in in both knees in Montreal. Broke my third metacarpal that required a plate to be put in. Broken toes, broken jaw -- a bunch of concussions. I've definitely had my fair share, but I also realize that it's my 25th year of competition, so things add up after a while.
How much longer do you think you can go?
I did an interview for Vital about five years ago, and I said that in 2010, I would be 43 and that it would be great to win an event. And I came pretty close to doing that recently. It's a new decade, but as time has rolled around, I'm more motivated for next year than I was when I did that interview. I don't see any reason for stopping now. There will be a day when I'm not competing, but I don't think there will ever be a day when I decide to stop competing. I enjoy doing it, and I feel like I'm improving as a rider. When the day comes when I'm not doing that, I might take a different look at it. But even then, if I enjoy it, why not keep doing it?