Rickey Bates' first trick in "Banned 3: Better Off Dead" was a roof drop off what looked like an abandoned house. After landing, he jumped from his bike onto a landlocked jet ski being pulled by car and bailed after a few feet.
Thus began my introduction to Casselberry, Florida's Bates. Earlier this week, a car accident took the lives of Bates, along with friend and fellow Banned crew member, N.J. to Fla. transplant Gary Dimartine. The accident also took the life of 46-year-old Matthew Uhl, an Arizona Department of Safety employee and husband and father of three, on a stretch of road that was dimly lit and notorious for fatal accidents.
Rickey Bates, 1986-2011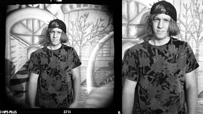 WIDTH="203" HEIGHT="114" BORDER="0" ALT="">
Sputnic/Shadow/Banned pro Rickey Bates is remembered. Gallery

And BMX is unfortunately left to ponder what comes next.
Bates, 24, was the creator of the "Banned" video series, with four DVDs under his belt featuring a rag tag bunch of riders from Central Florida and beyond -- all pursuing a loose brand of street riding that took the high speed roof drops of Jimmy Levan and combined that with a low budget BMX approach similar to that of the Dirt. Bros and FBM.
The earlier videos were originally titled "Banned in Orlando," borrowed from the Bad Brains song, 'Banned in D.C.' Ultimately, the title was shortened to "Banned," but the original Bad Brains influenced font was kept, as was the impetus behind the videos -- to go fast and ride everything, with an eclectic eye for spots that started at the trails and ended up on rooftops and in post-industrial foundations, abandoned houses and swamp-ridden ditches.
Through the "Banned" series, Bates inspired a new generation of Josh Strickers and Jimmy Levans to leave home, live on the cheap in suburban Orlando and avoid the pressures of real life, all the while having fun on bikes. And in many ways, the "Banned" videos stood as the antithesis to the "get sponsored, make money" route in BMX; Bates, Dimartine and the Banned crew just knew what they liked to ride and made videos to document that process.
Along the way, of course, people took notice. Everyone from Sean Burns (who sponsored Banned's Colt Fake when Bonedeth started making frames) to Ron Bonner (who helped elevate "Banned" from a crew of riders making videos into a fledgling hard goods brand.)
Bates was added to The Shadow Conspiracy and Sputnic pro teams, given a signature frame through Sputnic (dubbed the Regulator, another Bad Brains song) and was featured in countless videos from Shadow, Sputnic and Banned. But instead of pursuing his own idea of a "pro" career, Bates returned to "Banned" and helped the brand to create signature sprockets for Banned rider Patrick King, signature bars for Colt Fake and a new signature stem for Banned's Gary Dimartine.
Rickey Bates was forging his own path through BMX, and he was taking his friends with him. His vision of what "Banned" could become was finally taking the next big step.
Last week, Bates and Dimartine traveled to Las Vegas, Nev. from Orlando, driving instead of flying, to showcase Banned products at the Sparky's Distribution Booth at Interbike 2011. Rickey dismissed the dry desert heat via Twitter, and witnessed the Brian Deegan-Dave Mirra boxing match, before hitting the road south for Arizona.
Unfortunately, they never reached their destination.
According to Shadow team manager Ryan Chadwick, "There was no foul play involved and it was only a case of wrong place, wrong time. Rickey was with his good friend Gary Dimartine, who also passed."
Tuesday night, BMX lost two true individuals on the road somewhere outside of Phoenix, but the Banned legacy will endure, even if Rickey Bates and Gary Dimartine were taken before their time.
Rest in peace to Rickey Bates, Gary Dimartine and Matthew Uhl.