In preparation for the Olympic Games in London, Team Australia BMX rider Caroline Buchanan had her nails painted. Both hands were painted the colors of the Australian flag, with small details added commemorating her Australian heritage and commitment to winning Olympic gold. A small kangaroo was added, on top of the words "Aussie, Aussie, Aussie, Oi, Oi, Oi."
Earlier this year, the 21-year-old female BMX racer from Canberra became the first Australian woman to win a round of Supercross, and as of May, she's the No. 1 female BMX racer in the world.
But she still takes time to get her nails done.
This week, Buchanan is in the Olympic Village, surveying the Olympic BMX track, taking ice baths and wondering what to eat at the village dining hall. And through social media, Buchanan is interacting with her fans, enjoying her time in the Olympic spotlight -- a well-deserved spotlight.
Buchanan started racing BMX at age 5, and is an 11-time Australian champion in BMX racing. Considered to be one of the top Australian racers heading into the 2008 Olympic Games in Beijing, Buchanan was ineligible to race because of her age. "For Beijing, I was too young, I was 17 at the time and you had to be 19. Ever since then, it's made me really hungry to try and qualify for the London Olympics," said Buchanan.
Team Australia's Caroline Buchanan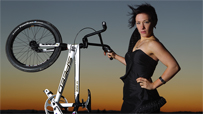 WIDTH="203" HEIGHT="114" BORDER="0" ALT="">
Top-ranked female BMX racer in the world Caroline Buchanan, ready for London. Gallery

To fill the void left by four additional years of training, Buchanan paired her BMX racing with more bicycle endeavors, competing in four cross and downhill mountain biking. She has been four cross mountain bike world champion twice, Australian mountain bike champion (downhill and four cross) eight times, and has been named Australian female mountain bike rider of the year three times.
In 2011, Buchanan decided to focus on qualifying both herself and Team Australia for the Olympics in London. Adapting to the UCI Supercross tracks with ease, Buchanan earned respectable placings in South Africa (fifth place) and the Netherlands (third place), but suffered later in the year with disappointing finishes at the World Championships (17th) and UCI Supercross London (13th).
A lot can happen in a year, though.
In 2012, Buchanan's training and focus pushed her to the top of the podium at UCI Supercross round two in Norway. Not long after, Buchanan returned to the Netherlands to earn second place at UCI Supercross round three. At the World Championships in Birmingham, England, in late May, Buchanan earned eighth place. Not long after, Team Australia came calling, and full-time training for the London Games began.
src="https://a.espncdn.com/i/story/design07/dropQuote.gif" />
To come into London being ranked No. 1 in the world in Time Trials and leading the World Cup season, I'm definitely right where I want to be right now.
src="https://a.espncdn.com/i/story/design07/dropQuoteEnd.gif" />
--Caroline Buchanan
On Wednesday, Buchanan will race Women's Time Trials at the Olympics, and she's confident in both herself and Team Australia. "As a team going into the Olympics, we're all really confident," she said. "Of course we're a little bit nervous -- it's our first time in the Olympics, but we've all got high hopes and we're fit, strong and ready, and our results have proven this year that we're the No. 1 nation to go for gold.
"To come into London being ranked No. 1 in the world in Time Trials and leading the World Cup season, I'm definitely right where I want to be right now," she added.
The Olympic-specific manicure and nail paint may not make it through the week, but Caroline Buchanan is prepared for the biggest race of her BMX career. "This has been a dream of mine since I was a little girl, before BMX was even added to the Olympics. And it's now a reality."
BMX racing at the 2012 London Olympics begins on Wednesday. To track Caroline Buchanan's progress, follow her on Twitter, Facebook and Instagram.