Preview
Time Trials
Quarterfinals
Finals preview
Finals
Latvia's Maris Strombergs returned to form to secure his second straight Olympic gold medal in BMX racing on Friday. The 25-year-old Latvian known as "The Machine" wasn't considered a favorite after the quarterfinals and semifinals, but he powered ahead of the eight-rider pack during the finals, finishing with a time of 37.576 seconds.
2012 Olympic BMX finals, London, UK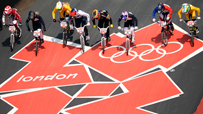 WIDTH="203" HEIGHT="114" BORDER="0" ALT="">
Maris Strombergs and Mariana Pajon win Olympic BMX gold in London. Check the photos. Gallery

As the race ended, Strombergs removed his helmet and paced the area surrounding the finish line, a look of disbelief on his face. His win landed Latvia their third gold medal ever in Olympic competition.
"It's so tiring and I still can't believe it. Deep inside I was confident but I think my nerves got the best of me, especially at the beginning of the race yesterday and today," said Strombergs moments after the race.
"But I tried to keep calm and I had a good conversation with my coach before the last moto (race) and deep inside I was confident. It's amazing."
Taking the silver medal for Australia was Olympic rookie Sam Willoughby, followed by Colombia's Carlos Mario Oquendo Zabala, who took the bronze medal for the men's division. Rounding out the top five finishers in the men's final was the Dutch National BMX team, with Raymon van der Biezen taking fourth place and Twan van Gendt taking fifth place.
In the women's division, Colombia's Mariana Pajon won the gold medal, securing the holeshot out of the gate and building a commanding lead throughout the race. Pajon, 20, of Medellin, Colombia, finished the race with a time of 37.706 seconds. At the start of the London Olympics, Pajon carried the Colombian flag during the opening ceremonies and then she became the second athlete in Colombian history to win Olympic gold, after Maria Isabell Urrutia won hers in weightlifting in Sidney.
Trailing behind Pajon for the silver medal in the women's division was New Zealand's Sarah Walker, followed by Laura Smulders of the Netherlands. Fourth place went to France's Laetitia le Corguille, who won silver at the 2008 Olympics in Beijing, followed by Australia's Caroline Buchanan in fifth.
BMX racing debuted at the 2008 Olympics in Beijing and returned for a second appearance in London this week. Friday's finals at the Olympic Park BMX track attracted celebrity interest from spectators David Beckham and UK Prime Minister David Cameron.
London Olympics 2012: Women's BMX Finals
London Olympics 2012: Men's BMX Finals
London Olympics 2012: Women's BMX Semifinals Heat 1
London Olympics 2012: Women's BMX Semifinals Heat 2
London Olympics 2012: Men's BMX Semifinals Heat 1
London Olympics 2012: Men's BMX Semifinals Heat 2