Two days after the sudden death of 2008 BMX Olympian Kyle Bennett, the BMX race community remains shocked by the news. Bennett's hometown track, Armadillo BMX Park in Conroe, Texas, hosted a candlelight vigil on Monday in honor of Bennett, who was killed over the weekend in a single-vehicle auto accident in Texas.
Kyle Bennett 1979 -- 2012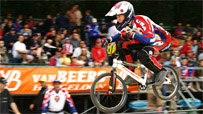 WIDTH="203" HEIGHT="114" BORDER="0" ALT="">
A look back at some of Kyle Bennett's BMX career highlights. Gallery

"We have lost a magnificent person who touched the lives of many, and will leave a continuing legacy in the world of BMX and in the hearts of all that knew him," read the Armadillo BMX Park website following the vigil.
Bennett's longtime sponsor, Free Agent BMX, shared the sentiment. "Kyle was the first racer to win major titles for Free Agent since the '80s. But much more than that, he was an extraordinary rider with noticeable style, a remarkable man, father and friend. He will be missed but never forgotten," said Free Agent team manager Dale Holmes.
Bennett, 33, was a three-time UCI World champion, three-time NBL champion and 2009 ABA champion. He was also the first BMX rider to qualify for the United States men's team when BMX debuted at the 2008 Beijing Olympic Games. Bennett was a gold-medal contender in Beijing, but did not medal due to a dislocated shoulder suffered during the semifinals.
Since the 2008 Olympics, Bennett continued to ride for Free Agent and pursue a professional career. He parted ways with Free Agent in January 2012 (after riding for the brand for nine years) and ultimately settled back into a spot on the Off Road Peddler (ORP) shop team, for which he rode as a professional racer in 2000. Bennett was largely recognized for his smooth and stylish take on BMX racing, which had earned him the nickname "Butter."
The BMX community has since banded together to raise funds for Bennett's memorial services. Contributions are currently being accepted through the Armadillo BMX Park website.