"New Year. No Limits" Through the Ages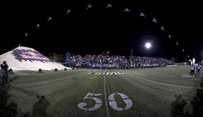 WIDTH="203" HEIGHT="114" BORDER="0" ALT="">
Four years of New Year's eve jumps. Gallery

The long-distance jumping record has always held a certain mystique for motocross fans, and this year's Red Bull: New Year. No Limits jump -- which will air live on ESPN on Dec. 31 -- promises plenty of spectacle. Robbie "Maddo" Maddison will attempt to push the mark beyond 400 feet in a tandem jump over California's San Diego Harbor with snowmobiler Levi LaVallee, who's going for a distance record on a snowmobile. For context, it's worth noting that Evel Knievel's longest successful jump -- over 14 Greyhound buses at Kings Island in Ohio, back in 1975 for "ABC's Wide World of Sports" -- was at the 133-foot mark. Maddo has previously held the record at more staggering numbers like 322 feet and 351 feet, but the official record currently on the books stands at 391 feet, set by Ryan Capes. Maddison spoke with ESPN about his upcoming jump after a training session that was more successful than he's presently at liberty to say.
What's your confidence like heading into the New Year's Eve jump?
I'm pretty confident, but at the same time it's definitely a risky jump. The last jump I did in practice I didn't get the result that I'm after on the big night, but we've made some changes to the bike and now I know what I've got to do. Obviously a lot of it will rely on the conditions of the night, but as long as it's not overly windy, I'm fairly certain I'll be sending myself and my dirtbike well over 400 feet.
Ryan Capes has the current record.
Nope! I already broke it in practice. I can't share numbers at this point but I can say that people who tune in on New Year's Eve are going to see something that's never been done before.
What goes into planning and training for a jump like this?
For starters, I'm really stoked on my bike. The engine was built by Joe Gibbs Racing, the NASCAR guys, and we've done a lot of testing, so I can say with confidence that I've got pretty much the most reliable, hardiest, fastest 450cc engine you can get. Beyond that, for me the main thing that goes into each of these jumps is all of the previous jumps that went before it. For this jump, I've taken everything I've learned from my past jumps and changed it up a little bit, and I'm confident this is the setup that is going to take me past 400 feet. Then I'll analyze what I learn here and make some more changes that will hopefully take me to the 450 mark and the 500 mark in the future. We're nowhere near the end of how far you can fly on a bike, and now that 400 feet is on the horizon, I'm already starting to look far beyond that.
Let's talk about that number: 400. Why is it important to you?
It's just another rung in the ladder, but it's an important one because there will be a lesson there that is going to help me understand how to go even farther. And don't get me wrong, 400 feet has been scary. There's no one who knows the answers you're looking for about how to make it work, so you're shooting in the dark.
What specific challenges does the San Diego Harbor location present?
The hardest bit is just having the water there, because you can't do a speed run past the takeoff ramp to check your speed. Once you're there you just have to go for it. And then having Levi right next to me on his snowmobile is pretty much the scariest part of the whole ordeal.
You missed X Games 17 and the last two stops of the Red Bull X-Fighters tour due to some injuries. What does the New Year's Eve "No Limits" jump represent to you as you look forward to 2012?
This is the start of a new era. To me, this jump represents a turning point in my career and the fact that I'm going to be pushing this side of the sport a lot more in the future. I'm proud of my accomplishments in freestyle and I'll continue to compete in FMX, but I'm also really trying to change the game a little bit so I can jump even farther in the future. I've developed an invention that I'm excited to release early in 2012, and I'm out there to do the craziness, the unthinkable, and be a game-changer. I'm excited to go into 2012 because I've got some plans and some ideas that I want to bring to life, and this New Year's jump is going to be the start of it.