Some athletes are best known for being polarizing, some for their charisma, others as self-centered egoists. None of these character traits comes to mind when one thinks of Ryan Villopoto. He is, quite simply, a consistently great athlete. Right now, on the heels of three premier class championships in less than 11 months and other impressive accomplishments, he is a wrecking ball.
Ryan Villopoto's 2012 Championship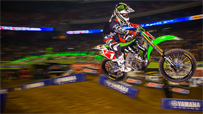 WIDTH="203" HEIGHT="114" BORDER="0" ALT="">
Ryan Villopoto's path of Supercross domination continues into 2012. Check the photos. Gallery

In December 2011, he remained confident but cautious. "It is going to be hard to repeat," he said. Yet, after eight wins in 13 rounds of racing, he has delivered. Villopoto has done something that even dominant riders such as James Stewart, Ricky Carmichael, Jeremy McGrath and Bob Hannah never accomplished: won an AMA Supercross title with four rounds remaining.
On Saturday, Villopoto took home the 2012 Monster Energy AMA Supercross Championship, a series that doesn't end until May.
Villopoto's torrent of accomplishments has led many to prod him about the records that he could beat. At age 23, he has time to stack titles on top of wins, but after winning every race and championship available since turning pro full-time in 2006, he doesn't think like Ricky Carmichael once did. Villopoto hates losing and loves winning as much as Carmichael, but while RC enjoyed saying, "It's all about the record books now," Villopoto just shrugs off the notion of chasing statistics.
"With the past two seasons I've had people say, 'Oh, if you keep going the way you're going ...' " Villopoto said. "Jeremy McGrath had a great career and he won 72 supercross races but, realistically, for me to match that or go past it would mean me racing a lot of years. My goal is not to just race a lot of years; I want to have some good, prime years and then step away."
Squandering these peak years, this 23-year-old is not. After 13 consecutive weeks of racing, with a championship well done and a looming weekend off, most riders would bolt for the beach or at least take a day off. Instead, Villopoto went testing with his Monster Energy Kawasaki team this week.
"The supercross championship is done and over with and it came four races early," Villopoto said. "On Monday morning we rolled out and did outdoor riding already. I had a few hours to enjoy the championship. The next day rolls around and you keep moving forward."
Four races early. One hundred points are still available and everyone else is racing for second, which is astonishingly still held by Ryan Dungey (who missed the past four races with a collarbone injury).
It's easy to take the "Yeah, but his competition was injured" approach. Time makes short memories shorter. After a dominating opening round in January against Reed and Dungey, Villopoto spent the next two races doing damage control. Against this competition, it's a long return to the front when completing the first lap in last place. Don't forget that Villopoto salvaged third- and fourth-place finishes out of Phoenix and Los Angeles, two races where his competition was still well and competing.
src="https://a.espncdn.com/i/story/design07/dropQuote.gif" />
You have to be consistently fast, you have to be consistently winning races. You have to be consistently the best on some weekends.
src="https://a.espncdn.com/i/story/design07/dropQuoteEnd.gif" />
--Ryan Villopoto
Villopoto said at the beginning of the season that he was a lot further ahead than he was coming into 2011. Winning isn't easy, but the odds get better when that's the only thing a rider has to worry about. When the suspension is right, the strength is in storage, the motor's tuned well and the confidence is high, the consistency comes easier. And that is why Villopoto is only the fifth back-to-back champion in AMA Supercross history.
Consistency is a trait, but when respected as a skill it has enormous power in sports. In supercross, only the riders who consistently line up week after week have a shot at winning races -- and titles. But isn't that obvious?
"You cannot be just consistent," Villopoto said. "You have to be consistently fast and consistently winning races. You have to be consistently the best on some weekends. You don't have to be the best every weekend, but you have to have consistent weekends of winning races. That goes for any sport out there."
In 2011, Villopoto survived a four-man fight to the final flag, against riders who were consistently fast, strong and present. In 2012, he survived the demons of injury and inconsistency that burdened Trey Canard, Chad Reed, James Stewart, Ryan Dungey, Josh Grant, Andrew Short, Ivan Tedesco and many more before him.
With four races left on the supercross calendar and this weekend off before the final stretch, Villopoto earned himself nearly seven full weeks to focus on his next goal: a second consecutive Lucas Oil AMA Pro Motocross Championship.
He's the clear favorite to become the first repeat winner of that series since Carmichael's record seven straight (2000-2006). New and old competition will line up next to his green No. 1 Kawasaki 450 and myriad skills will help him achieve his goals, but the one he is starting to master will be the most important: consistency is king.