Levi Sherwood, the 20-year-old freestyle motocross rider from New Zealand, emerged victorious after a head-to-head finals battle with Australian rider Rob Adelberg as the 2012 Red Bull X-Fighters series kicked off on Friday in Dubai, United Arab Emirates.
2012 Red Bull X-Fighters Dubai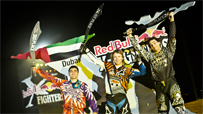 WIDTH="203" HEIGHT="114" BORDER="0" ALT="">
Levi Sherwood grabs the 2012 series opener win in Dubai. Check the photos. Gallery

Sherwood qualified in first heading into Friday's main event, signaling to his competitors that he'd recovered from last season's injuries. He then defeated 2011 X-Fighters champ Dany Torres in a major underdog upset in quarterfinals after Torres failed to complete his final trick before the buzzer, and beat out Australian rider Josh Sheehan in semifinals to make the two-man finals. He finished Adelberg off with a run featuring a mix of old-school tricks like a turntable, complex combos like a backflip Hart attack one-hander, and stylish, fully-extended holy grabs, recliners and Superman airs.
"I was pretty surprised, and Rob rode pretty well," Sherwood said, after the contest. "It means a lot. I haven't really ridden many contests lately and didn't have much confidence coming into it... it's a cool little boost." Surprise finishes are becoming Sherwood's specialty: He won his first X-Fighters event in Mexico City in 2009 when he was just 17-years-old and won again in Moscow in 2010, the year he also won silver in Moto X Freestyle as an X Games rookie.
Adelberg making it to the finals was the even bigger surprise of the day: The Metal Mulisha rider upset perennial X-Fighters podium favorite Andre Villa in quarterfinals, then beat 2011 FIM Freestyle MX champ Javier Villegas in semifinals before facing off with Sherwood. Villegas ended up in third, stepping onto his first X-Fighters podium.
Villa looked strong in quarterfinals, riding in his first major event since breaking is femur at the X-Fighters event in Poland in August 2011, but appeared to be struggling to adjust to some new rules and format changes in the competition. He completed his final trick after his allotted time, the same error that cost Torres in his quarterfinals battle against Sherwood. Still, after doctors had told him he might never ride again, Villa said he was thrilled just to be back in the mix. "It's a big day for me," he said, after his quarterfinals bout. "I rode the best I could. At least I felt good on the bike."
The Red Bull X-Fighters action picks up again on May 12 at the Glen Helen Raceway in San Bernadino, Calif. then continues with events in Istanbul, Turkey; Madrid, Spain; and Munich, Germany before concluding on Cockatoo Island near Sydney, Australia on October 6.
2012 Red Bull X-Fighters: Dubai, UAE