Levi Sherwood, 20, of New Zealand, on Saturday became the youngest rider to win a Red Bull X-Fighters championship after beating out French rider Thomas Pagès in the head-to-head finals on Cockatoo Island in Sydney, the final event of the 2012 series.
RBXF Sydney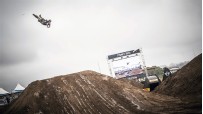 WIDTH="203" HEIGHT="114" BORDER="0" ALT="">
Browse through our gallery of Saturday's Red Bull X-Fighters season finale in Sydney. Gallery

"All I came here to do was to try to clinch up a championship," Sherwood told X-Fighters emcee Ronnie Renner after the competition. "I knew beating Thomas was going to be really difficult. He definitely made it a challenge, and to come here for another win is amazing."
Sherwood and Pagès were tied in the overall rankings coming into Sydney, with 235 points each. Sherwood won the 2012 opener in April in Dubai, United Arab Emirates, and the July event in Madrid. Pagès won in August in Munich and notched strong performances all season.
Both riders looked like contenders in Saturday's quarterfinals, with Pagès handily beating Japanese rider Eigo Sato and Sherwood defeating Aussie legend Cam Sinclair. In the semifinals, Pagès beat out another Aussie favorite, Jackson "Jacko" Strong, despite Strong's best effort, including a never-before-seen one-handed front flip that earned him Swatch Best Trick honors for the day.
In the other semi, Sherwood dispatched Australian rider Josh Sheehan, the hometown hero and winner of last year's Sydney event.
That left Pagès and Sherwood as the last men standing in what should have been a climactic battle for the top spot, but Pagès fell after landing long on the volt body varial that has become one of his signature tricks and failed to follow up with the much-touted "special" flip that might have redeemed him, leaving the door wide open for Sherwood.
Saturday's win put Sherwood on top in the overall standings with 335 points, ahead of Pagès (315) and 2011 champion Dany Torres (215).
Look for Pagès to be an even bigger threat in 2013. On Saturday in his finals run, Pagès attempted his first backflip in competition since the 2009 crash that had been spooking him over the past three years, forcing him to learn new tricks like the body varials and 360s that have helped him return as a surprise force in FMX. With backflip variations in his runs next year, he might be unstoppable.
2012 Red Bull X-Fighters: Sydney
2012 Red Bull X-Fighters Final Overall Standings