Moving to Silverton
Linecatcher
Cold Rush Preview
Cold Rush Recap/Gallery
For the first time in its four-year history, the Red Bull Cold Rush moved out of British Columbia and made its stateside debut at Colorado's Silverton Mountain. A field of 15 men and six women skiers arrived in sleepy Silverton last Sunday, and Monday saw the beginning of three days of peer-judged competition. By Wednesday, Sean Pettit and Grete Eliassen were named the overall winners.
The venue change added a new dynamic due to Colorado's notoriously fickle snowpack and Silverton's steeper and more technical terrain. "The big mountain venue here was a legitimate big mountain venue," competitor Sage Cattabriga-Alosa said. "It was cool, because it made everyone take the time to think, and be cautious and wise in their line selection."
Red Bull Cold Rush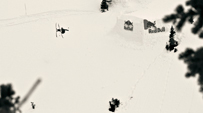 WIDTH="203" HEIGHT="114" BORDER="0" ALT="">
Check out photos from the 2011 Red Bull Cold Rush Gallery

The big mountain portion of the contest kicked off Monday under blue skies, with athletes choosing lines from the Pequenos, Grande Couloir, and Gnar zones at Silverton. Normally accessed by a hike from Silverton's one lift, skiers were bumped to the top of their lines via helicopter. On the men's side, Dave Treadway took the top spot with a line down the Gnar face that included significant exposure, impressive route finding, and a 50-foot mandatory air. For the women, last year's Cold Rush champion Suzanne Graham took a fast and fluid line down a Pequeno couloir capped off by a 20-foot air to score just higher than newcomer Shelly Robertson.
For day two of Cold Rush the contest moved to Silverton's Mando zone, where Red Bull employed the skills of a recovering Pep Fujas to build the slopestyle course. Fujas spent two weeks in Silverton with a 14-man crew building four gigantic backcountry-style hits. Tim Durtschi edged out 2010 Cold Rush champion Sean Pettit for the men with a smooth switch 900 up top and switch 540 on the bottom. For the women, Grete Eliassen took top honors with a stomped 720 up top and 360 at the bottom.
The cliffs portion of the contest on the third and final day took place in the heli-accessed Zone 7, an amphitheatre of four distinct cliff zones. Pettit took the top spot by stomping a 70- to 80-foot 360 off the biggest cliff in the venue. "That might be the biggest cliff I've ever done," Pettit said afterward. Again, Eliassen took top honors in the women's field by floating a lazy 25-foot 360 off a natural diving board. Other notable performances were Dane Tudor's 60- to 70-foot 720 and Treadway's enormous 70-foot laid-out backflip.
At the end of each day, skiers reviewed video of the day's runs and ranked each other in order of performance at each venue. At the end, points were added together to determine a winner.
Men's Finals Results
Women's Finals Results