To understand Angel Collinson's greatest gift as an athlete, you must go back to the two darkest days of her skiing career: Feb. 27 and 28, 2011 -- a weekend on which, it should be noted, she won one of the year's biggest events.
Collinson's Year in Pictures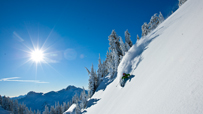 WIDTH="203" HEIGHT="114" BORDER="0" ALT="">
Check out photos of FWT champion Angel Collinson. Gallery

Collinson, 20, was skiing in the combined Freeskiing/Freeride World Tour competition at Kirkwood, Calif., a crucial step toward qualifying for big-mountain skiing's Super Bowl, the Verbier Xtreme in Switzerland, which had been her goal all year. On the first day of the contest, she had watched through binoculars at the base of Kirkwood's permanently-closed Cirque -- a steep and exposed rock face riddled with giant cliffs -- as her boyfriend, 25-year-old Ryan Hawks, dropped in to try and qualify for the men's final. She watched him soar off the end of a huge rock and arc one of his trademark backflips, floating through the air like a bird, then explode upon impact with the surface below.
"We were standing at the bottom that day assessing how many people were skiing and what was possible," Collinson recalled. "[Ryan] had a couple different lines that were getting really bombed out, so I knew he was going to go off the cliff he did and we both thought that was a good idea. It was one of those things; it's not the kind of situation that replays in my mind, but right when he didn't get up, I just had this feeling that he wasn't OK."
Hawks, originally from Vermont but spending his winters traveling around the West as a popular, upbeat skier on the Freeskiing World Tour, suffered massive trauma and was evacuated by helicopter to a Reno hospital. He remained there the next day in a medically-induced coma when Collinson, preparing to ski her final run in the competition, did what she'd been taught by her father, a backcountry skiing guru in Utah's Wasatch Range: She muted the grief and erased everything in her mind except the mountain in front of her, which she skied flawlessly. "I've never seen that kind of focus in anyone," Jacqui Edgerly, a friend and fellow competitor, said later.
After collecting her winner's trophy for the second straight week, Collinson rushed to the hospital. She stayed there, talking to Hawks and stroking his hand, until he died at 3 a.m. Then Collinson steeled herself and drove eight hours home to Utah, alone.
She went on to take second in the Extreme Freeride Championships at Taos, N.M., the following week, securing her entry in Verbier on the same day Hawks' funeral was held in Vermont. Although she was grieving his loss, she says she never considered taking a break from competition after his death -- that's not what he would have wanted, she says. "A big part of why Ryan and my relationship was so great was because we both wanted the most for the other person, and would've never wanted to get in the way of the other person's goals or dreams," she said. "I really wish I could've been there for [his funeral], but he and I shared more than just the pretenses of going through the motions, so I had my own little service for him here in one of my favorite places in the canyon. And to me and to him, that meant more than if I'd canceled everything and gone to his funeral."
"

What happened with Ryan was not a mistake, because he did those kinds of things every day in his skiing. ... There's always a danger of something happening.

"

--Angel Collinson
By the end of the season, Collinson had defended her Subaru Freeskiing World Tour title -- just the third woman to do so in the tour's 14-year history -- and finished second on the European Freeride World Tour circuit, a dominant performance in a sport where consistency is rare.
Yet her success felt empty. Back home in Snowbird this April, she couldn't stop thinking about Hawks and their brief, powerful time together (although they met last summer in South America, they'd been dating just two months). And she couldn't escape the haunting things he said leading up to his death.
Until that tragic day, everything seemed so destined to be bliss. Collinson, coming off last year's surprise world title in her rookie season of big-mountain competition, didn't want to complicate things with a boyfriend this winter. Her parents openly discouraged a new relationship, in fact, challenging her to see how well she could ski without the distraction. But then she and Hawks spent a week together in Canada in January, and that was that.
"It was funny -- I felt like I'd known him my whole life," Collinson said. "I can't really put it into words, but we just knew. It was like we had the ability to see who each other was with nothing in the way. I knew who he was and he knew who I was. It was probably one of the greatest gifts I'll ever get."
They spent most of their time together on tour. Collinson would join Hawks and the Chickering-Ayers brothers, Lars and Silas, in The General -- a souped-up van in which the three men lived -- and they'd cook dinner, play music and share their skiing dreams. At Kirkwood, Collinson and Hawks spent much of the week huddled indoors due to a nasty storm that postponed the competition. They got up early to watch the sunrise and talked about "everything we wanted to do or the things we were really thankful for," she said.
"Actually, the night before he died, we were just sitting next to each other and he was like, 'I feel so grateful to be alive and to have met you. You're the girl I've always been waiting for.' And I laughed and was like, 'There are a lot of great girls out there.' And he said, 'No. You're the one I've been looking for.'
"It almost felt like I was the last missing puzzle piece he needed before he could go on. It's a strange feeling. The hardest thing is just to accept it as a gift and not wish it could've progressed into something more."
Hawks' death, the third since 2007 to occur during a freeskiing competition, renewed questions about the sport's direction that hadn't been asked since John Nicoletta died in a fall at a Freeskiing World Tour event in Alaska in 2008. But Bryan Barlow, the tour's director, said he believes competitions have actually gotten safer since Nicoletta's death, utilizing venues that are not as exposed (though he conceded more tricks are being thrown in places where they didn't used to be). On the mortality factor, Barlow said: "We'd all be in denial if we didn't think that risk is out there. It's always been a part of our sport."
Despite the despair she's experienced since Hawks' death, Collinson agrees with Barlow. "What happened with Ryan was not a mistake, because he did those kinds of things every day in his skiing," she said. "He landed on a rock, and sometimes it happens, and sometimes I really think it's your time to go. If you know your limits and you're always aware of them, then you shouldn't be too scared. Because there's always a danger of something happening. You sign all the release forms, you know?"
On cue, when Collinson showed up at the Verbier Xtreme (where she placed fifth), she picked "one of the scariest lines I could find. I didn't think about Ryan dying; I just thought, 'Wow, that's a beautiful line.' A couple people said, 'I don't think you should do that. I don't know if it's worth the risk.' But I knew it was within my ability and I just wanted to fire it up."
Back in Snowbird, Collinson has worked through ups and downs. Her family -- she and her brother John, 19, a rising pro skier and climber, still live with their parents at the base of the resort -- has been critical to helping her overcome the sad moments, she said. She wishes she'd told Hawks before his accident that she loved him, "but when I was in the hospital in Reno, even though they had him in an induced coma, it was nice to see him one last time and say, 'I love you.'"
Collinson, who may scale back her competition schedule next season to work on incorporating tricks into her skiing, does everything she can to keep Hawks' spirit alive. She tells stories about him while skiing among friends, alternately crying and laughing. And nearly two months after his death, she still draws on their relationship to combat her loneliness. "On days when I'm sad and sitting on the couch drinking tea, I just think, what would he say if he saw me sitting around feeling sorry for myself, crying and watching it snow? He would think it was the most ridiculous thing ever, and he'd be like, 'Angel, what are you doing?' So sometimes, for him alone, I'll get off the couch and go out and have a great day."