Garre's Legacy in Pictures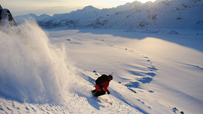 WIDTH="203" HEIGHT="114" BORDER="0" ALT="">
Check out photos from the spirited life of Kip Garre. Gallery

You can talk about the lines he skied, the rock walls he climbed, the places he traveled and sights he saw -- it would be nearly impossible to beat Kip Garre's resumé as an adventurer, let's be honest. But to me, and I suspect others too, Kip's legacy will not be his world-class talents or his long list of achievements. It will be the feeling he gave people every time they were with him.
Kip -- who died at age 38 in an Eastern Sierra avalanche last week with his girlfriend, ski mountaineer Allison Kreutzen -- had a way of making you think you could do anything. Mostly it was because he believed in everyone, and if he believed in you, the challenge seemed perfectly doable, no matter what your fear told you.
I wish everyone could have spent a day with Kip -- who, incidentally, was born Colyer Whitson Garre III. But on the day he was born, his mother, Tammy, happened to see a Kenyan runner named Kip Keino win a race, so she decided to call her son Kip, a name that became his identity as well as the root of his nickname, Kipper.
Before I met Kip in the fall of 2009, on a ski expedition to Western Nepal, I knew only his reputation: as a humble, core, world-traveling badass. But now, in the wake of his death, those words seem inadequate, even misleading, to some extent. When a pro athlete dies, we get so consumed with dissecting his impact on his sport that we tend to forget he was a person just like the other seven billion of us. It is especially important, however, that we remember Kip for who he was.
Last August, when he led me up my first rock climb in Yosemite (he calmed my fear of heights by promising I'd have a blast), we parked his truck behind the Lee Vining Mobil station and made a fire. The sky was clear that night, illuminating millions of stars and the impossibly bright Milky Way, which captivated Kip. We talked about heavy subjects -- life, death, love, hope. He told me about Allison, whom I never got to meet but who already had secured her place in his heart.
His death crushed people from all walks of life, myself included. He lived in a way that made him happy every day.
When it was time to go to bed, despite my insistence, Kip refused to let me sleep on the ground, offering his customized futon mattress in the back of his truck while he took the pad in the dirt with the ants. This sort of thing was completely in character. He often packed extra clothes on his Asia trips and handed them out to locals. I saw him give away his sleeping bag and sunglasses in Nepal. At home in Squaw Valley, he once gave a struggling friend $100 to help pay for that friend's season pass, no strings attached. The acts were never for show; he gave because he viewed every person as a member of the same tribe, the human race, and considered it normal practice to look after his fellow people.
"If he was selfish," Ming Poon, one of Kip's roommates and closest friends, told me last summer, "I'm pretty sure he'd be much better known and have much more success and money. But that's why people remember him. People know him all over the world because he's such a genuine, unselfish guy."
Kip, a pro skier sponsored by K2 and Mountain Hardwear, among others, kept a room in a house but spent long stretches sleeping in his truck. He worked when he had to. "He'd disappear for some time during the winter and nobody knew where he'd gone," said John Morrison, who skied the Grand Teton with Kip. "Then you'd find out he went and skied Liberty Ridge on Rainier, or something like that. But he wouldn't say anything about it."
He was also an expert mountain biker, BASE jumper and parachutist, despite what he said, and could suffer like a mule in the arctic. "One time he got blindsided by a car and got knocked out, lost his mountain bike and was out for the whole summer," recalled Lake Tahoe snowboarding pioneer Jim Zellers. "The car kept going. I don't know how he stayed so positive."
After moving to Squaw from his native New Hampshire in 1997, Kip slowly developed the skills that would make him an underground hero to so many, and earn him inclusion among the elite North Lake Tahoe backcountry community. Shane McConkey referred to him as the "best athlete at Squaw." Expedition leader Doug Stoup compared his mountaineering skills to those of Doug Coombs and Alex Lowe. Glen Poulsen, a Tahoe native and one of Kip's idols, told me, "There are a select few in our area who are really worthy, and Kip is one of them."
His death crushed people from all walks of life, myself included. He lived in a way that made him happy every day.
Sitting here writing this story, I thought about how often Kip's average day would've represented the best day of most people's lives, and how effortless it was for him. One night last March, I received a text from Kip, who was guiding big lines during a memorable spring in Alaska. I asked him how things were going, and he replied: "Got a sweet skydive 4,500 ft out of the heli today after 9 blower runs. Life is sick!!!!"
Since he died, friends around the world (he always had room for more, which amazed me), spanning decades of Kip's life, have commented on how he inspired them to live differently, with more passion. That, not his ability to charge up and down mountains, was his rarest gift.