Chile and Argentina in Pictures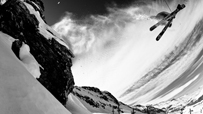 WIDTH="203" HEIGHT="114" BORDER="0" ALT="">
Check out photos from El Colorado, La Parva and more. Gallery

During my first trip to South America, I was robbed, almost killed in an avalanche, and I accidentally flew into an airport that was a 20-hour drive to the closest ski resort -- and this was just the first week. On that same trip, I also rode some of the deepest powder of my life, made life-long friends, and I got to hang out in some of the most beautiful places in the world. My point: An adventure to South America is just that, an adventure. If you're not ready to deal with the ups and downs associated with traveling in countries that seem like they're a flat tire away from collapse, a trip down south might not be for you. However, if you have a lot of patience, remember some high school Spanish, and you can deal with uncertainty as a way of life, it might turn out to be the trip of a lifetime. Here are some pointers, to help you along the way.
Travel
Flights: Fly into Santiago, Chile, or Bariloche, Argentina. Buenas Aires is nowhere near the mountains (hence the 20-hour drive) and, although bus service is available, bus stations in Buenas Aires are super sketchy. If you fly into Santiago, you'll be charged a reciprocity tax of $100 which gives you a visa that's good for the life of your passport. This fee doesn't apply if you take a bus from Argentina.
Bus: Once in Santiago or Bariloche, bus travel is the most economical and comfortable option -- and I mean comfortable. While a 12-hour bus ride would be nothing short of miserable in the States, buses in Chile and Argentina are built for long hauls with wide seats that fully recline.
Theft
Whereas thieves in the States tend to be opportunistic, thieves in South America are professional. Let me emphasize that again: Thieves there are really, really good at what they do. Particularly when traveling, never let any of your gear out of your sight, and keep anything valuable on you. Regardless of how safe a situation may seem, as an American skier or snowboarder, you're going to be a prime target.
Partying
You're there to ride, we know, but still, there's no shortage of debauchery to be had -- particularly in ski towns when the snow's bad (when the snow's good too, for that matter). Be careful though, some bars don't close until the sun comes up and many powder days have been missed at the hands of Pisco (national drink of Chile) and Fernet (national drink of Argentina).
Snow Safety
It seems that most people's idea of snow safety in South America falls into one of two categories: It's always too dangerous or always totally safe. For this reason, it's important to know how to safely analyze and navigate avalanche terrain. Like a lot of things in South America, if something seems sketchy, it probably is.
Ski Areas
This is just a brief overview of the major resorts. There are many other, mom and pop type resorts scattered throughout the countries.
Chile
Termas de Chillan
Situated in the volcanic mountains of the southern Andes, roughly five hours south of Santiago, this area is more famous for its hot springs than it is for snow. ("Termas" literally means "bath.") It is said that the Nevados de Chillan ski resort receives an average of 400 inches of snow a year, and due to its lack of focus on resort upgrades, the place enjoys relatively small crowds. Ride all day, soak in pools of hot mineral water at night -- who needs a high-speed quad?
Tres Valle (La Parva, El Colorado, Valle Nevado)
Although technically three different resorts, these three areas can be connected under one lift ticket, making the area the largest ski resort in the Southern Hemisphere. Here's the low down on each.
La Parva: The northernmost resort of the three, La Parva offers decent backcountry access, including McConkey's, a steep, exposed area with a variety of cliffs, chutes, and wind lips. New for this season is the Fabres lift on the skier's left side of the mountain, which accesses five new runs and nearly 200 acres of new terrain.
El Colorado: The center of the three resorts, El Colorado is a cone-shaped mountain with, generally, groomers on the front side and off-piste on the back. El Colorado provides access to the famed Santa Terre backcountry area, a 2,000-foot run with every type of terrain imaginable that terminates on the access road to Valle Nevado.
Valle Nevado: The southernmost resort of the three, Valle Nevado has 2,200 acres of lift access terrain that maxes out at over 12,000 feet. This year, the newly designed park promises to be the most complex park of all three resorts, with new rails, boxes and bigger jumps.
Argentina
Las Leñas: Considered by many as the place for big-mountain riding, Las Leñas has some of the best lift-access big-mountain terrain in the Southern Hemisphere. The isolated resort also offers world-class backcountry for those willing to put in a little extra effort. New for this year is the Red Bull Powder Disorder event, an invite-only big-mountain contest August 8-12 featuring some of the world's best freeskiers.
Cerro Catedral (Bariloche): Located in beautiful Patagonia, Cerro Catedral has one of the largest lift systems in South America, including a gondola. The rolling terrain is prime booter-country, and the wooded lower slopes offer some opportunities for storm skiing, a rarity in South America. New for this season are revamped beginner, intermediate and advanced terrain parks for every level.