Red Bull Powder Disorder in Pictures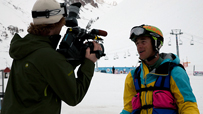 WIDTH="203" HEIGHT="114" BORDER="0" ALT="">
Check out photos from Las Leñas. Gallery

Guerlain Chicherit of Tignes, France, and Crystal Wright of Jackson Hole, Wyo., claimed the top spots at the Red Bull Powder Disorder in Las Leñas, Argentina. The invite-only event marked the first stop of the 2011-12 Subaru Freeskiing World Tour. Originally scheduled for two days, the event's final results were limited to one day due to poor visibility and gusting winds at the start of Friday's second day venue. Results from Wednesday's day one determined the final winners.
Chicherit, absent from the Tour since 2007 after starting the ski company Coreupt, earned himself a commanding score of 38.27 with a massive opening front flip. "It was amazing to be standing at the start and feel so relaxed [after so many years not competing]," said Chicherit. Utah's young skiing phenom Johnny Collinson stomped stylish airs to nab second place with a score of 31.23, narrowly edging out Frenchman Julien Lopez, who placed third with 31.17.
Angel Collinson, last year's Tour champion, took second place in the women's field, and Rebecca Selig took third. For Wright, she called her win a "huge confidence booster" coming off a broken fibula last March, and she noted that the "women's field was pretty stacked" including athletes such as ski film star Ingrid Backstrom, who took fifth in her first FWT competition since 2005.
Wright noted that it was something of a bittersweet victory as she was hoping for a second day of skiing but Eduardo's, the 2,000-vertical-foot face on which the competition was held on Wednesday, was according to Wright, "a worthy venue." Many of the athletes noted that it was one of the toughest they had ever skied in competition due to highly variable snow conditions, ranging from powder to windslab to avalanche debris and refrozen slush.
The Argentinean event marks the first time the Freeskiing World Tour required athletes to ski manmade jumps on the venue. "This marks an important event in freeskiing where big mountain meets freestyle," said event director Brian Barlow. Head judge Jim Jack echoed Barlow stating that since a new style category was introduced to the judging criteria last year he has seen "more and more athletes taking advantage of it, pulling things out of their bag of tricks," though Jack was quick to point out that "this is not a slopestyle event. These athletes still have to have big mountain skiing skills."
The next Freeskiing World Tour event, the Chilean Freeskiing Championships, will take place August 18-21 at Valle El Arpa, Chile, before taking a hiatus and heading north to Revelstoke, B.C. in January.
Men's Final Results
Women's Final Results