The making of "The Ordinary Skier"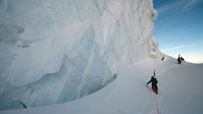 WIDTH="203" HEIGHT="114" BORDER="0" ALT="">
Check out photos from Seth Morrison's trips to Chamonix and South America. Gallery

[Editor's note: "The Ordinary Skier," a film starring Seth Morrison that has been two years in the making, will premiere on Sept. 9 in Seattle, alongside Poor Boyz Productions' latest release, "The Grand Bizarre." Here, Morrison takes us behind the scenes on what he learned during his past two years of filming.]
I've spent the last two years making a film that's much different than any movie I have ever be involved with. "The Ordinary Skier" has taken me to revisit places from the past, as well as show me a few new ones. The main focus for the project has been on Chamonix, France, where we spent close to three months over the last two winters. Chile, Colorado, and British Columbia's Retallack and Bralorne round out the other big trips. In each location, I had one ski partner: Kye Petersen, Pep Fujas, Dan Treadway, and JP Auclair.
Until my time in Chamonix, I'd never done the kind of skiing that requires climbing with ice axes, crampons and ropes. But while filming for this movie, it would be an easy day if we didn't have to rappel or use a tool of some sort. We had great groups during the trips with experience in mountaineering, and that helped with learning the knots, crevasse rescue techniques and general mountaineering skills.
For the most part, and with the exception of Bralorne, we were on foot quite a bit, taking the lifts up to access areas beyond the boundaries for untracked snow. Mind you, untracked doesn't always mean deep powder. In a place like Chamonix, to ski the steeps, it's safer to not have powder conditions (that way you don't have to worry as much about avalanches, but there are many other hazards to watch out for). Conditions played a big role -- we were always wanting better snow, but we dealt with what we had in front of us. It's very challenging to make bad snow look easy, but I have found that this shows a skier's true abilities.