Freestyle.ch in Pictures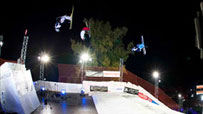 WIDTH="203" HEIGHT="114" BORDER="0" ALT="">
Check out photos from the ski and snowboard big air in Zurich. Gallery

Skiers and snowboarders came together at Freestyle.ch this weekend for the opening big air event of the season held in Zurich, Switzerland. Elias Ambuhl took top honors in the ski event and Halldor Helgason topped the podium for the snowboarders. In skiing, Kai Mahle took second with Jossi Wells in third. Halldor was joined on the snowboard podium with Seppe Smits and Stale Sandbech in third.
Local crowd favorite Ambuhl earned a score of 93.75 with a dub 14 over mute tweak. He tried to step it up to 16 but saw his ski fly off in mid air. "Watching my ski come off in the air was an unreal feeling, bringing the spin around I was happy I'd worked out during the summer so I didn't hurt myself," Ambuhl said. On talking about the win Ambuhl added, "It's been a long time coming. I've been second twice before so to finally win my home event is the best feeling ever."
The big surprise this weekend was 16-year-old Mahle, whose score of 90.50 landed him in second place with a switch dub misty 12 mute, securing a Swiss one two in the process. "I didn't expect second place at all," Mahle said. "It's been an amazing week, really awesome."
New Zealander Wells, fresh from a southern hemisphere winter, scored 86.00 with a switch dub 10 misty earning him third position. "The level in the semi final was insane and it was only kept up during the final," Wells said. "The landing got super icy but I still had a great time out there."
Snowboarder Helgason found himself on top with a score of 96.25 landing both a frontside double cork 900 and frontside double rodeo. "I was destroyed yesterday with illness and had to drag myself through qualifiers," Helgason said. "Starting off today I would never have predicted this result but it all came together for me."
Belgium rider Smits had a score of 89.75 safely putting down a cab 1080 on the second jump to take second place. "Although I come from a land with no mountains, hard work, practice and dedication have got me here," he told the crowd on the podium.
Sandbech came in with an 81.00 completing the podium in third place with a backside 1260. "Super, awesome, amazing -- what more can I say?" Sandbech said. "The crowd at this place is insane and I want to build upon this result."
Snowboard Final Results: 2011 Freestyle.ch
Ski Final Results: 2011 Freestyle.ch