October Storms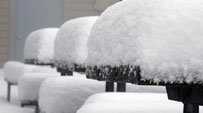 WIDTH="203" HEIGHT="114" BORDER="0" ALT="">
Forget autumn. It's winter already. Gallery

This week, the first significant snowfall of the winter season hit ski areas around the country -- dropping 10-plus inches of snow at higher elevations in Tahoe and Mammoth, nine inches on West Virginia's Snowshoe Mountain, and causing winter storm warnings in the mountains in Utah, Wyoming and Colorado.
The 2012 Farmers' Almanac recently released its long-range winter outlook ("Clime and Punishment," they're calling it), which predicts a cold winter for the northern plains and northern Rockies and above-normal temperatures for the southern and eastern parts of the country. A predicted repeat of La Niña will likely bring high precipitation to the Pacific Northwest and a drier-than-average winter to the Southwest.
Joel Gratz, a meteorologist and founder of ColoradoPowderForecast.com, says that this week's storm can't give us much indication for what we can expect later in the winter. "While early-season storms increase the anticipation for the season, I never use autumn storms to gauge how the winter will turn out," Gratz said. "This storm is exciting to watch, though overall it doesn't stand out as being abnormal for this time of year."
Still, the storms caused skiers and snowboarders to pounce on social media with their latest weather updates. "IT'S ONNNNNNNN!!!!!!" wrote Tanner Hall from Mammoth. Added Greg Bretz, also in Mammoth, "I woke up to a foot of snow." "Can't say I expected to wake up to this this morning!" wrote Elyse Saugstad in Tahoe. Jeremy Jones posted, "Exciting news from NOAA: "WINTER STORM WARNING ISSUED. HEAVY SNOW AND GUSTY WINDS … 5 TO 10 INCHES ABOVE 8,000 FEET ALONG THE SIERRA CREST." And Ian Provo in Utah wrote, "First storm of the winter is brewin."
The resorts joined in as well. From Loveland Ski Area in Colorado: "Get ready @Arapahoe_Basin. Looks like we have some snowmaking weather moving toward us! #racetoopen" And Oregon's Mt. Bachelor: "We've got snow!" Mammoth, which opens Nov. 10, wrote, "October or January?" Snowshoe posted on Facebook: "Still can't believe 9 inches of natural snow fell Sept. 29 - Oct. 3."
But we may be celebrating too soon, said Gratzo. "One issue with early-season storms is that they can influence the avalanche danger during the winter," Gratzo said, "depending if the snow sticks around or melts out in the final warmer weeks of fall."