Ski School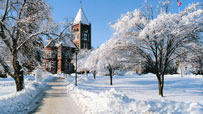 WIDTH="203" HEIGHT="114" BORDER="0" ALT="">
The 10 best colleges in the U.S. for skiers. Gallery

Whether you're getting ready to apply to college or you feel like reliving the good ol' days when all you had to do was read books and go skiing, we've put together a list of our picks for the best colleges in the U.S. for people who live to ski. In compiling this list, we did not take into account academic stature, professor-to-student ratio or the quality of the food in the cafeteria. All we looked at was which universities have the best access to good skiing and a community of people who share that same passion.
University of Utah
Snowbird. Brighton. Alta. Park City. Solitude. If you're a student at the University of Utah, these resorts -- and the Wasatch backcountry -- are your playground. That must be why skiers such as Tom Wallisch, Suzanne Graham, Grete Eliassen and others have enrolled here. "When it comes to Ski U's, Utah has the best of all worlds," says ESPN Freeskiing contributor and University of Utah graduate John Symms. "It's about a half-hour's drive from first-class terrain parks and halfpipes in Park City and The Canyons, and the same distance from unbeatable powder and steeps in Brighton and Alta-Bird. A lot of the other colleges well-known for skiing are much farther away than that. And if you want to travel, the U is even closer than that to an international airport -- something you don't get in any other ski town."
Western State College of Colorado
From Western State, it's 30 minutes to Crested Butte and 50 minutes to Monarch Mountain. "Basically, students decide if they want to commute to skiing from Gunnison or commute to school from Crested Butte," says Derek Taylor, the editor of Powder magazine and a graduate of Western State, a place, he says, where it's not uncommon for professors to sport a goggle tan. "The valley is surrounded by federal land -- BLM, national forest, wilderness areas and even a national park, so in addition to the resorts, there are huge backcountry skiing opportunities." Pro skier Seth Morrison, sports agent Ken Perkins, photographer Flip McCririck and former Powder editor Keith Carlsen are among the school's ski industry alums.
University of Vermont
At the University of Vermont, students who ski have lots of options: Jay Peak, Killington, Sugarbush and Mad River Glen are all doable for day trips. The closest ski area to Burlington is Bolton Valley, where the UVM Outing club owns and rents a cabin on the access road. There's a reason the founders of Meathead Films -- graduates of UVM -- never left Burlington. "No other city has as much amazing terrain within a 1-2 hour drive," says Meathead co-founder Geoff McDonald. "The largest selection of microbrews in the country and a 60-40 women-to-men ratio also make UVM a skier's dream come true."
Sierra Nevada College
Lake Tahoe's Sierra Nevada College, located in Incline Village, Nev., offers a one-of-a-kind ski business and resort management program, which allows students to earn a business administration degree with a focus in ski area management. "We have a master-planning course where students actually design their own ski resort," says Tim Cohee, director of the program. "We give them a budget, a certain size parameter and they have to build to a certain capacity per day." All that, and the school has easy access to more than a dozen ski areas -- including nearby Diamond Peak, Northstar, Mount Rose, Squaw Valley and Alpine Meadows.
University of Colorado at Boulder
A lot of pro skiers have chosen to hit the books at CU Boulder, including Meg Olenick, Nick Martini and Matt Walker. Campus is a mere 30 minutes from Eldora (Boulder's local ski hill) and backcountry skiing in the Indian Peaks, and an hour-plus to the ski areas in Colorado's Front Range. On weekends, students and faculty can ride the ski bus roundtrip from campus to Keystone, Breckenridge, Vail or Arapahoe Basin for $15. "CU Boulder is a perfect place for someone to go to school who loves to ski because it is only an hour and a half away from some of the best resorts in Colorado," says Olenick, who recently graduated. "There is a large population of people who ski and snowboard, so if you don't have a car, it is easy to find someone to carpool with."
University of Alaska at Anchorage
While Alyeska's summit elevation of less than 4,000 feet might not impress too many Westerners, its 2,500 vertical feet of lift-accessed terrain and 643 inches of annual snowfall sure will. The University of Alaska at Anchorage isn't exactly slopeside -- it's about a 45-minute drive away -- but it still beats most college commutes. There's no shortage of backcountry (after all, it is Alaska) and as an added bonus, instead of going to Cancun for spring break, students can make the five-hour trek to Thompson Pass for Tailgate Alaska, a rite of passage of its own.
Western Washington University
With another La Niña on her way, students at Western Washington University in Bellingham, Wash., might be doing more powder skiing than studying this winter. But such is life when you go to school less than two hours from Mount Baker (where a college season pass costs $620) and not much farther from Whistler, British Columbia. For rookies to backcountry skiing, the university's Outdoor Center rents AT skis and skins for $15 a day and a beacon/shovel/probe for $8 a day. "WWU is a great school, and its engineering program is as good as it gets, especially if you're into developing composite cars or skis -- I built my own carbon fiber skis while in school," says ski photographer and WWU alum Grant Gunderson. "It took me seven years to get a four-year degree in engineering, but I did earn the equivalent of a Ph.D. in powder skiing."
Middlebury College
Here's all you need to know: Vermont's Middlebury College owns its own ski area, the Middlebury Snowbowl, where a student day lift ticket costs just $34 and the tree skiing is worth much more than that. There's a free shuttle that delivers students from campus to the Snowbowl during the winter, and in the month of January, students take only one class (translation: more time for skiing). Midyear graduates, called Febs, graduate by skiing down the Snowbowl in caps and gowns. "As a place to pursue an education that combines a stellar academic experience with skiing and other outdoor adventures in your backyard, Middlebury College is unmatched," says Geoff Curtis, Marker/Volkl's vice president of marketing and a Middlebury grad.
Montana State University
Oh, the tough decisions that face an MSU student: Bridger Bowl, Big Sky or class? Well, if it's a powder day, that's a no-brainer. "Many professors adhere to the 10-inch rule -- it's OK to miss class, granted you're doing all right in school, if it snows over 10 inches," says professional skier and MSU alum Lynsey Dyer. "There is amazing mountain biking, kayaking and skiing minutes from campus." Plus, the town of Bozeman has a thriving winter sports culture of its own, with everything from snowmobiling to skijouring.
University of New Hampshire
The University of New Hampshire, located in Durham, N.H., might not be the East Coast's closest school to skiing -- Loon Mountain is two hours away, Maine's Sunday River is two and a half hours -- but the skiers there are some of the most enthusiastic around. Case in point: The school's Ski and Board Club is the largest registered club team on campus. And it charters buses to take students to the nearby ski areas on the weekend.