Remembering Jamie Pierre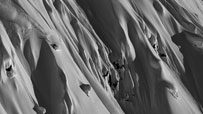 WIDTH="203" HEIGHT="114" BORDER="0" ALT="">
Photos of the life and legend of Jamie Pierre. Gallery

Pro skier Jamie Pierre was killed in an avalanche on Sunday afternoon in the backcountry of Utah's Snowbird Ski Area, which is not yet open for the winter season.
Salt Lake City's Unified Police Department confirmed Pierre's death with ESPN.com on Sunday night. This is the first avalanche fatality of the winter season.
"We got the call about 3:13 p.m. this afternoon of an avalanche with a victim," said Unified Police Lieutenant Justin Hoyal. "We, along with Wasatch Backcountry Rescue, were called to the scene. Once we were able to get to the victim, he was deceased."
Pierre was 38 years old.
Hoyal said that Pierre, whose full name was Matthew Jamie Pierre, triggered an avalanche and was swept over a rock cliff. He was not buried, but likely died of trauma.
According to the Utah Avalanche Center, Pierre and a friend left the currently-closed Alta Ski Area and continued to Snowbird via Mount Baldy to access the Peruvian Cirque and the Gad Valley. Pierre dropped into a steep northwest facing slope and triggered the slide. "Rescue reports indicated that they had likely triggered another slab avalanche prior to the victim triggering the fatal one," according to an accident report on Utahavalanchecenter.org. The partner did not recall hearing any collapses or whumphs in the snowpack, however."
Between 2001 and 2008, Pierre appeared in films from Warren Miller Entertainment, Teton Gravity Research, Matchstick Productions, Level 1, Rage Films and others. In 2006, he set the World Record for biggest cliff jump when he launched a 255-foot cliff at Grand Targhee, Wyo.
"Jamie pushed himself and his skiing beyond what any mortal would consider safe -- and he always walked away unscathed," says Level 1's Josh Berman. "His passing is a sad reminder that there's an inherent risk in what we do, even when potential risks are most calculated and seemingly nonexistent -- really, we can never be careful enough. I'll always remember Jamie for his infectious excitement, enthusiasm, positive attitude, and love for the sport -- outside of all the cliffhucking antics he was an exceptionally talented skier and a truly kind soul."