Ski Movies
Gear
Tricks
Social Media
Ski Travel
Judging
Backcountry
10 Tips That Could Save Your Life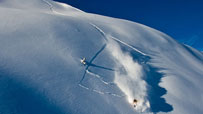 WIDTH="203" HEIGHT="114" BORDER="0" ALT="">
Be smart. Stay safe. Here's how to get started. Gallery

[Editor's note: Just this week, the freeskiing world lost one of its own in an avalanche when Jamie Pierre was killed skiing out of bounds at Snowbird, Utah. So in this final installment of our State of the Sport interview series, we're taking a look at perhaps the most serious and growing aspect of our sport: the backcountry. If you missed any of this series, be sure to click the tabs above.]
Backcountry skiing is constantly evolving. From innovations in gear to new ways to disseminate an avalanche report, each year the chess match between skiers (many more of them these days) and wild terrain looks slightly different than the last. In an effort to represent a variety of regions and demographics, we asked three esteemed sources for their thoughts on the subject: Vince Anderson, a western Colorado alpinist (he made history with a new route up Nanga Parbat's Rupal Face alongside Steve House in 2005) and IFMGA guide since 1998; Benj Wadsworth, the executive director of the Friends of the Northwest Weather and Avalanche Center in Washington state; and Swedish pro skier Marja Persson, who won the Verbier Xtreme in 2007 and spends much of her winter chasing powder around Europe.
Vince Anderson
Backcountry skiing used to be the weird guys with wool and beards on telemark skis. Now everyone's doing it.
People in the backcountry are better equipped and better informed than they were 10 or 20 years ago. But they're also exposing themselves to more risks as a result of having more confidence and better access.
Telluride has a similar thing going on to Chamonix. They have a lot of high-angle terrain that's really accessible from the ski area, so it allows a lot of people to use the lifts and get in there. And it's visible, so as soon as you see tracks, it's bound to attract more.
It used to be, people would wait quite a while before they dropped the big lines. Now, right after storms you can count on the big lines getting done.
The best innovation in backcountry skiing has been early rise tips and fat skis. The fun meter has just gone way up.
There are some ski patrols in Europe that are requiring their people to wear airbag packs. I've used one a little bit. I currently use an Avalung, but I might make the switch to the pack this season. I've been waiting for them to get just a little smaller, and a little lighter.
I think backcountry skiing is just as dangerous as it used to be.
Benj Wadsworth
This winter, there are indications of another La Niña, which generally means cold and wet in the Northwest. That makes for good skiing, but that also might mean higher avalanche danger. Slides happen after the big storms and La Niña brings big storms. So we may see a lot of considerable and high forecasts this winter.
People used to access the forecast from a phone hotline, but that's almost obsolete now. They're getting everything online. NWAC still puts out a phone forecast, but they've talked about abandoning it.
We put out a post on Facebook when there's an avalanche warning, too. And the forecasters are using Twitter. I think you'll see greater use of that in the future.
We're working on a project that will launch in the next month or so that is a map-based interface that will drape the avalanche forecast over a three-dimensional, Google Earth-like map. You'll be able to look at any area you want to go and you can see what the forecast is there. Forecasting is a macro-scale endeavor, though, so we don't want people to be able to zoom in on a particular slope and say, "It's OK to ski that." You won't be able to get in that close.
Marja Persson
There's so many more people now who want to ski powder. And unfortunately, I find that their knowledge of what could happen in the backcountry is not going hand in hand with the increased numbers.
Something we do less in Europe is dig snow pits. You do it way better and more in North America.
Airbag packs are becoming much more common. Even last year, I found that there was a big increase in that. But they're still not standard, and maybe the average Joe has reached a point where he's got fat skis, a helmet and maybe a transceiver, but he's not as far as an ABS pack yet. It's getting there.
I think more people should train with their transceivers throughout the season. Because you have avalanche-transceiver training points at almost all the big resorts, and it's so easy and fast to do it. A lot of people have transceivers, but they're kind of saying they're not sure they could dig you out if something were to happen.