Snowboard coverage
Ski coverage
Winter Dew Tour Breckenridge in Pictures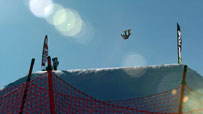 WIDTH="203" HEIGHT="114" BORDER="0" ALT="">
Shaun White, Kelly Clark, Tom Wallisch and more. Gallery

Men's Ski Slopestyle finals
Tom Wallisch rebounded from an injury-shortened season last winter to win the opening Dew Tour slopestyle Sunday at Breckenridge, linking a pair of switch double flips to punctuate the run of the week.
Wallisch, who missed much of last winter with a broken shoulder blade, earned a 92.75 for his second run on a day when many of the sport's biggest names struggled to put together clean runs from top to bottom.
"Coming off kind of a bad year last year, it's just amazing to start off with a win," said Wallisch, who was recently named to the first U.S. national slopestyle team. "I would've been happy anywhere on the podium, but being on top ... I don't know. It's hard to explain. It's awesome."
Wallisch, 24, made a slight adjustment on the rails at the top of his second run, but it was his flawless execution on the course's four jumps that made the difference. He finished with a switch left dub Japan to a switch right dub Japan, showcasing his trademark versatility and making the impossible look easy.
"I was just psyched to link up those last switch doubles, clear the jumps unlike my first run, and land clean," he said.
Runner-up Nick Goepper, 17, earned his second career Dew Tour podium with an 88 that remained atop the leaderboard for most of the competition. He said he hopes to buy a car with his winnings.
Alexis Godbout, last year's Breck Dew Tour champ, took third with an 87. It was his first competition since he blew out his knee at Killington, Vt., last January. "I was just hoping to make the finals this week," he said.
2011 Breckenridge Dew Tour, Ski Slopestyle Men's Results
Men's Ski Superpipe finals
French halfpipe wizard Kevin Rolland picked up where he left off last season, collecting a decisive victory in the Nike 6.0 Open at the Breckenridge Dew Tour on Saturday. Rolland stuck back-to-back-to-back double flips in his first run to earn a 94.5 -- the only score to break 90 points -- and commence his defense of last season's Dew Cup overall title.
"I'm so happy to win this," a beaming Rolland said after his victory lap. "I didn't compete [last weekend] at the Grand Prix because I was a bit hurt, my neck was hurt, and now I feel really great. That's why I was preserved for this comp."
Rolland opened with a pair of switch hits -- a switch 900 to a switch rightside 720 -- before throwing his three doubles. He landed back-to-back double McTwists then finished with a massive double cork 1260 while grabbing his tail. He was one of the few to settle for five hits instead of six.
"I choose to do only five hits, but I have five big hits, and I prefer doing five big hits instead of six hits with the last one not really good," Rolland said. "After my three doubles, I don't want to put like an alley-oop 7 or something like that. I want to do the best tricks at the end."
Canadian star Justin Dorey, still suffering the effects of an early season concussion, took second with an 88.5 to give Coreupt Skis the top two finishers. "I'm definitely going to have to switch it up to beat that kid," Dorey said of Rolland. "He's on another level."
Breckenridge local Duncan Adams (88.0) grabbed his second podium finish in two weeks, barely edging U.S. halfpipe team member Gus Kenworthy (87.5) for third place. Fellow U.S. Team member Simon Dumont, meanwhile, skied both runs with no poles after a pair of hand surgeries earlier in the week.
2011 Breckenridge Dew Tour, Ski Superpipe Men's Results