Revelstoke FWT in Pictures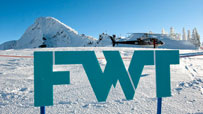 WIDTH="203" HEIGHT="114" BORDER="0" ALT="">
Check out images from the Revelstoke big-mountain contest. Gallery

After four snowy days delayed the finals of the Swatch Freeskiing and Freeride World Tour at Revelstoke, BC, the clouds parted on Mount Mackenzie on Wednesday, when Kye Petersen and Angel Collinson took top honors.
The stop was part of the newly merged Freeride and Freeskiing World Tour, bringing elite big-mountain skiers from both Europe and North America together to compete in British Columbia.
Helicopters delivered skiers to the top of the final venue, named Mac Daddy. Breaking tradition with competitions in the past, the men skied first after a visual-only inspection with nine out of the 25 men crashing on the steep, cliff-strewn run.
Petersen, 21, who appeared in this year's films from Teton Gravity Research and Sherpas Cinemas, was competing in just his second competition on the FWT. Starting with a huge 360 near the top, he arced fast fluid turns and nailed the landing on a giant cliff at the bottom of his run. "I didn't think I'd won," Petersen said. "I'm really stoked with this win and really excited to compete."
Oakley White-Allen traversed his way to an area of steep spines, skiing fluidly through them and landing several airs to earn second place. Last year's Freeskiing World Tour champion Drew Table took third.
For the women, the 2011 Freeskiing World Tour champion Angel Collinson showed her experience as a competitor by starting the day in third place and skiing a steep, exposed line that cut under a huge rock buttress to a hidden keyhole air to nab the highest score of the day in the women's field.
"As soon as I saw the photo of the venue, I knew that was my line and I really wanted to ski it," Collinson said.
Former champion Crystal Wright made short work of Mack Daddy with her characteristic powerful turns and put the landing gear down on a 25-foot cliff to grab second place, and fellow Jackson Hole local Jess McMillan straightlined out of a pocket air into third place. "I was injured and haven't been out of a start gate in over a year, so I was nervous," McMillan said. "But to make it down that face and ski wicked fast, yeah, I'm a happy girl."
Revelstoke local Ryan Kappler, 19, won the Young Gun award and Allen-White took the Sickbird award. The Freeskiing World Tour heads next to Crested Butte, Colo, Feb. 9 through 12.
2012 Freeskiing World Tour Revelstoke men's results
2012 Freeskiing World Tour Revelstoke women's results