Snowboard coverage
Ski coverage
Dew Tour Killington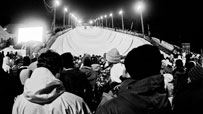 WIDTH="203" HEIGHT="114" BORDER="0" ALT="">
Photos from the Vermont stop of the Winter Dew Tour. Gallery

Bobby Brown's first-run 93.00 was enough to give the 20-year-old Breckenridge, Colo., native the lead through all but the day's final run at Sunday's Winter Dew Tour men's ski slopestyle finals in Killington, Vt., where Tom Wallisch's last-run bumped Brown into second.
This is Wallisch's second Dew Tour win in a row, giving him a 28-point lead in the overall rankings over Sunday's third-place finisher Nick Goepper.
Wallisch, calling himself a "second-run guy," slid the upper rail section clean with a switch lip 270 blind 270 out, blind 450 out, and switch lip to front 450 out of the canon rail. In the course's bottom trio of jumps, Wallisch threw a left side double cork 12 into back-to-back switch double cork 10s, thrown in both directions. Of his second run, Wallisch said, "I was definitely a little scared, but I just tried to picture what it would feel like to be at the bottom, after a landed run." His performance netted Wallisch a 95.25, the highest score in Winter Dew Tour history.
Brown rolled a rodeo 630 out of the canon rail into a trio of jump hits that included a left double cork 10, right double cork 12, and a switch double cork 12, enough to secure a second place finish. "I knew Tom was going to do something crazy," Brown said.
In the women's slopestyle finals at Killington, Kaya Turski's front switch up, switch lip, switch 5, 5, and switch 7 earned her a 92.25, enough to take home the victory. Local favorite and Dover, Vt., native Devin Logan, coming off her second place podium finish in Saturday's pipe finals, took home another second place finish, linking a cork 7 and a flat 5, earning her a 90.50. Emilia Wint, the 17-year-old from Denver, Colo., took home third place with a clean rail section and a big, tweaked 5.
Turksi, who crashed on her first run, said, "The first run is always the worst. I knew what I had to do. I knew I had to go faster into the last jump, keep it together, keep calm, and forget about the first run."
Ski Superpipe finals
Sixteen-year-old phenom Torin Yater-Wallace double-corked his way to a first place finish at Saturday's Dew Tour men's ski superpipe finals in Killington, Vermont. Yater-Wallace held a comfortable lead through the first set of runs with his first-run score of 90.25, until Wallace himself bested the score, muscling two doubles (a cork 1260 and a double flair), a 900, and a switch 9 en route to a second-run 93.75.
The grey skies cleared and the snow lessened as the day wore on, allowing for higher speeds and huge amplitude from every competitor. Second place Tai Barrymore dropped a pair of 9s and a double flat 9 on his second run, for a score of 88.50, while Tucker Perkins backed up two 9s with a double cork 12, stomped clean, for a score of 85.75.
Of his win, Yater-Wallace said he set a goal in his head and it "ended up happening." He went on to commend his competitors, saying, "I don't think there's one person that was in the finals today that couldn't have won." He hopes to carry his momentum into this week's Winter X Games. Yater-Wallace's win makes him the youngest winner in Winter Dew Tour ski pipe history.
Earlier in the day, a video tribute to Sarah Burke christened the start of women's ski superpipe finals. Burke, the groundbreaking athlete responsible for progressing and popularizing women's freeskiing, died Thursday from injuries sustained while practicing superpipe in Utah on Jan. 10. Burke's name was painted and stickered, in memoriam, on the sides of competitors' helmets.
The women's ski pipe winner, Californian Maddie Bowman, said the day was hard for everyone, but that, "Sarah would have wanted us to ski, and that's what we did -- in her honor, of course."
Bowman attempted a 900 on her first run, which resulted in a crash, landing her in last place as she entered her second and final run of the day. The 900 didn't trouble her on second run, where she linked it together with two fives 5s, and capped the run with a 720, earning her an 87.50 and the win. Bowman said she corrected her first run mistake by sticking her hands out and down, driving her through the pipe.
Landing a clean 9 is quick becoming the key to winning women's superpipe. Of the six finalists, four women threw them, and Vermont-native Devin Logan was only podium-placer who didn't land one. Logan instead landed a flair, along with left side 5 and alley-oop 7, good enough for a second place, with 86.00. Brita Sigourney's first-run 5s, 7, and 9 solidified a third place finish with a score of 85.00.
2012 Killington Dew Tour, Ski Superpipe Men's Results
2012 Killington Dew Tour, Ski Superpipe Women's Results
2012 Killington Dew Tour, Ski Slopestyle Men's Results
2012 Killington Dew Tour, Ski Slopestyle Women's Results