10 Avy Safety Tips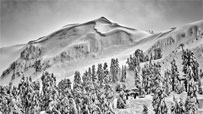 WIDTH="203" HEIGHT="114" BORDER="0" ALT="">
How to avoid getting caught in an avalanche in the first place. Gallery

In the week and a half following the highly-publicized Feb. 19 avalanche that killed three skiers in the backcountry near Stevens Pass, Wash., sales of avalanche airbags have spiked.
Pro skier Elyse Saugstad was among the four people swept up in the avalanche -- which tragically took the lives of Stevens Pass marketing director Chris Rudolph, Freeskiing World Tour head judge Jim Jack, and Leavenworth skier and contractor John Brenan -- but Saugstad survived, she says, thanks to the fact that she deployed an airbag-equipped backpack for avalanche safety.
Since the incident, Seattle-based retailer Evo.com has sold out of every airbag pack they had in stock. Backpack manufacturer Backcountry Access sold out of their Float 30 and Float 36 airbags last week and have started buying inventory back from some of their well-stocked snowmobile dealers, according to Bruce Edgerly, vice president of marketing and sales at BCA. Outdoor retailer REI, which started selling airbag packs in 2011, is also reporting an increase in sales.
Brian Beck, director of SnowBigDeal.com, an online retailer that sells airbag packs and other avalanche safety gear, says they have seen more than a 300 percent increase in airbag sales for February 2012 compared to the same month last year. "Although the snowfall pattern and aggressive marketing have very likely influenced this growth, we give most credit to the media coverage the airbags have received recently," says Beck. "Several incidents have made national news this month, and we recognize huge sales growth during the following weeks."
Added BCA's Edgerly, "In addition to the Stevens incident, we also had a widely publicized Float save in Montezuma, Colo., that went viral. And our European warehouse was cleaned out after the incident in Austria involving Dutch Prince Friso."
Edgerly says BCA has also seen a rise in avalanche beacon sales. "Unfortunately, this is what it often takes to get some consumers to spring for safety equipment," Edgerly said. "We hope it's also creating a spike in avalanche course participation."
Pro skier Jenn Berg, who's a senior search analyst at Backcountry.com, told ESPN that sales of airbag packs have increased roughly 12 times from last year to now. "Since the avalanche in Washington, we have sold 26 BCA Float 30s in just four days," said Berg. "That's roughly a third of the total number of Float 30s we've sold all season, and that's just one model among the four brands we sell."
Avalanche airbag packs, which range in price from around $600 to $1,300, have been used in Europe for years, but they have only recently gained popularity in North America. Other U.S. companies are now getting into the airbag market, too -- The North Face and Dakine unveiled airbag backpacks at the ski industry trade show in January.
Airbag backpacks help someone caught in a slide remain near the top of the avalanche, help reduce head and neck trauma, and they can increase the visibility of the buried victim for rescuers. "These airbag-float-packs, under tests, have doubled the victim's chance of ending up on the surface," says Chris Simmons, an IFMGA mountain guide and technical representative of Backcountry Access. "All avalanche safety equipment up to this point has addressed rescuing someone after being buried. It's the other side of the equation that we're addressing now: preventing being buried in the first place."
Avalanche education experts agree. "All of the equipment possible won't guarantee your safety," says Scott Schell, education coordinator for the Friends of the Northwest Weather and Avalanche Center. "Education is simply the most important tool at preventing incidents. With that, you gain the understanding of how to make good educated decisions regarding what terrain to ski given the snowpack."