Jon Olsson Invitational in Pictures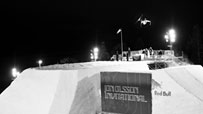 WIDTH="203" HEIGHT="114" BORDER="0" ALT="">
Photos from the big air contest in Åre, Sweden. Gallery

The Jon Olsson Invitational this week in Åre, Sweden brought progressive skiing and perfect tricks, some of which had never been done inside or outside of the contest arena before. In the end, it was American Gus Kenworthy who walked away with the top score after landing a near perfect switch triple 1440, which scored a 96, followed up with a double corked 1620 capping and holding onto a tail grab the entire way.
"The Jon Olsson invitational is hands down the sickest big air that I have ever had the opportunity to be a part of," Kenworthy said. "Jon builds the best jumps in the world, and I felt super comfortable trying new tricks on it. Everyone was throwing down super hard and the atmosphere with the crowed and all the riders was amazing. I could not be more happy to walk away on top."
With only eight athletes qualified for the finals, it was a battle for the best two tricks in a five-jump format. In the second place spot Canadian Vincent Gagnier took a creative approach by first landing a double bio 1080 with an octo grab, then a switch double cork 1620. Although both of Aleksander Aurdal's tricks were similar, the amplitude and perfection of his switch double cork 1260 mute and switch double misty 1260 mute were enough to land him in the third place position.
First place qualifier Bobby Brown was unable to make the podium after stomping a flawless triple cork 1440 mute and getting the highest score of the day with a 97. Brown was unable to land a different second jump to count for the two best jump format and finished in seventh place.
Within the first hour of practice on the jump earlier this week, the athletes were already attempting triples. Russ Henshaw completed one on his fifth jump of the night. JOI judge Laurent Favre stressed in a riders' meeting prior to the event that triples would need to be fully grabbed and landed well to be scored high.
"It was a pleasure to judge this event," Favre said afterward. "It was one of the greatest experiences of my career and some of the best skiing I have ever seen. I will be back next year."
2012 Jon Olsson Invitational Results