Kirkwood FWT in pictures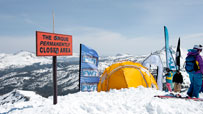 WIDTH="203" HEIGHT="114" BORDER="0" ALT="">
The final stop of the Subaru Freeskiing World Tour. Gallery

On a rockier than usual venue at Kirkwood Mountain Resort's Cirque in California, the long awaited final stop of the 2012 Subaru Freeskiing World Tour saw Crystal Wright and Kirkwood local Josh Daiek take home the contest win and the coveted McConkey Cup, awarded to the overall top male and female skier.
"Words can't even describe this," said Daiek. "It's an amazing thing to win at your home mountain. To have it all come together, it's unreal."
In the men's field, Sean Collin of Squaw Valley took second, followed closely by Jake Sakson, the lone telemark skier in the event, who took third.
Tied for first place overall with Angel Collinson coming into Kirkwood, Wright skied with her trademark fast, fluid style, building up her overall line score by hitting numerous features including a technical air into a ravine exit. Wright took home the overall FWT win in 2009 but finished second to Collinson the past two years. On day two of the Kirkwood contest, Collinson's technical line and tight, controlled skiing landed her in second place, both overall and for the stop.
"This is a dream come true for me," Wright said afterward. "This year it was really more of a battle and I really had to up my level of skiing, because all the girls are really getting good now. I wasn't even going to come to Kirkwood because I had a trip planned, but obviously I'm glad I did."
Australian Natalie Segal, who hasn't seen a summer season in years, moved herself up into third place on the podium. Ashley Maxfield, who battled through a knee injury this season, pulled off third in the overall tour standings. Germany's Sonja Lercher, skiing out of Whistler, finished fourth overall with Louise Lintilhac rounding out the top five.
The race for the McConkey Cup on the men's side was equally heated, with Daiek trailing French skier Guerlain Chicherit heading into Kirkwood. Daiek came in aggressive and solid, opening his run with a big stomped cliff drop and pioneering an air that had seen no traffic all day. Guerlain opened his run with a huge air at the top, followed by a huge lawn-dart front flip on a manmade booter, but a slight bobble on a straight air at the bottom knocked his score down slightly. In the end, Daiek took home the coveted McConkey Cup, with Chicherit coming in close behind him and Silas Chickering-Ayers nailing down the third spot. Rounding out the top five for the men are Chicherit's fellow Frenchmen Julien Lopez in fourth and Adrien Coirier in fifth.
For the first time in tour history the Sickbird belt buckle, given to the skier with the best overall move or air of the day, was awarded to a telemark skier, third place finisher Sakson. Canadian Dylan Siggers landed the overall North Face Young Gun award, given to the best athlete on the Tour under the age of 21.
2012 Subaru Freeskiing World Tour Kirkwood: Men's results
2012 Subaru Freeskiing World Tour Kirkwood: Women's results