Nine Knights in Pictures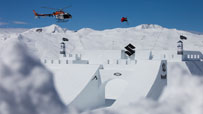 WIDTH="203" HEIGHT="114" BORDER="0" ALT="">
Images from the big air contest in Italy. Gallery

Kai Mahler took home the title at this weekend's Suzuki Nine Knights event, followed by Gus Kenworthy in second and Jonas Hunziker in third.
After last month's successful outing for the girls at the Nine Queens, it was time for the guys to descend on Italy's Livigno resort for this year's Nine Knights competition, which includes a big air contest, as well as a film and photo shoot.
After last year's event was cancelled due to lack of snow, this year saw its fair share of challenges with the late spring weather bringing fresh snow across the valley. "Challenge is the best word," said event organizer Nico Zacek. "This week threw the worst at us including 50 centimeters of fresh snow coming right in the middle of the week." With the event spread over the course of a week, athletes and organizers worked around the setbacks. Thursday was one of the longest days skiing for many of the riders as they headed up to the mountain for a 15-hour session spanning from morning into night.
After such an intense period of filming on the feature -- which included a built-in rail line, kicker, hip and quarter pipe option -- the riders lined up for a competition, which this year carried AFP gold status with it.
Fresh off his recent victory at the Jon Olsson Invitational big air, American Gus Kenworthy looked like the man to beat with a solid combination of tricks throughout the practice and qualifying session.
But, it turned out to be 16-year-old Swiss skier Kai Mahler who took home the top spot after his two best scores from five jumps, consisting of a double 1080 tweaked mute and double 1260 japan with shifty, awarding him 196.66 points and the first place position. "Today ends the perfect season for me as I came here and got to ski the perfect feature to try and dial the trick I wanted," Mahler said. "I felt like I really had to step it up today with the other great skiers around me -- I definitely couldn't take anything easy."
With Mahler taking the top spot, second place was a guarantee for Kenworthy with his combination of switch double 1080 japan and double 1440 mute earning him a combined score of 195.99 and second place. "I felt that Kai really threw down today and was a deserved winner," Kenworthy said afterward.
The shock performance of the day came from Swiss Jonas Hunziker as his double 10 double mute and double 12 safety, a trick he'd never tried before, were enough to earn him the final place on the podium with a combined score of 168.32. "This is my first podium at such a big event," Hunziker said, "and I can't believe how much fun I had out there today."
2012 Nine Knights Results