Woodward Tahoe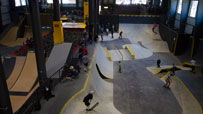 WIDTH="203" HEIGHT="114" BORDER="0" ALT="">
A close-up look at the grand opening of the new Woodward camp in Tahoe. Gallery

The new Woodward Tahoe at Boreal Mountain Resort in Donner Summit, Calif., opened the doors for a public opening party on Saturday. The facility is the newest branch of the Woodward company, which operates Colorado's Woodward at Copper Mountain and five other action sports training centers around the world.
Hundreds of athletes and spectators showed up to check out what was hiding inside Woodward Tahoe's walls and watch top pros tear into the transitions and trampolines in the 33,000-square-foot building known as the Bunker. Boreal also fired up a chairlift for a last taste of winter with a fully featured terrain park complete with a superpipe.
Pro athletes of every action sports discipline came out to show their support including skateboarders Tony Hawk and Curren Caples, BMX riders Ryan Nyquist and Kris Fox, snowboarders Todd Richards and Chas Guldemond and skier Tanner Hall.
"This is definitely the best training facility I've ever seen in my life," said Hall. "Between the Super tramp, the mega ramp into the foam pit and the on-snow there really isn't anything like this anywhere else."
Hawk and Richards highlighted the potential of growing up training at the new facility. "There are kids starting these sports at like four and five years old, so by the time they get to be 10 they are so comfortable with the motions already that going to these facilities can really help them get even better," said Hawk.
"I didn't have foam pits," said snowboarder Richards. "When I grew up you were lucky if you had a single ramp within half hour of your house and it was probably terrible. Here, kids can learn something on one tranny and then they have 60 other trannys to take it to, plus the foam pits. Everything here is built for progressing."
The wood-surfaced big air jumps into the foam pit and the Super tramp -- a high powered trampoline capable of bouncing jumpers three times higher than a normal tramp -- are new to a Woodward training facility and the Super tramp is one of the first in the United States.
"Building these facilities we try to go the extra step on every level to make the facility light years ahead," said Woodward Tahoe designer and lead builder Nate Wessel. "It's really tough because you're designing and building things that have never been built before. We make it happen because we want to keep pushing the limits of everything. That's what Woodward is all about."
One other surprise was the cement street course. Preliminary plans had called for a wood course. Wessel said the decision to go with concrete was once again, all in the name of progression. "We were pretty tight on our budget but we wanted everything to be super rad," said Wessel. "So I appealed for more money to make it cement. Cement parks are the way of the future so the park had to be cement. I think we made the right choice."
On Sunday, the first Woodward Tahoe camp session started. The facility will host nine weeks of camps in snowboarding, freeskiing, skateboarding, BMX, cheerleading, tumbling and digital media production this summer. The first four sessions will focus on freeskiing and snowboarding. Skier Hall and snowboarders Dan Brisse and Bjorn Leines are among guest coaches for these on-snow camp sessions.
With campers filing in the door, Woodward Tahoe designer Wessell is wrapping up the finishing touches on the building, meanwhile cataloging ideas for the next Woodward to be built. The location of the next facility has not yet been decided, but Wessell gave a clue as to what community it might be.
"There's a lot of talk about a couple different spots," said Wessel. "We're considering Park City, Utah, Killington, Vt., and possibly something in Europe. We have a lot of projects in the works."