The Meeting in Photos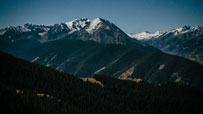 WIDTH="203" HEIGHT="114" BORDER="0" ALT="">
The ski and snowboard industry gathered in Aspen. Gallery

Aspen Snowmass' eighth annual The Meeting wrapped up this weekend in Aspen, Colo. The Meeting, a gathering of filmmakers, athletes, sponsors, media, and fans, is Aspen's way of kicking off the winter season, with fall foliage in full bloom and the peaks recently dusted with snow.
The weekend was jam packed with screenings by Level 1, Matchstick Productions, Teton Gravity Research, Poor Boyz, Given, Pirate Movie Productions, Standard Films, and more. Additional events included a Red Bull go-kart racing day and some concerts, including Stephen Marley on Friday night at Belly Up.
This year's event featured a full day of industry conferences about content distribution, brand building, and creating an audience. "This year we decided it was time to step it up and bring people from outside of the ski and snowboard industry that we can really learn from, take things from them, and relate them back to what we do in the ski and snowboard industry," said Meredith McKee, the public relations manager for Aspen.
The list of speakers and panelists included photographer and artist Chase Jarvis, Red Bull Media House's Greg Jacobs, and brand and media managers from Gatorade, Toyota, and other companies.
"The action sports industry was the innovator in branded content," said Issa Sawabini, partner at FUSE Marketing. "The first skateboard, snowboard, and ski movies were about selling those products -- consumers wanted to watch that content. Today there are so many brands that are trying to create the same type of connection."
Athletes in attendance spoke about their sports beginning to reach a broader audience, and how to do that in the right way.
"It's cool to see these non-endemic sponsors come into the industry," said big-mountain skier Griffin Post. "I think brands have become a little more savvy and sensitive to the action sports industry. They are a bit more compassionate about being in line with what we're doing rather than just exploiting us for the marketing."
While the traditional action-packed flicks still exist, the industry and brands seem to be shifting into more purpose-driven films, according to this weekend's discussions. "We are seeing a lot more sophisticated storytelling, such as with our new film 'The Dream Factory' and MSP's upcoming 'The Shane Movie,'" said TGR co-founder Todd Jones. "It used to be really hard to reach people, but now the volume of content and the mechanism to distribute it is much more vast than it used to be."