Disaster on Mount Manaslu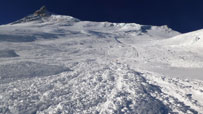 WIDTH="203" HEIGHT="114" BORDER="0" ALT="">
Images of the rescue, the survivors, and remembering those killed in Nepal. Gallery

An estimated 1,000 people gathered Tuesday outside the chapel in Chamonix, France, to mourn three local victims of the pre-dawn avalanche that killed 11 on Nepal's Mount Manaslu on Sept. 23. According to Guy Bara, whose friend Rémy Lécluse, a revered mountain guide, was among those remembered, "It was a beautiful sunny day with the mountains above us. A nice moment and celebration for the three of them."
Meanwhile, 4,400 miles away, Lécluse's wife continued to search for her husband's body on Manaslu. According to an e-mail from Glen Plake on Thursday morning, a search team found Lécluse's body 80 feet deep in a crevasse on Manaslu. The body was transported to Kathmandu and arrived Wednesday.
There is still no sign of Gregory Costa or the third missing climber, Dominique Ouimet of Canada. The father and the sister of Costa, Lécluse's client and expedition partner, have been participating in the search. The two Frenchmen had traveled to Manaslu with legendary U.S. skier Glen Plake to attempt to ski the world's eighth-highest peak without the use of supplemental oxygen, something no one has done.
In the 10 days since the avalanche tore through Camp 3 on the 26,759-foot peak, catching 31 people, most of them asleep in their tents, interviews with rescuers and seasoned Manaslu guides have presented a clearer picture of events and conditions leading up to and immediately following the tragedy.
Most notable, Camp 3 was set in a different location this year than many teams have placed it in in years past, leaving it lower on the mountain and more exposed to the avalanche that ultimately destroyed it. In addition, there was a dangerous snowpack structure, regarded by avalanche experts as akin to placing bricks on top of potato chips.
Ten days before the avalanche, Canadian skier Greg Hill and his German teammates, including famous speed mountaineer Benedikt Böhm, had found what Hill called "a classic faceted, very rotten base" at 23,000 feet. The point of their concern would later become the heart of the slide path, "but at the time, there wasn't enough snow to make it a worry," Hill said.
That changed overnight. A storm moved in and pummeled the upper mountain with snow for seven days, dropping up to a foot each day. The 231 permitted climbers, skiers, guides and Sherpa -- many of whom had come to Manaslu after the Chinese government closed the border passages to Tibet -- were left no choice but to sit in base camp, where the precipitation fell as rain. When it finally lifted, everyone's fear of avalanches was so great that many climbers waited at least three days before venturing back onto the lower slopes.
Camp 3 was set in a different location this year, leaving it lower on the mountain and more exposed to the avalanche that ultimately destroyed it. Plus, there was a dangerous snowpack structure, regarded by avalanche experts as akin to placing bricks on top of potato chips.
"Most of the mountain had gone through a huge avalanche cycle," Hill said. "The optimistic side of me was hoping it was going to be fine, because that slope, it's not like it's convex the whole way. It's actually a big concave slope that slowly goes from 30 to 40 to 45 degrees as you get higher up. So ideally it had just kind of compressed itself and stabilized in the four days since it snowed. I think a lot of us had a naïve optimism of, 'Wow, this is a big mountain, we're hoping to climb it, let's try to justify it as being safe. Because we need it to be safe.' But obviously it wasn't."
When Plake, Lécluse and Costa arrived at Camp 3 on Sept. 22, they planned to rest the next day at the same camp. Whenever they did continue up, they knew the snow could be ripe to avalanche and agreed to stop their ascent immediately if they found unstable conditions.
Hill, Böhm and the other four members of their team had a similar outlook at Camp 2. Already wary from their reconnaissance 10 days prior, they were simply acclimatizing before their anticipated summit window six days later, on the 28th. If all went well that day, Böhm and his partner, Basti Haag, would start in base camp and meet Hill halfway up the peak, where he'd begin filming them as they raced to the summit, then skied down.
By the time the white tsunami hit Camp 3, it had already thundered down 2,000 vertical feet, picking up speed as it traveled. Plake, as has been well documented, was reading his Bible inches from Costa in their tent when the impact shot them into the air like a cannonball, "off to parts unknown," he later told CNN's Anderson Cooper. He never saw Costa again.
Approximately 1,500 vertical feet below Camp 3, perched in as safe a place as he could find, Hill awoke to shouts and headlamps beaming down from the darkness near Camp 3. "At first I was naïvely hoping it was just some guys that'd been out early hiking above Camp 3," he said. "But as time progressed it became very obvious that the whole camp had gotten swept away."
Hill and his teammates got dressed, clicked into their skis and began rushing toward the lights. Almost immediately they encountered a group of five French climbers sitting on top of the avalanche debris, shocked to be alive. They continued to a half-buried man writhing in pain. "It took us a while to dig him out," Hill said. "His ribs were busted, he was coughing up blood, his arm was stuck in the snow, and his whole body was wrapped by his tent and a sleeping bag. We got him warm and comfortable, then we moved up to a French couple with a woman in critical condition. She was breathing, kind of responding. I'd scream her name, 'Catherine, stay with us!' and encourage her to remember her loved ones to give her a reason to keep fighting, but she was well beyond help. She just faded away."
The skiers moved from victim to victim, trying to treat and stabilize those they could. An hour passed before the next rescuers arrived on scene. Four more hours elapsed before the Simrik B3e helicopter made its first of 18 landings in the debris field. The pilot transported injured parties one by one at first, flying them down to base camp or the rustic village of Samagoan, a few miles down the valley from base camp, then returning to collect the next patient most in need of treatment.
By then, Plake had begun a seven-hour trek down to base camp. Hill met him above Camp 2 and they retreated to Hill's tent. "I helped him grieve and decide what he was going to do," Hill said.
Even for one of the biggest mountains on earth, the avalanche was a monster. Hill estimated its dimensions as being a half-kilometer wide, more than six feet deep at the fracture and two kilometers long, with a vertical path of 3,600 feet. Another rescuer, Alpine Ascents expedition leader Garrett Madison, said the debris field was up to 20 feet deep.
"The slide could not have happened on its own," Madison said. "But with a trigger such as several tons of ice, it was enough to generate an avalanche none of us thought possible."
Over the next couple of days, every expedition on the mountain debated whether to continue or abandon its summit push. "We had a big discussion," Hill said. "Everybody respected what everybody else wanted to do, but for 3½ hours we discussed the reasoning behind what people wanted to do." Ultimately, Böhm and Haag, who had already abandoned a Manaslu speed attempt in 2007, opted to stay. Hill declined to join them.
"The magic had left," he said. "Although I know lots of people have passed away on that mountain, it was just so fresh. Out of respect for those who had died, and with our luck and the timing, I think it's good to get away and reflect on it. I grabbed everything I could from Camp 2, skied down and cleared myself off the mountain. I spent two more nights in base camp and left on the 25th."
Madison, whose team abandoned its climb three days after the slide, estimated roughly 50 climbers remained to pursue their goal. Many of them ended up summiting a week later. Few had experienced the avalanche's horror firsthand.
In the week that followed the slide, some wondered why Camp 3 had been placed where the avalanche hit it, instead of up higher near a col and likely out of the slide's reach. "I do think this location of Camp 3 has been creeping down to lower altitudes over the past few years, increasing the potential hazard from a slide on the big slopes above," veteran guide Adrian Ballinger of Alpenglow Expeditions wrote in an e-mail from Makalu, another 8,000-meter peak in Nepal. Ballinger summited Manaslu four straight years from 2008 to 2011 and made the first ski descent off the summit last year.
However, he acknowledged no location is completely safe on Manaslu. In 2008, he placed his Camp 3 high, close to the col, specifically to avoid avalanches. Brutal winds and 10 feet of fresh snow likely avalanched the camp anyway, and Ballinger and his team returned to a blank slate. "We never found a single tent or any sign of them, despite full-length probes and an accurate GPS location of the camp," he said. As of this year, Ballinger decided he would no longer guide on Manaslu due to what he considers unmanageable avalanche risk.
Residents of Chamonix and the surrounding Alpine villages are accustomed to dealing with tragic deaths among the extreme skiers who populate the valley. But this accident has hit particularly hard, not just because of the two skiers who died but also the climbers.
Lécluse, 48, was one of the most distinguished and beloved guides in Chamonix. Famously understated, he'd been skiing the steeps since he was 18 and notched more than 60 first descents, earning renown for his double-pole-plant technique and success in guiding clients down perilous lines. "I have always had the greatest respect for Rémy," said ski mountaineer Dave Rosenbarger. "So humble and always willing to give beta about places and conditions. Not all guides are that way."
"

Gregory was a very dynamic and enthusiastic young man, especially when it came to skiing. He was a leader. He had a group of friends who were always following him.

"

--Courchevel's Christophe Normand about Gregory Costa, who was killed in the avalanche
"He was also the quintessential Frenchman," added Argentiere-based photographer John Norris. "I remember him arriving at the top of the Balmhorn after leaving the hut in the early hours, bang on his predicted time at the summit after an exhausting climb at altitude. 'I'll set off in a minute,' his voice crackled over the radio, 'but first I'm going to sit and have a cigarette.'"
Lécluse took a liking to Costa, 28, a talented ski instructor and mountaineer from nearby Courchevel. Costa had taken steps to pursue his guiding certification when he left for Manaslu, according to his ski school manager, Christophe Normand. He was among the resort's go-to guides for off-piste skiing and wanted to expand his skills. "Gregory was a very dynamic and enthusiastic young man, especially when it came to skiing," Normand said. "He was a leader. He had a group of friends who were always following him. It was unusual to have so much experience as a young man."
Plake, who joined the expedition as a friend of Lécluse, did not know Costa before the trip. But he quickly warmed to him when he saw Costa appreciated life's subtle gifts. "The summit is the summit," Plake said on CNN. "You go on a six-month ski trip and you make one summit and one ski run. But that's not actually what it's all about. And Greg enjoyed every moment of the trip other than the summit."