Home Intro Part 1 Part 2 Part 3 Part 4 Part 5 Part 6
The day before their last day, Johnny Brenan, Chris Rudolph and Jim Jack all went skiing at Stevens Pass, Wash. It was Feb. 18, one of many stormy powder days during a high-snowfall year in the Northwest. More than 12 inches of new snow had fallen overnight. Around 4 p.m., Jim, the head judge of the Freeskiing World Tour, showed up at Stevens' Foggy Goggle bar with a smile so big, you couldn't help but smile back at him.
The Faces We Lost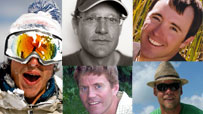 Images of the 34 people killed in avalanches in the U.S. last winter. Gallery

Chris, the marketing director for Stevens Pass, was at the bar, too. He'd orchestrated a women's ski demo that opportune day -- an event I was a part of -- and led a dozen or so female skiers around the resort. We'd spent the entire day getting some of the deepest turns of the winter. At the bar, Chris was surrounded by all of the ladies, including his girlfriend, Anne.
"How'd you get so lucky?" Jim asked Chris, only half joking. They both just smirked at each other, as if to confirm that, yep, their lives really were this good.
Johnny, Jim and Chris -- all residents of nearby Leavenworth -- lived the kind of life that city dwellers sometimes fantasize about. They had real jobs in the mountains and had turned their passion for the outdoors into their lifestyles and careers. In the winter, all three of them skied most every day; in the summer, they mountain biked, climbed, boated, camped and spent time outside with friends and family. All three men were known for their warmth, openness and jovial spirits.
"The three of them were a lot alike -- always out for a good time. They were all ingrained in the weave of this community. They were big personalities -- people everyone wanted to be around." -Joel Martinez, director of operations at Stevens Pass ski area and a friend to Chris Rudolph, Johnny Brenan and Jim Jack.
The following day, Feb. 19, Jim, Chris and Johnny were killed in an avalanche on the out-of-bounds backside of Stevens Pass. I was there that day, too -- a participant in a tragedy worse than any nightmare you could imagine.
A group of us met midmorning for a powder lap down Tunnel Creek, a 3,000-vertical-foot backcountry run accessed from the resort that the locals skied regularly. "I can say those guys skied that run literally hundreds of times," says Martinez. "That was the go-to run. But obviously it's the backcountry and we don't do avalanche control work back there, so anything can happen."
The avalanche hazard was considerable, but after discussing our options, we'd determined what we thought was a safe route down.
Six people from our group skied the slope first. I was waiting at the top with several others, watching as the seventh skier, Jim Jack, dropped in. He was just cresting a rollover out of our sight when the snow above him ripped, triggering a crack in the mountainside that eventually propagated 200 feet wide and 32 inches deep. The snow tumbled downhill, picking up speed. Jim was nowhere to be seen.
The slide traveled 2,650 vertical feet down a steep, narrow chute filled with trees. The thundering wall of snow took out Jim plus three skiers waiting about a thousand feet down, on the skier's left of the open slope, in a grove of old-growth trees. One of them, pro skier Elyse Saugstad, deployed an airbag backpack when the slide struck. She was fully buried, save her hands and face, and when the slide came to a stop, she was miraculously unscathed. The other three -- Chris, Jim and Johnny -- were buried 6 feet deep.
We did everything we could to try to save them, but it wasn't enough.
The incident left us all in shock. But we were not the only group to lose friends last winter. Our grief was shared by countless others, and these are their stories.
Thirty-four people died in avalanches in the United States during the 2011-12 season, just two fewer than the record in this country. Around the world, avalanches devastated other mountain communities as well, including a recent climbing disaster on Nepal's Mount Manaslu that left 11 dead.
Much has been written about these deaths -- an onslaught of newspaper headlines detailing the increasingly dangerous world of backcountry skiing, snowboarding, snowmobiling and climbing. From the deaths, researchers and avalanche experts can learn valuable lessons and hopefully help prevent future avalanche fatalities. But for now, let's not focus on how these people died. If there's one thing we can learn from the 34 people killed in U.S. avalanches last winter, it's how to live.
We could spend the time we are given on Earth filled with worry and fear, so scared to risk that we forget to live at all. Or we could do as the individuals described below have done, and live a life so full that even when they're gone, the memories of them will never fade.
"Nate had a passion for life that many people didn't understand. He loved his family and was a devoted father. He had the most beautiful smile and wore it well every day." -- Hilary Soules, wife of Nate Soules, who was killed on Feb. 13 outside of Telluride, Colo.
There is no such thing as a typical avalanche victim. But the statistics show the patterns and trends.
According to a 2010 study presented at the International Snow Science Workshop, the mean age for avalanche victims is 33 years old. Ninety percent of those victims are men. Skiers and snowboarders account for 39 percent of the fatalities, snowmobilers make up 40 percent, and the rest is a mix of climbers, snowshoers, area residents and road and rescue workers. More deaths occur in Colorado than any other state, but they're spread widely around the western U.S.
"In the most general terms, most avalanche victims are male, most of them are in their 20s through mid-40s, and most of them are very good at their sport -- they're skilled skiers or snowboarders or they've been snowmobiling for a long time," says Spencer Logan, an avalanche forecaster and the accident database manager at the Colorado Avalanche Information Center (CAIC).
Last winter, of the 34 people who were killed in the U.S., the average age was 36. Ninety-four percent of them were men.
Avalanche fatalities by activity, from 1950 to 2011
Snowmobile
212
Snowboard
57
Ski
291
Snowshoe/Hike/Climb
211
Other
115
But who were they? They were all unique characters, of course, their passions and ideas different from one another. But they all lived a certain kind of life, one filled with adventure and high-altitude air.
They were ski patrollers, forest rangers, students, contractors, heli-ski guides, environmentalists, professional skiers, bloggers, firefighters and more.
Many of them were fathers. One of them was in junior high school.
A lot of them were young. Alecsander Barton, who had recently graduated from the University of Utah with a degree in environmental studies, died just two days before his 25th birthday in Big Cottonwood Canyon, Utah. Snowmobiler Francis Skierka from Cut Bank, Mont., was just 23 when he was killed, leaving behind a wife and unborn child. Snowmobiler Tyler Lundstedt, 24, was buried and killed while riding with his brother Jordan, 21, in Colorado. Also struck by the avalanche but not completely buried, Jordan spent two days in a snow cave awaiting search and rescue. His father was the first person to find him.
The first death of the year was pro skier Jamie Pierre.
"I think one of my last visuals will be of Jamie in the lift line in Montana, one kid on the back and his wife and his other kid by his side. He had the biggest grin on his face. He was truly happy. His search was complete. " -- Todd Jones, friend to Jamie Pierre, killed Nov. 13 in Utah
Two men were killed within ski resorts last winter, including 13-year-old Taft Conlin, who was skiing with friends at Vail, Colo., and Chris Norris, 28, who was skiing with his father-in-law at Winter Park, Colo., when he went missing. The same day as the Stevens Pass avalanche, another man, 34-year-old snowboarder Karl Milanoski, a father of one, was killed after an avalanche swept him over a cliff in the backcountry outside of Alpental, Wash.
"My brother loved to be connected to the earth. Outdoors, hiking, skiing, fishing, boating, camping. He loved the clean crisp air of the Northwest. He loved the stillness and peacefulness of the wilderness. Karl was a great father and his daughter Amirah was the highlight of his life." -- John Milanoski, brother of Karl Milanoski, who was killed Feb. 19 at Alpental, Wash.
Australia's Andre Hartlief, 37, left his job as an engineer to pursue the ski-bum lifestyle. He worked as a hotel desk clerk and snowboard instructor in Aspen and eventually got his dream job as a ski patroller in New Zealand and Colorado.
"Always with a bit of wanderlust, Andre traded his flat in London for an endless couch-surfing routine. It was a lifestyle I truly believe he was meant to be a part of: You could tell simply by how stoked he got over the littlest things. According to his family, he was quite the idea-man, and just like his ideas bounced around, so did he." -- Kaitlyn Schappert, friend to Andre Hartlief, killed near Wolf Creek, Colo., on Feb. 16
Another victim was conservationist David Gaillard, 44, who spent his life trying to protect endangered animal species in the northern Rockies. He was killed while backcountry skiing in Montana with his wife, Kerry.
Alaskan heli-ski pilot Rob Liberman, 35, who lived in Telluride, Colo., was killed in a slide near Haines, Alaska, one that also killed client Nick Dodov, a 26-year-old snowboarder from Truckee, Calif. Rob was, according to friends, introspective and unpretentious, a skilled mountain athlete and backgammon player who preferred the absurd to the regular and was known for his contagious, raspy laugh.
"With great courage often comes extraordinary enthusiasm. If enthusiasm were a college major, Rob would've earned his degree on the first day of class. He cared deeply, deeply for his family and friends." -- Phillip Drake, friend to Rob Liberman, killed March 13 near Haines, Alaska
Then there was Ben Brackett, a 29-year-old skier originally from New Hampshire who was living in Squaw Valley, Calif. He was killed while backcountry skiing with friends on Tahoe's West Shore.
"Ben had unmatched charisma that adeptly suited him for a life of outdoor pursuits and social connections. His infectious grin often fired me up because I knew the wheels were turning for his next adventure. He was an all-star friend, athlete and funny guy who was not a reckless risk taker but a lover of life and all that it offers." -- Adam Baillargeon, friend to Ben Brackett, who was killed March 1 in the Lake Tahoe backcountry
Chris Onufer, 42, was a manager at Jackson Hole Mountain Resort. He loved to blast pop music on the radio at 4 a.m. on his way to an early-morning ski tour and would stay out 'til dusk, making lap after lap. Onufer and his friend Steve Romeo, who ran a popular backcountry ski blog, were both killed while skiing in Wyoming's Grand Teton National Park.
"Chris accomplished many things during his life. He was the tram maintenance manager at Jackson Hole Mountain Resort, a volunteer firefighter and EMT, an Ironman competitor, a climber and a ski mountaineer. These things never defined Chris, however. What defined Chris was his character. He had more passion and energy for the outdoors than anyone I ever met. His character made you want to be a better person." -- Michelle Smith, friend to Chris Onufer, killed March 7 in Wyoming's Grand Teton National Park
Avalanches do not happen to strangers. They do not happen only to risk takers and adrenaline junkies. They happen to your neighbor, your friend, your son. They happen to you and to me. The people who died last year were doing what they loved to do -- sports they were exceptionally good at -- on a normal winter day. It was just that on that day, something went horrifically wrong.
But what's to curb this upward fatality trend? What can we learn from these 34 faces?
As with much else, education is key. If you're planning to venture into the backcountry, first and foremost, sign up for an avalanche safety course. Then, always follow basic protocol: travel with a partner, carry life-saving rescue gear (transceiver, shovel and probe) and know how to use it. But that alone is not enough.
"Knowing more about avalanches is not a guarantee that you will avoid them," says CAIC's Spencer Logan. "You have to adjust your behavior to current circumstances. Education can become almost a double-edged sword, because the people seeking out education are also those who are accepting a higher level of risk."
In the end, life or death in the backcountry comes down to the decision-making process: Should you or should you not ride that terrain, in that snowpack, on that day? All of the people killed in the backcountry last winter made a choice. Ultimately, that choice took their lives.
Says mountain guide Martin Volken, "The long-term recipe for survival in the mountains is that you head into terrain with a neutral stance: At any given moment you should be perfectly happy to turn around or to come up with an alternative plan and ski or ride more conservatively."
For me, the lessons learned extend much further. I came face-to-face with death. I made a choice to ski terrain that came very close to killing me, and did kill three of my friends.
I think constantly about what happened that day at Stevens Pass. ... I can still hear the frantically ticking clock of my heartbeat during the ensuing search for our missing friends.
I think constantly about what happened that day at Stevens Pass. Like a war zone, a slow-motion series of horrific moments is burned into my brain. I think about the soundless cracking of the avalanche, and how, in those first few moments afterward, as I skied down the now-icy slide path with my beacon in search mode, my mind and body went into overdrive, terror and focus running through my veins. I can still hear the frantically ticking clock of my heartbeat during the ensuing search for our missing friends.
And worst of all, I recall the moment of realization, after 10 minutes of searching, 10 more of probing and shoveling, and nearly an hour of members of our group conducting CPR, when we knew we'd lost them. That sensation -- one of terror, sorrow and utter disbelief, which followed me back to the base of the ski area, in the car on the ride home, throughout the ensuing media blitz that followed, and for days, weeks and months after -- buckled my knees and changed my mindset forever.
The only way I can make these images of disaster fade is by remembering the lives lived -- picturing Chris, Jim and Johnny with their families and friends, playing in the mountains, doing what made them happiest. I think about them at the bar after many glorious powder days, surrounded by friends, laughing and full of life.