Travis Pastrana finally had some good luck on the racetrack Saturday night as he picked up the victory in Round 4 of the Global RallyCross Championship at New Hampshire Motor Speedway in Loudon, N.H.
Global RallyCross round 4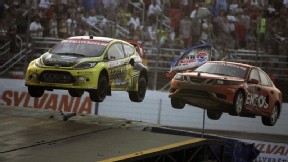 WIDTH="203" HEIGHT="114" BORDER="0" ALT="">
Check out some scenes from the GRC's weekend at New Hampshire. Gallery

Pastrana drove his Dodge Dart to his first victory of the season in 3 minutes, 40.27 seconds, overtaking Tanner Foust on the tricky hairpin turn on the first lap and holding off Samuel Hubinette the rest of the way in the main event. Hubinette finished second 1.43 seconds behind, and Brian Deegan was third 4.461 seconds back.
After crashing out in qualifying for X Games Los Angeles on July 1 and finishing 31st earlier Saturday in the NASCAR Nationwide Series race because of a crash, Pastrana said he and his team were more determined to get different results.
"We've had such a hard run and honestly everyone on this whole Dodge Dart team has worked so hard," Pastrana said after his victory. "We've hand-picked this whole crew and we got this car and we got everything and we thought we were good and we've just been getting creamed and crushed every race. And this race I was just like, you know what, 'I'm not being nice, we're going to win, we're going to put this thing on top of the box.' Samuel definitely owes me one next time and Tanner owes me one for next time, but you know what? We won.
"And I just want to thank everybody that's backed me, everyone that's supported me because it has been a really rough, rough entire year. And hopefully this is what we need to put us back because Nationwide was a tough race."
Pastrana also outdueled Hubinette in an exciting race in the third heat as both advanced to the final.
Foust, who finished fourth, is still the overall leader in GRC with 62 points, 12 ahead of Hubinette in second. The GRC has just one more stop in its season, round 5 on Sept. 29 in Las Vegas.
Ken Block fought his way into the final and finished fifth despite running into the tire wall at the start of heat 2 after colliding with Andy Scott's car. The front of Block's Ford was mangled, with the windshield smashed and the right fender and hood taking the brunt of the damage. But his team managed to fix it in time for the last-chance qualifying race in which Block got the third of four spots that advanced to final race.
Marcus Grönholm, who won the first two rounds of GRC, missed Saturday's races recovering from head injuries in a crash during a practice run June 30 at X Games Los Angeles.
Another Finnish driver, Toomas Heikkinen, missed the New Hampshire races because he's home recovering from a broken ankle and abdominal injuries suffered in a crash into the face of the jump landing June 29 at X Games LA.
Global RallyCross Round 4 at New Hampshire Motor Speedway, July 14, 2012