ESPN announced Wednesday that the 2012 Winter X Games 16 will be held January 26-29 in Aspen, Colo. and the Winter X Games Europe 2012 will be held on March 14-16 in Tignes, France. Specific competition venues and event schedule will be announced at a later date.
Winter X Games 15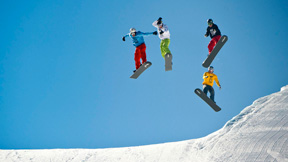 WIDTH="203" HEIGHT="114" BORDER="0" ALT="">
Check out highlights from Winter X Games 15. Gallery

The X Games features athletes from across the globe competing for medals and prize money in the following sports: snowboarding, snowmobiling and skiing. More than 125 athletes will compete from all over the globe in snowboarding and skiing in Tignes, France for the third year of Winter X Games Europe and over 200 of the best action sports athletes will compete at events in Aspen/ Snowmass, Colo. at Buttermilk Mountain for the premier Winter X Games event.
Winter X Games 16 and Winter X Games Europe 2012 will be covered live on ESPN's family of networks as well as across ESPN's many digital media assets including ESPN.com/action, XGames.com and ESPN3.com. The X Games winter events include 24 original hours of high-definition coverage on ESPN and ESPN2 and 18 hours on ESPN 3D. A total of 34 hours of Winter X Games 15 content was also distributed across ESPN's digital platforms, including ESPN3.com, ESPN.com/Action, XGames.com and ESPN Mobile. Winter X Games content, results and updates were also distributed through the X Games social media platforms including Facebook, Twitter, Foursquare and Tumblr.
Outside the United States, Winter X Games 15 was delivered to more than 382 million homes and live to 154 countries and territories, including Africa, Australia, Brazil, Canada, Caribbean, Europe, Israel, Latin America, Mexico, Middle East and New Zealand.