Cara-Beth Burnside did not set out to be a crusader for gender equity in action sports. But with few women skateboarders in the late 1980s and early 1990s, Burnside had no choice except to compete in the men's professional ranks against many of the sport's vert luminaries.
Female Legends Of Action Sports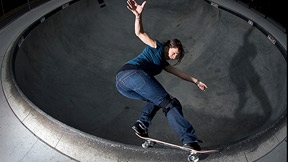 WIDTH="203" HEIGHT="114" BORDER="0" ALT="">
Burnside is one of a growing number of women who are certifiable action sports icons. Gallery

"It was really hard and intimidating as the only girl out there," Burnside recalls. "There was definitely a vibe of feeling out of place. Certain guys would look at you like you were an alien or something, like, 'What are you doing here?'"
While Burnside points out that some of the biggest skaters of the day -- Tony Hawk, Christian Hosoi and Danny Way -- were always supportive, Hawk himself admits, "She was an outcast in an outcast sport."
As action sports went mainstream and opportunities expanded for women, Burnside continued to play a pioneering role. In 1998, she competed for the United States' snowboarding team when the sport made its Olympic debut at the Nagano Games. She won gold medals at the X Games in skateboarding and snowboarding. And in a sit-down with ESPN executives in 2006, she and other members of the Action Sports Alliance, an association of professional women's skateboarders, secured a prize purse for women to match that of the men across all X Games sports.
Susan Izzo is an agent who represents snowboarder Ellery Hollingsworth, and surfers Kassia Meador and Sofia Mulanovich. "It's OK to be progressive; it's OK to do multiple sports," she says about the values Burnside embodies. "It's OK to not wear pink. She's an ultimate icon for a generation."
Lyn-Z Adams Hawkins, 21, has won eight X Games medals in vert. "There wouldn't really be women's skating without CB," she says via email. "She is like the founder. She has paved the way for all of us, and as the sport has grown she has been pushing harder every year to get things going for us and to continue to help the sport itself grow."
But now at 42, Burnside, of Encinitas, Calif., feels unwanted again. With her status as a top competitor in skateboarding waning, she will part ways with Vans, her main sponsor for more than 20 years. Her legacy secure but her future uncertain, Burnside's career arc serves as a sort of case study for the status of women in action sports, where despite significant progress many cite a persistent gender gap.
"The opportunities are much less for women compared to men," Adams Hawkins says about skaters. "We hardly ever get TV coverage. We struggle to even get a women's division in most competitions. X Games is the only event we have equal prize money, and there is way less support from sponsors."
Many say that for women, a career in the action sports industry after competition can be especially tricky to navigate. "There are very far and few that get an afterlife with their sponsor on the female side," Izzo says.
Across action sports, only two women have successfully continued working relationships with their sponsors following their competitive careers: Lisa Andersen, 42, a four-time world surfing champion whom Roxy built its beachwear brand around; and Barrett Christy, 40, who has won more X Games medals (11) than any other female snowboarder, and now acts as a designer for Gnu Snowboards and mentors young athletes with Nike 6.0.
At Vans, skate icons such as Tony Alva, Steve Caballero, Jeff Grosso and Hosoi are part of a "Legends" program. But Doug Palladini, who is both the president of the Surf Industry Manufacturers Association and vice president of marketing at Vans, points out that although Vans respects everything Burnside has achieved, with so few women's skaters, it makes little business sense to include her.
"To females who participate in skateboarding, [Burnside] is iconic, but that represents such a minority in skateboarding that it's difficult to see how she resonates as powerfully on the brand level," he says. "Whereas if you look at Lisa Andersen, there is a meaningful women's business and the Roxy brand is built on who Lisa Andersen is."
According to Marie Case, managing director of Board-Trac, an action sports market research company, in 2010 there were about 18 million participants in the U.S. across skateboarding, snowboarding and surfing, 25 percent of whom were women. Of approximately 2.6 million surfers, 31.8 percent were female; of 6.7 million snowboarders, 24.2 percent were female; and of 8 million skaters, only 12.6 percent were female.
As participation statistics suggest, when it comes to women, not all action sports are created equal. In recent months, Olympic snowboarding gold medalist Torah Bright and four-time world surfing champion Stephanie Gilmore signed unprecedented multimillion-dollar endorsement contracts with Roxy and Quiksilver, respectively.
Layne Beachley won seven surfing world championships before retiring following the 2008 season. "It's too top heavy and it's not being dispersed," she says about endorsement deals for surfers on the women's professional tour. "The young sexy ones are being looked after. But I think there are six girls in the top 18 that aren't even sponsored."
From top to bottom, women's skaters lag behind their peers in other action sports.
"The culture of skating is a lot less interested in being inclusive, and I think it's always been that way," Palladini says.
"They don't look at color, gender, age, anything," Palladini says about skaters. "They just want to see the best, and so I think that's been really tough on females in that sport. And I think that skateboarding is having a much more difficult time finding that kind of meaningful lifestyle thing that surfing and snowboarding have. There's a lot less accessibility as a result, for a female consumer."
The ranks of women's skaters tend not to be as marketable, either.
"They're not blonde, sexy, California babes," says Circe Wallace, a retired professional snowboarder and now an agent who represents top professional skaters Paul Rodriguez and Chaz Ortiz. "They're hanging out with boys and dressing like boys. They're not generally pinup models. They've got bruises on their knees and scratches on their shins."
Perhaps it's not surprising that men and women tend to be marketed differently across action sports. With men, there's more focus on performance, and for women, a premium is placed on lifestyle and culture. Although physical attractiveness rates highly when marketing men or women, many say that with women good looks are more of a factor.
Says Beachley: "I've never denied the fact that sex sells. A lot of girls have been picked up and they have the Anna Kournikova syndrome. They're hot and they're paid millions. But they'll never win a Grand Slam. And that's fine. If you've got it, flaunt it. But also realize, that's very finite. Looks fade."
Burnside proudly bucked the beauty queen trend in marketing her signature skate shoe with Vans.
"They did it in a way that showed me skating," she says, "but also a lot of lifestyle pictures of me hanging out, and I really liked that. Girls like that. They like to see what you're doing when you're not skating and just hanging out looking like an athlete and not like you're anorexic, like you're going to break in half. Some of these companies just want to show these girls just standing there."
In her quest to set an example for women and girls, Burnside has gone beyond marketing. In 2005, she co-founded the Action Sports Alliance, a nonprofit association to improve opportunities for women skaters. In 2006, she and the alliance negotiated equal prize money for women at the X Games.
Yet Burnside never discussed her activism with Vans, a potential missed opportunity, according to Beachley, who found herself at loose ends after 19 years on surfing's world tour.
"The athlete has to take a level of responsibility for thinking about a life after sports," says Beachley, who operated a signature clothing line and a charity before settling on motivational workshops. At the 2012 London Games, she will act as an athlete liaison for the Australian Olympic Committee.
"The brands make you feel wonderful and that you're part of a family; then they kick you out when they see fit," she says. "It's really important that you're clear with who you are, what you stand for, what you want to do when your professional career has ended. Start planning for that."
Palladini cited Wallace as an example of a former Vans-sponsored athlete who as an agent has made an artful transition to a career in the action sports industry.
"It's not a level playing field," Wallace says about the workplace, where the latest census data shows women working full time earn 77 cents on average for every dollar earned by men. "But we've made pretty big strides in the past 50 years."
Title IX, a law dating to 1972 that bars discrimination among programs that receive federal funding, has meant more opportunities for girls to play sports in school. But with action sports typically outside the scope of public schools and universities, opportunities for females are largely governed by the rules of the marketplace.
"The premise that we've always used is that finding interesting ways to attract female consumers to participate and enjoy the lifestyle around action sports is good for our industry," Palladini says. "So I don't think it's so much being compelled by some greater good as it is being compelled by the commercial opportunities."
While plotting her next move, Burnside coaches at the local YMCA skate park, gives private lessons and intends to continue leading by example.
"There's definitely a need in this country for girls to see other girls doing things and being a girl at the same time," she says. "I think it's inspiring for girls to see that."
Through five decades, she has continued skating, outlasting most of the dudes who vibed her back in the day, a fact not lost on even the most accomplished skater.
"I'm stoked that she's one of the few from my era that's still skating," says Hawk, who competed at amateur competitions with Burnside during the late 1970s when they were both adolescents. "She's an inspiration to me."