Mark Appleyard put in nine years with Flip skateboards. He turned pro for the brand and produced three major video parts in their "Sorry" trilogy. But now Apples is moving to the shade of a different tree. As of October 8, 2010, Mark Appleyard rides for Element. I caught up with Appleyard to talk about the switch and how it's just one big change in a very eventful year for him.
Alright, so as of today, you officially ride for Element skateboards. Walk me through the evolution of whole thing came about.
It made sense basically. I'm hyped. I don't know how much I can say but I'm just stoked that it came through and it's something I've wanted to do for a while. I'm sparked and feeling great. My other relationship kinda fizzled out and now I'm super stoked to be at the Element family, stoked to get behind that. All my sponsors right now are great and I'm happy with the whole setup.
Mark Appleyard gallery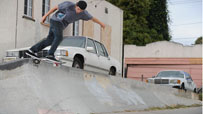 WIDTH="203" HEIGHT="114" BORDER="0" ALT="">
Mark Appleyard has made a career blending style and techincal acumen. His photos make you want to skate.
Gallery


So why did Element seem like the best fit for you now?
I've been backing Element for a long time. They've always been sick. I like their vibe and I'm good friends with a couple of the guys on the team, like Darrell Stanton. It just made sense. I got my first graphics just now, today; I got the Appleyard Element board. Seeing my name next to the logo, it just makes sense. It looks right.
I know you're old homies with Darrell And you and Chad Muska go back pretty far. Did those guys push to get you on the squad?
Oh yeah, Muskat, too! He's the homie from back in the day. As for getting on, stuff fizzled out with my old sponsor and I needed to get sparked again. There were a lot of options and things just clicked with the Element crew. It just seemed right. I saw myself on there and just made it happen. I gotta make moves.
Of all the guys that have ridden for Element past and present, do you have a favorite?
I mean there's so many. There's Jeremy Wray, Donny Barley, Muska, Colt Cannon, Tony Tave. All those guys are sick. Some of those guys still ride for or work at Element now. But Element's been around for so long, they have such a history that a lot of the best have ridden for them.
There were some message board rumors for a little while before you left Flip and before Josh Kalis left Alien Workshop for DGK that you two were going to start a company together. Did talks about the potential for that ever happen or was that just internet gossip?
We definitely talked about it. Me and Kalis are good friends. That was up in the air and we talked about that idea for a little while. In the end it turns out I don't want to start my own company or own my own company because it seems like a lot of work. I'd rather join something that's already tight and awesome. I gotta skate and I don't want to have my mind on lifting a company off the ground. I'm not ready for that right now.
You stuck with Flip for nearly nine years and through three outstanding video parts. Are there things about that relationship and those teammates you're going to miss?
Yeah, for sure. I don't want to lose any friends over this. It's just something I had to do. That's understandable for anyone who's been through something like this. I'm still friends with all those guys who helped me out. I had a great time; it was a great run. But things change in life and you gotta do different things. You gotta do what you want, what's going to make you happy. I'm not gonna miss those times per se because I already lived them, but I'm going to hold on to those memories tight. I rode for Flip for most of a decade. Much respect to those guys, man. I went pro on Flip and I was 18 when I got on. And now I'm 27 and I'm moving on to do what feels right.
You dropped a video part in "Extremely Sorry" last year. That video was nearly six years in the making. What's your next major video project going to be?
Right now there's talk about a Globe video in the next year here and I'm just going to be working on the Element project and film for that.
You tied the knot somewhat recently. Has life changed much now that you're a married man?
It's changed a little but I try to keep it the same. I have a really understanding wife. I've been with her for eight years. I was pretty much just a kid when I met her. Being married changes things a bit but in a good way. It keeps me on point, keeps me from flying off the handle.
As one of the 24 skaters in Street League, what was your impression of the first year? Do you like the format and do you see the contest evolving much before next year?
I think it was awesome, dude. I had a good time. The skating was great. They hooked everybody up for going there. It was a good contest series and I'm looking forward to going to some more. I thought the format was cool. It gives everyone an equal chance. I don't know what they're going to do next year. There's been three already and even from the first to the third one they've tightened it up and made it like a well-oiled machine. They've got the formula down.
Have you worked on the strategy it seems to take to succeed in the Street League events?
The first one I was just there. I didn't care what place I got. By the third one I really got the hang of it. So now I'm stoked for next season.
What's your take on contests overall? They seem to be a lot more prevalent in the last couple years and seem to be a more important part of a pro career again.
I'm not even a contest dude but I don't mind going to these Street League contests. They're fun. You get to see the homies. And the way Rob Dyrdek's organized it you get a little something for even just being involved in it, so that's good. It's a good format, good layout and it's mellow, not that much pressure.
So contest season's done, you've got a new sponsor and a new wife. What's next on the agenda for Mark Appleyard?
Just stay in the skate game, man. I'm just going to keep doing my thing. I'm stoked for all this new stuff going on. Skating's huge right now. I've been skating for probably 18 years and I've seen all the changes it's gone through. It's big right now and I'm loving every minute of it.
I've got a Volcom Hawaii trip coming up, which ain't bad at all. There's always something going on. I've been going to shops lately with Globe and just thanking the core shops for buying my new shoe that just came out. I'm staying busy. There's something every day be it skating, filming, skating The Berrics, skating street, skating contests, being married, traveling. I'm just gonna keep it going. I got at least five more years in me, hopefully.