Every year on Halloween, the skaters of Portland, Ore., throw a big birthday party for Burnside Skatepark. Things get weird. But if your idea of a good time involves obscene getups, loud music and chaotic skateboarding awash in adult beverages, it's definitely worth the trip.
Burnside Retrospective Gallery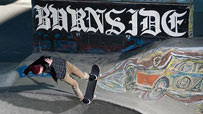 WIDTH="203" HEIGHT="114" BORDER="0" ALT="">
A look at some of the riders who have built and skated Burnside in the past two decades. Gallery

This year, party planners promise a blowout of epic proportions. After all, Burnside is turning 20. And to toast the occasion, one of the park's originals, Mark "Red" Scott, president of Dreamland Skateparks, is planning a backbreaking homage to the deepest Burnside tradition. Red is volunteering his time to add a new feature to the park.
"There's been this big pile of dirt just sitting [in the parking lot] for a long time," he says. "So I'm going to do something about it. And I know that once I show up with all my [tools], there will be a lot of people ready to help out. There's always been a core group that cares about the park. And there still is today."
For the past two decades, the skater's sense of ownership has been one of the key factors that has both protected the spot from city bulldozers and expanded its footprint beneath the dank and dirty eastern underbelly of Portland's Burnside Bridge. But there's more. Ever since that fateful night in 1990 when Bret Taylor, Chuck Willis and Osage Buffalo poured the first renegade lump of concrete joining the pitted asphalt to that monolithic slanted wall, the skaters have gained some unlikely allies.
src="https://a.espncdn.com/i/story/design07/dropQuote.gif" />
The guys who built Burnside had a vision. They were madmen, kinda mental upstairs. It's always those crazy people who are a bit out of their brains that make things happen.
src="https://a.espncdn.com/i/story/design07/dropQuoteEnd.gif" />
-- Chet Childress
"When we first went down there, it was just the slanted wall," Red says. "That was kinda fun to skate, but it was way funner after we poured a few banks against it. It was still a rough place, though. Dirt and garbage everywhere, graffiti, and lots of lurking going on, lots of riffraff. As we spent more time down there cleaning up the place, we made friends with the local business owners and the bored cops who stopped by to see some skating. They'd rather see some kids sweeping it up and skating than see junkies shooting heroin and peeing all over the place. They thought it was cool that we were driving out the prostitutes and pushers."
This conspiracy of normally incongruent forces helped the skaters win over Portland officials. Red and the rest got the green light to keep building, so long as they kept the place clean, respected their neighbors and financed it themselves. For the next several years, the locals taught themselves how to form and finish concrete using makeshift tools, ripped bags of discount cement and leftover concrete from local masonry contractors.
Another ironic puzzle piece in the big picture of Burnside's success has been Portland's wet climate. It rains about 140 days a year. "But the bad weather creates more of a jones to skate; it makes people hungry," says Black Label pro Chet Childress, a North Carolina native who moved to Portland for the region's thriving skate, art and music scenes, and its low cost of living. "So when we get that window of good weather, people really come out of their shells. You can see it in their eyes, lots of good energy.
"The guys who built Burnside had a vision," he adds. "They were madmen, kinda mental upstairs. It's always those crazy people who are a bit out of their brains that make things happen."
By the late '90s, the volunteers' collaboration of creative energy under the bridge had produced a 10,000-square-foot pinball machine with a little of everything, from pyramids to pool coping. That's also when a handful of Burnside's most dedicated craftsmen began to branch out, winning contracts to build public skateparks throughout Oregon and Washington.
"Burnside brought people together that went on to form skatepark companies, such as Dreamland and Grindline," says the park's unofficial art director, Jay Meer.
From there, the concrete spread like wildfire. "The modern skatepark revolution began with the DIY construction of Burnside," says photographer Bryce Kanights, who moved to Portland in 2007. "Before Burnside, there were only a handful of skateparks, and it was painfully obvious that they weren't built by skateboarders. [Now we have] progressively constructed parks all over the world. The origin of the first skateable cradle, in Port Orford, comes right back to Burnside. Skateable rock formations? Spinning volcanoes? Jumps over bowls? Yup. And all from the guys that gave Burnside its first breath. Without Burnside, things surely could have turned out differently."
Yet even with all the advanced design innovations popping up in skateparks around the planet, Red says Burnside still rules them all. "Thing is with Burnside, if you're some spoiled kid who gets driven around to all the parks around here, you get to Burnside and you might think this place is kinda rough. But if you stick with it, eventually you'll realize it's really the cream of the crop because you can really haul some butt and have fun," he says. "And it's the only park I can go to and crank my amp up to 11."
Expect plenty of maximum amp-cranking this Halloween as Red and a hungry crew of volunteers shape and pour a small capsule bowl out of that big pile of dirt in the parking lot. Also, expect no fewer than a dozen bands, a bunch of DJs, raffles, giveaways, spotlights for skating well into the night, and a 20-year reunion of sorts for the skaters and builders of Burnside and beyond.
But don't expect Red to head up the high-performance skate sessions. He's still recovering from shoulder surgery, and he's already made plans, with his other family.
"My goal is to be outta there by dark," he says. "That's when stuff starts getting really weird. I'm going trick-or-treating with my wife and kids."