A truck reportedly stolen from X Games gold medal-winning skateboarder Ryan Sheckler was involved in a police pursuit late Friday night that ended with shots being fired by authorities.

Ryan Sheckler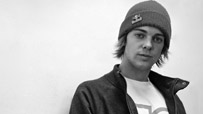 WIDTH="203" HEIGHT="114" BORDER="0" ALT="">
Check out Ryan Sheckler through the years. Gallery

The driver of the truck, which was registered to Sheckler, allegedly stole it outside of a party that Scheckler was attending, according to the Orange County Sheriff's Department. After turning down a dead-end road, the driver tried to retreat. An officer fired and the suspect was wounded, a Sheriff's Department spokesman said.
"The deputy, thinking he was going to be run over, fired from his service weapon," said Jim Amormino, a department spokesman. Amormino said the driver received minor injuries from broken glass.
Amormino said the truck was registered to Sheckler, the three-time X Games gold medalist whose reality television show, "The Life of Ryan," premiered on MTV in 2007.
Sheckler reported the car stolen soon after the traffic incident took place. "Sheckler was apparently at a party and left the keys in the car," said Arormino. "The driver was definitely not Sheckler."
Reached by phone Monday, Steve Astephen, Sheckler's agent, stated that Sheckler did not know the driver, but that "Someone knew it was gone right away. It's a very high-end truck, so I'm not surprised it was stolen. [Ryan lives in] a secure neighborhood. He just kinda throws [the keys] on the console all the time."