Preview
Practice
Qualifying
Finals
Street League is many things. Street League is a multimedia extravaganza. Street League is sports theater. Street League is an attempt to introduce something resembling objective, data-driven analysis to a sport that has always prized the subjective and the highly eccentric. Street League is Rob Dyrdek's ambitious personal vision and aesthetic writ large.
Yet, there are transcendent moments during many Street League events in which all of this -- the JumboTron, the Monster "Dime Squad," the T-shirt gun, instant scoring technology (ISX) -- seems to suddenly melt away. And what remains is something simple yet profound: skateboarding.
2012 Street League: Kansas City, Mo.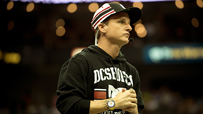 WIDTH="203" HEIGHT="114" BORDER="0" ALT="">
Rob Dyrdek's Street League Series returns to Kansas City, Mo. Gallery

Amazing skateboarding. Beautiful skateboarding. Incredible skateboarding. Pure skateboarding.
One such moment: At the end of Saturday's Street League Kansas City finals event, in what amounts to a classic jam session except the prize purse is $10,000 for the best trick, Tommy Sandoval mesmerized the audience with a massive frontside 180 flip from the quarterpipe over the barrier, leaping over camera cords out of the park, into a parted space enthusiastically provided by the crowd. With his wild, golden Thor locks, Sandoval seemed every bit a happy warrior.
"Straight gnar," said one young fan.
"How are you feeling out there?" the announcer called to the audience at one point during the finals. The crowd responded with a roar.
Many Street League skaters have clearly adapted to the contest's low-oxygen, high-altitude atmosphere. The veteran skaters have built a comfortable relationship with their audience, and as a result, many of the competitors are now able to provide exactly what they desire exactly when they desire it with pinpoint accuracy.
When first introduced on the JumboTron, Paul Rodriguez will stoke the crowd with just the right amount of whatever it is he possesses as a celebrity athlete. When the spotlight shines on Sean Malto at the beginning of the contest, he has a gracious "Aw shucks, who me?" smile that the Kansas City crowd adores.
And yet it was the new dude, Bastien Salabanzi, the only European contestant in Street League, who (besides Malto) seemed most at home with this middle American audience that packed the Sprint Center arena. Salabanzi works the crowd in ways that seem very French. At one point he blew mildly self-mocking kisses with his hands. Did we mention he is French? It is also Salabanzi who poses the gravest new threat to the Street League balance of power.
Of course, as always, Nyjah Huston is the still-underage man to beat.
It's hard to imagine a more dynamic narrative. Salabanzi and Huston are a study in contrasts. Huston is the classic, cool technician. It's not that he doesn't suffer setbacks or anxiety. (He talks often and openly of being nervous "out there.") But when he executes his tricks, it's like he is entering a fascinatingly complex code.
Salabanzi?
He is a kind of brilliant chef who cooks up rad tricks while feverishly sprinkling in bits of this and that as the mood strikes him just before serving a multicourse feast full of stoke.
Salabanzi's inaugural run was shaky, off. Tonight it was on. He recovered from whatever inner demons may have been haunting him his first time on the Street League course. Salabanzi fulfilled the promise he made in practice when he was perfecting his enders as other skaters engaged in far mellower warm-up sessions. But for very sound reasons, the judges deemed Huston the worthy recipient of the first-place prize. Whether it was his 270 noseblunts on the big rail or his big spin hurricane, he proves at almost every stop, the difference between talent and genius, ability and some gift from the skate gods. Huston can simply do things that no one else can do on a skateboard with a consistency that even the most elite pros can only dream of.
Thus, Huston climbing on stage at the end of the contest alongside Dyrdek and the Monster Dime squad and collecting very shiny statues and collecting giant novelty checks has become something of a Street League tradition.
First you get the 270 noseblunts, then you get the money, then you get the power, and then you get the chance to do even more insane tricks for more money and more crowds as the summer begins in earnest.
T-PUDS IS A PRETTY FUNNY DUDE
The contest concluded with something else that has become a Street League tradition: a news conference presided over by Torey Pudwill, Plan B pro and proprietor of Grizzly Grip. Pudwill has a Ph.D. in dudeliness. His dudeliness is such that he makes Jeff Spicoli, Sean Penn's character in "Fast Times at Ridgemont High," seem tense and overworked.
T-Puds is that chill. Dude, he is so chill. Super funny, too. Dyrdek stood at the sidelines encouraging Pudwlll, providing just the right amount of adult supervision to the evening's final official proceedings. At one point Dyrdek called out, "Go to the next guy."
At the news conference, Malto said that he would have liked to do better but, "Sometimes that's just how it goes." Huston spoke of the pressure he felt from Salabanzi.
"Bastien was hot on my heels the whole time," Huston said. "He really made me work for it."
Tyler VanTwist, the 19-year-old media manager responsible for Huston's Internet presence, said the battle was all the more epic because Salabanzi had been Huston's favorite skater when he was a young grommet. When the news conference ended, Huston, a skateboarding phenomenon and millionaire, said with boy-next-door niceness, "Mom, could you grab my board?"
"He enjoys challenges," said his mother, Kelle Huston.
So long as Salabanzi is in the league, he may be up for one.