2012 Street League: Kansas City, Mo.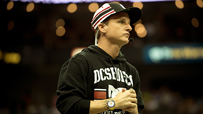 WIDTH="203" HEIGHT="114" BORDER="0" ALT="">
Rob Dyrdek's Street League Series returns to Kansas City, Mo. Gallery

Nyjah Huston fought off challenges from Bastien Salabanzi and Chaz Ortiz to win the season-opening stop in Street League Skateboarding.
We'll have to wait nearly a month for the second stop, in Ontario, Calif., but in the meantime you can check out the videos above for all the action from Rob Dyrdek's revamped skateboarding series.