Have you done any of the following in the past six to 12 months?
1. Visited a high school/college campus. 2. Frequented a coffee shop. 3. Made a purchase at a skate shop. 4. Left your house/apartment. 5. Googled "Miley Cyrus Skateboard."
Plastic Board Playlist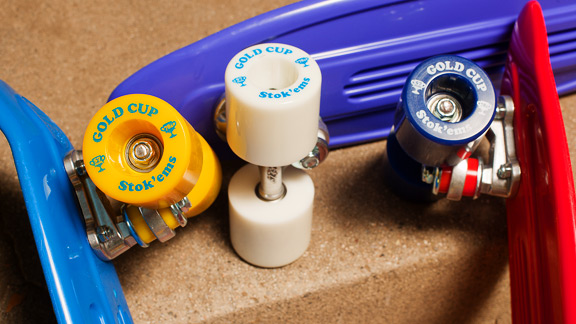 WIDTH="203" HEIGHT="114" BORDER="0" ALT="">
Here's a look at some of today's most popular plastic skateboards. Gallery

If so, you have likely noticed that small, plastic skateboards appear to be a popular consumer item throughout the United States. In a certain light, the plastic skateboard phenomenon may seem surprising. All things considered, Americans have a good deal to choose from when it comes to recreational entertainment, be it the Activision video game "Call of Duty: Modern Warfare 3" or "Angry Birds."
Don't forget Instagram, the third-generation iPad, or the latest mobile phone app.
But perhaps when it comes to plastic skateboards, forgetting and remembering are part of the point.
Much like vintage typewriters, LP records and hot-rods, plastic skateboards are artifacts with roots in an earlier era. Though slight, they seem to promise patrons a soulful, if fleeting, return to a simpler time. The willfully anachronistic, easily transportable boards can satisfy one's lo-fi, retro, old-school, vintage craving. To ride one is to temporarily forget a duty to sponsors, to get back to the basics of pushing and more pushing and then pushing some more.
A primer on plastic boards
Stereo Skateboards, the stalwart brand founded in the early 1990s by Chris Pastras and Jason Lee, has proved to be one of the most artful at riding the plastic skateboard's resurgent popularity and, as it did in the '90s, playing a taste-making role.
Sweet without being cloying, Stereo's online ad campaigns have effectively communicated the appeal of its vinyl plastic cruisers and captured the bohemian mood of urbane nostalgia that the brand has been perfecting since its inception in the early 1990s. It's hard not to be charmed by the sight of Stereo pro Clint Peterson in the video entitled "California Dreamin'" pushing through East Los Angeles, or Chris Pastras in "Leisure in New York" pushing through Brooklyn to a used book store where he buys another retro item: a book. (For readers under 25: Books were a once popular text delivery device that featured words "printed" onto a flat surface called "paper.")
In the main, skateboard shops have been happy to stock the readymade Stereo Vinyl Cruisers, which come with decals and sunglasses. (Bongo drums sold separately.)
In contrast to Stereo's soft touch, Globe has taken a more sensual approach to its plastic skateboard campaign. The brand produced a color-saturated video with bikini-clad women lounging by an empty pool.
A couple of years ago, Girl skateboards even offered a typically postmodern and witty interpretation of the mini-plastic skateboard by featuring contemporary board shapes emblazoned with photographs of brightly colored vintage plastic skateboards.
Krooked Skateboards has also introduced its own brand of plastic boards.
Lance Mountain, perhaps skateboarding's most beloved elder statesmen, is currently collaborating with Gold Cup to create a line of "banana boards."
"I think it's a better introduction to skateboarding for kids," explains Mountain. "If a kid doesn't fall in love with it at first, then it may not last. I think having it as a toy -- playing on it first -- is a way to fall in love with it. That's what it was for us [growing up]. It was a toy. You played on it.
"It's just something that's fun. Rather than something that teaches you that this is sport, or a way to make a living or a way to beat or outdo someone. I think that's why they're having a little resurgence right now. There's a lot of kids that couldn't care less what the pro scene is doing. That said, we do take a lot of time and effort to not make a cheap product … Grayson [Fletcher] can do ollie to tail four feet high on them. And it doesn't even have a tail! But it's a fun product that has the flair of something from the past."
But it is Penny, an Australian brand, that is currently the market leader and seems to have cornered the every-kid-in-America segment.
"Since we started Penny Australia in 2010, it has grown more than I could have ever imagined," says Penny CEO Ben Mackay. "And yes, this year has been our biggest year to date. Penny skateboards have been widely accepted and now people are skating our Plastic Penny boards in 35 countries around the world. Pretty stoked to say the least."
"It may seem like Penny Australia is an overnight success," he added. "However, I have been manufacturing skateboards for over 13 years … When we first released the Penny in June 2010, it was the most picked up board in shops, but the least sold. People didn't understand they actually worked. So we put a little video out and then skaters understood, 'Crap, you can actually ride that tiny thing.' Since then, we have been busting our guts to keep up with production."
Now a standard offering
An informal survey of various skate shops revealed that plastic skateboards are generally being given a warm reception.
"Yeah, I think the cruisers like the Stereo vinyl boards are cool, and I see 'real' skaters riding them as well as 'non-skaters' riding them. They might not be the most practical skateboard to ride, but if you have fun on one, then I say go for it," says Ando Nesia, manager of San Francisco's FTC skate shop.
"They're totally whatever. I am not going to think of a funny quote for you," says a sales associate at Supreme Los Angeles, one of the cathedrals of skateboarding cool. "The other place I have seen them for sale is those novelty T-shirt shanties on Venice Beach. But to each his own."
"You know, they're cool, every skater has one. You throw them down to go to the store," explains a sales associate at Supreme's Manhattan store. "They're fun. We carry Deluxe and our own brand of cruisers."
"But you don't carry longboards?" a reporter, in a playful mood, asks.
"Good God, no," the associate replies.
Some things are still sacred.
Makaha and the rise of the plastic skateboard
Though plastic skateboards are again all the rage, they have (by the standards of skateboarding) a long history. Their heyday was the 1970s, when Larry Stevenson, a former Venice Beach lifeguard, developed a line of plastic boards for his seminal skateboard brand Makaha. Stevenson, who served in the Navy during the Korean War, had always loved the ocean and named the company Makaha in homage to a popular surf break in Honolulu.
Though professionals always shied from plastic boards -- then as now preferring wood decks for their most difficult tricks -- Makaha dominated the mainstream skateboarding market for the better part of the 1970s, until seven-ply maple became the dominant paradigm around 1978. (Stevenson also patented the first kicktail and issued the first pro-endorsed skateboard in 1963. The "Phil Edwards" model, named for the legendary surfer, was recently listed by Transworld Skateboarding as the single most influential skateboard product of all time.)
Larry Stevenson passed away in March. However, his son Curt Stevenson still runs Makaha.
"This new craze, this new phase of plastic boards, actually started in 1973 and 1974," says Curt Stevenson. "My dad always said things run in cycles. So this is basically the second coming of the plastic skateboard.
"My dad is the guy that started the whole skateboard industry in the early '60s. They wanted to be able to mass-produce skateboards. My dad suggested, 'Let's make plastic skateboards, because I can make them every two seconds and we can get you as many as you want. They didn't do it because it was the better skateboard. They did it because the whole world could have a skateboard now.
"They were considered toys more so than something that you would go racing down the hill on. But that said, my dad tried to make the most professional plastic skateboard that he could. Now, I see girls painting flowers on them. Every little kid that I see in Santa Monica is riding those little plastic skateboards. It's funnier than hell. It's a real crack up."
"It was never about performance," says Paul Schmitt, a renowned skateboard designer and recognized authority on skateboard engineering. "The pros in Skateboarder magazine weren't riding plastic. But Makaha was the brand, like Girl or Plan B today. My first board was one of those plastic boards. But there's not a lot of history about it. That's typical of skateboarding. We didn't think it was important."
(Incidentally, when reached by phone, Schmitt was traveling to Danny Way's residence to deliver his own bit of history -- the very skateboard that Way, in 1997, jumped out of a helicopter into a halfpipe on. Schmitt designed that board.)
"I'm super stoked on [plastic boards]," said Schmitt. "The coolness is just the fact that you got it and you do it. Hopefully you find your self-expression and your joy. You might get it because it's pink. You might get it because it has green and purple wheels and you think it looks cool. But when you feel that vibration under your feet and that wind in your face … it's the best thing. And the plastic board totally gives that. There's no pressure. It's all great because kids are active. Not behind a phone or a TV or a computer. Anything to get them outside and rolling."
"All I know is that the first time I got on a board, I said, 'OK, I am going to find a way to never stop doing this,'" says Mountain. "The goal is to get more kids to feel that way about it."