A new trailer for Stacy Peralta's "Bones Brigade: An Autobiography" was unveiled on Tuesday as part of an ongoing social media campaign surrounding the film's unconventional release. Peralta's documentary about the Powell-Peralta skate team in the 1980s premiered at the Sundance Film Festival in January and has since screened at a number of festivals and special events; it will get a limited theatrical release in October, based on fan demand, before its online and DVD release in November.
Bones Brigade: An Autobiography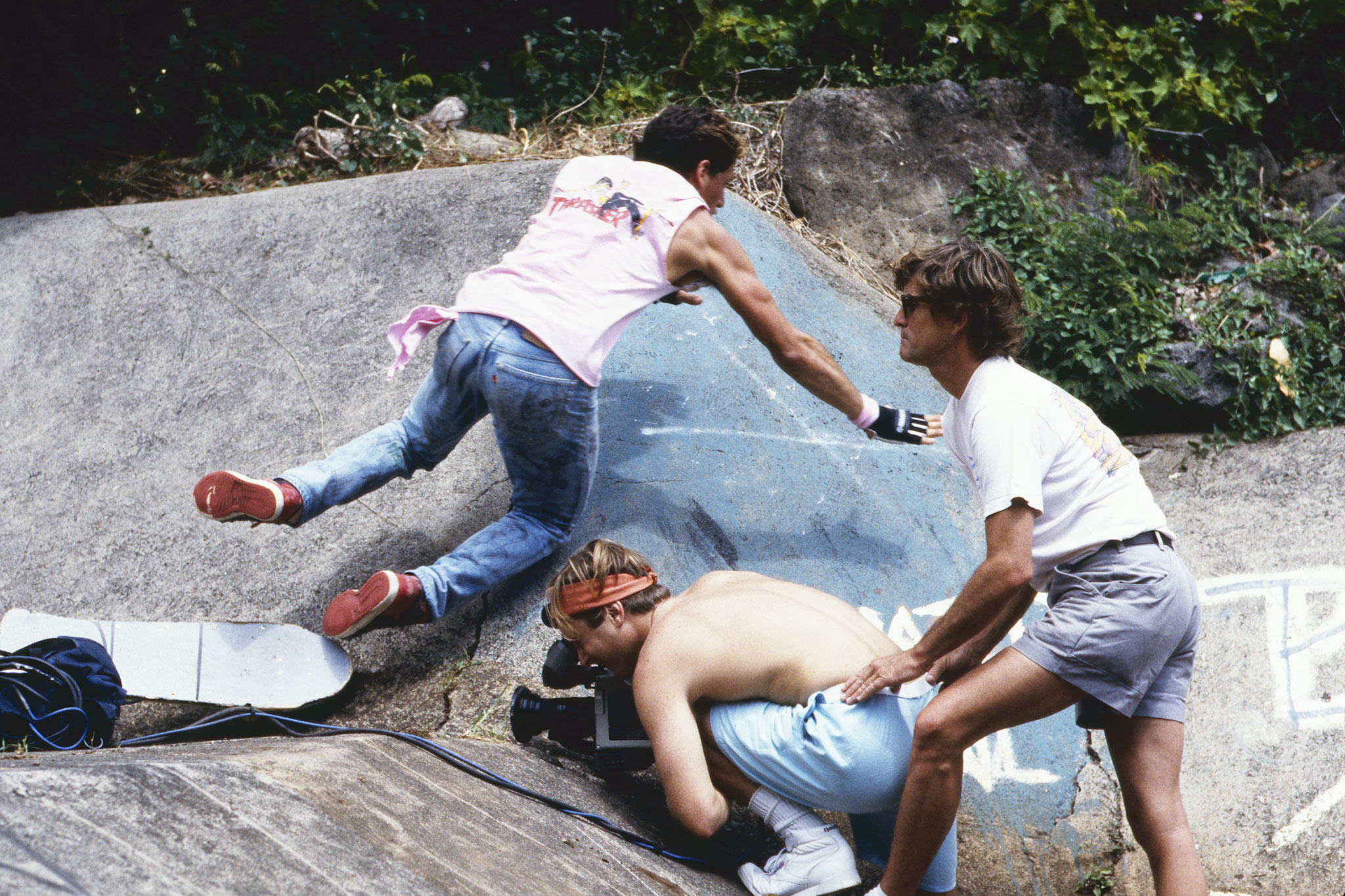 A look back at the glory days of the Bones Brigade. Gallery

"As skateboarders, as people that have always lived on the outside, have always had to sneak over fences or through the back door, have always had to create our own terrain, we've decided to put that ethic towards how we release 'Bones Brigade: An Autobiography,' Peralta wrote, in a note to supporters on Monday, urging them to join in helping the film's social media campaign go viral. "We turned down all of the conventional offers for distribution when we came out of the festival in favor of doing it ourselves." By Tuesday fans had already "unlocked" the promised trailer as well as a free BonesBrigade.com download of "The Search for Animal Chin," the most beloved title from the Bones Brigade video library.
ESPN.com took the new trailer and social media campaign as an excuse to catch up with Tommy Guerrero, an early member of the Bones Brigade, for more on the film and the response it's been getting.
ESPN.com: What's the deal with the way the "Bones Brigade" film is being released?
Tommy Guerrero: Honestly it's really Stacy's baby, and I think what it comes down to is all the guys involved really want the best for Stacy and to see him succeed in the sense that he'll finally make some money off of one of his films. There's never been any back end to any of his documentary films before, and now he has an opportunity to make the most of some new and different distribution models, cut out the middle man. Hopefully this time there might be something in it for him.
What do you think it was about the Bones Brigade that has held this group of guys together over such a long time, given that you were very different dudes from very different backgrounds and with very different skateboarding styles?
Stacy's the link that ties us all together, and we all felt extremely fortunate from the beginning to be part of the team and part of Stacy's world. I grew up seeing him in Skateboarder Magazine and he was one of my heroes, and I think it was the same for a lot of the other cats. The other thing is that our situation was a bit unique compared to other companies: the way it was run, the way it was marketed, the amount that we toured. I toured all summer long! I mean, I contractually had to do at least 36 demos a year, minimum. Now it's like, "what?" Nobody does demos anymore. But that was minimum for us. So we spent a lot of time out there getting to know each other during what were really our formative years. We're all old now and it's pretty amazing to see a lot of those guys still going, still running the show.
Why do you think it is that so many of you have found success in the skateboard industry and in other areas you've pursued, like your own music career?
There was always a sense that being part of the Bones Brigade meant you obviously had something special or unique going on, and we all knew that. We called it the Dream Team when we were kids, and if you were on that team you didn't take that position lightly. I didn't, nor did any of the other guys, obviously. We killed ourselves to be the best that we could at what we did, and we took it serious. I knew when I turned pro: "This is it. This is my job." And it was the best damn job there was.
You're the art director at Krooked Skateboards now and almost all of the other Bones Brigade guys have continued to be leaders in the skateboard industry in one way or another. What do you think it was that you all learned through your shared experience that helped make that happen?
With skating you have to be extremely tenacious. You have to be able to persevere and have a really high threshold. If you're going to try a trick 900 times before you make it, it builds something in you that you can then apply to anything you want to do in life, a sense that you could probably be pretty good at whatever it was that you wanted to do, eventually. That's what skateboarding and being part of the Bones Brigade did for me: Just do it. Do it yourself. Go for it. And I think all of us had the same thought when the Bones Brigade was coming to an end: Who the hell wants to get a job? We could not survive in the real world, we were not made for that, and that's why we started skating in the first place. We were the black sheep of everything. We didn't play sports, we weren't cool with any of the cliques, we weren't chick magnets, we weren't any of that. We were always outcasts. What else could we do?
Have you been surprised by the response to this film, from the Sundance Film Festival selection to the response to the viral media efforts to promote it?
It's been overwhelming. One of the biggest surprises, something that none of us ever would have predicted, has been the reaction from the moms in the audience, these moms having this really emotional reaction to the film because they have kids who skate, or they have kids who have behavioral issues or whatever the case may be, and for some reason this film has been a bit of a window for them into their own children's lives. They're realizing, like, "Hey, my kid might not be f---ed up after all, they might just be a creative weirdo and might need a vehicle or outlet for that." I never ever thought it would touch that audience, but it's like anything you create: You put it out there and there's this huge unknown of who it will affect, and how.
"

With skating you have to be extremely tenacious. You have to be able to persevere and have a really high threshold.

"

-- Tommy Guerrero
Why do you think the Bones Brigade videos made such a splash at the time and have had such lasting impact?
That stuff was history-making, you know? I grew up in the era of magazines, watching Stacy and Jay Adams and Tony Alva and those cats through static imagery. You had no idea: Did they make it? Did they pull it? How'd they do it? How'd they get into it? How'd they get out of it? It was very difficult to learn tricks from looking at magazines. Once the videos came around and you could see guy†s like Tony Hawk, Rodney Mullen, Steve Caballero, Lance Mountain, and Mike McGill showing off their technical prowess in those first videos, that just opened the floodgate. You could finally grasp it: "Oh! That's how they do it! I get it!"
Do you have a favorite?
My favorite is the first one, "The Bones Brigade Video Show," where Lance Mountain is just cruising around the street. To this day it's still my favorite video part ever, hands down. It's funny and it makes you want to go skate, and it's Lance. It's just the best.
I just got my free download of "The Search for Animal Chin" and can now officially retire my worn-out old VHS copy. Why do you think that video in particular has stuck in skateboarding's collective consciousness?
"Animal Chin" humanized us. It had a fun little story and you could watch it and go, "Oh, they're funny. They're a bunch of kooks. They're goofballs. They're lame." I think it brought it all down to a level where kids could see eye to eye with us without some false sense of awe or putting us on pedestals, and it inspired people to go out and just have fun.
In the trailer that went out yesterday Steve Caballero kind of tears up and gets pretty emotional at one point, looking back on everything. What's been the most emotional aspect of all of this for you?
The Q&A sessions after the screenings. It's been hard for me to accept the praise that all of these people pour on us. I've been telling people, "What you have to realize is that what I did back then, and what I know all of us did, was ultimately really selfish: we were skaters, we just wanted to skate." So it's been difficult for me to accept any of the praise for anything bigger than that. I have a hard time with that stuff. And not only that, but I don't want to rest on my laurels like, "Oh! Look what I did, look what I did!" I'd rather not. I'd rather move forward and look to tomorrow, see what I'll be doing then.