Thursday night, September 27th, LA's hip hop wonder-kids Odd Future and Aussie skateboarder Chima Ferguson joined forces and released a limited edition decks through Real Skateboards. DLXSF and Real Skateboards hosted a release party for the new Chima Ferguson x OFWGKTA (Odd Future) collaboration. Kids and adults lined up for blocks to meet Chima, Tyler the Creator and the Odd Future crew, not to mention have the first chance at buying the two boards and two t-shirts that were released in this collaboration.
Chima Ferguson and Odd Future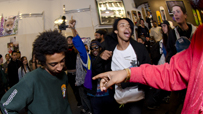 The DLXSF skateshop hosted a release party for the Off Future collab board. Gallery

Everyone was hyped throughout the night with Odd Future signed boards and shirts, Tyler and others rapped a bit and good vibes all around. Apart from the board release and the celebrating, Sagan Lockhart, who is a skateboarder and photographer, had a gallery of his photos on display. Many portraits and behind the scenes photos of the guys in Odd Future -- great stuff all around.
Everything went down with ease. There was a great turn out, including some of the who's who in SF's skate scene; Mickey Reyes, Peter Ramondetta, Dennis Busenitz, Benny Gold and Tony Vitello to name a few. Special thanks to Matt D. and the rest of the DLXSF staff for clearing out their store and making this happen.