At the first stop of the 2011 Street League season in Seattle, Nyjah Huston stuck a perfect backside 270 noseblunt to earn first place and a score of 9.9, the highest in Street League history.
Street League Seattle Gallery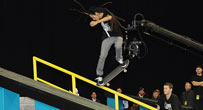 WIDTH="203" HEIGHT="114" BORDER="0" ALT="">
Take a look at all the action from the first stop of Street League 2011. Gallery


"I've been working on [that trick] for the past three months and I was just waiting for the right time to bring it out, so it worked out perfectly," Huston said.
Shane O'Neill took second place and Chaz Ortiz ended up third. Ryan Sheckler, who got fourth place, threw a fakie cab flip down the nine stair, scoring a 9.2, which, until Huston's final victory lap, was the highest in event history.
This year's Street League has a new format, which started with a last-chance qualifier on the entire course. Each skater was given five attempts and whoever landed the highest-scoring trick went on to face the top nine from Saturday's qualifiers. Billy Marks made it through on top with a huge switch bigspin heelflip down the nine stair.
Then came a two-person elimination per section. Mikey Taylor and Paul Rodriguez were the first two to be eliminated. Mike Mo Capaldi, who had never made it to finals in Street League, was unable to conjure up enough to take him on to the final round. Marks had an impressive showing in the tech section but was unable to keep the momentum going and he too was eliminated after the two heats finished.
One of last year's Street League winners, Sean Malto, who had knee surgery and was unable to skate this stop, said of the new format, "It looks good and I'm excited to skate it."