Paul Rodriguez vanquished seven rivals, including chief antagonist Nyjah Huston, at the 18,300 capacity Jobing.com arena Sunday to win his first ever Street League contest. Rodriguez will now lead a pack of seven other top-scoring street skaters to the Prudential Center in Newark, N.J., for the SLS championship. There, all eight pros will have a shot at a $200,000 prize purse, a Chevrolet Sonic mini-car, as well as a diamond-encrusted watch.
Though Rodriguez stumbled during both his runs, he recovered in the "Best Trick" section, with a switch kickflip backside lipslide on the handrail as well as a frontside feeble grind varial heelflip out, both of which earned him two coveted 9s. His "Big Section" performance was masterful. His slightly sketchy switch frontside bluntslide and a switch crooked grind on the out ledge were enough to inch him past Shane O'Neill as well as Ryan Sheckler and Sean Malto.
SLS stop three finals: Glendale, Ariz.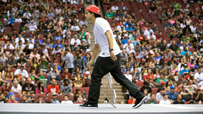 WIDTH="203" HEIGHT="114" BORDER="0" ALT="">
Street League stop three finals from Glendale, Ariz. Check the photos. Gallery

Chris Cole launched a blistering counter attack. The Pennsylvanian's backside 270 to noseslide, a rare specimen, was one of many tricks that he landed with characteristically cold fury. The black football-style Omit jersey that clung to Cole's linebacker physique spoke volumes about his approach.
A preppily attired Shane O'Neill also gave one of the evening's most compelling demonstrations. His lecture in tech-savvy stokage included a never-been-done-in-a-contest crooked grind nollie flip to boardslide. The trick earned a 9.5 as well as the "Best Trick" award. Having slashed and burned his way out of the wilderness of semifinals, there were moments when it seemed the Australian would nollie flip off into the sunset with a second Street League victory.
And then, of course, Nyjah Huston.
Though Huston quickly climbs to altitudes where the possible and impossible mix and mingle, he rarely missteps.
But a sprained knee impeded Huston during the league's third stop and he started to do what he normally does not do: fall. He fell on the Jobing.com concrete floor. He fell in ranking. His spirits fell.
Watching Huston lose is truly painful. At one point, after missing a trick, he stiffened both his hands and jerkily gestured to his temples in a manner that suggested a psychic distress that only chess prodigies or spelling bee champions can truly understand. Uneasy lies the head that wears a crown … and a Monster energy hat.
Failure is apparently not an option for Huston. Someone should tell the high-school age pro that when people say, "Failure is not an option," he shouldn't take it quite so literally. It's just something people say to stay motivated. And Huston is, perhaps, the only skater who would do yet another immodestly scaled kickflip backside tailslide on an "off day."
Clearly, Huston's nagging knee injury upset Street League's balance of power and injected new energy into the race to Newark.
During semifinals Bastien Salabanzi, after a hair's breadth entry into Sunday's contest, fell victim to a botched kickflip to backside tailslide attempt. Salabanizi joined the other 16 skaters who failed to make the final cut.
The weekend, and its many sudden reversals, brought to mind a line John Updike once wrote.
"There is no hiding from baseball, the fact that some are chosen and some are not. … Baseball was invented in America, where beneath the good cheer and sly jazz the chance of failure is everybody's right," he wrote of the All-American pastime. Perhaps, as skateboarding begins to ape aspects of more mainstream sports, the same can now be said of it.
Some are chosen. Others are not.
RODRIGUEZ SAVORS SWEET SMELL OF SUCCESS
But it was Paul Rodriguez who was best able to survive the Arizona desert's harsh competitive conditions and make the most of the new power vacuum.
As Rodriguez stood beside Rob Dyrdek -- and the Monster Energy Dime Squad and their fluorescent-green-rimmed miniskirts -- to accept the league trophy and giant Bill My Parents novelty check, he seemed to embody what it means to be a winner in America.
"I kept telling myself just two more minutes, baby," he said with a backward Nike/Mountain Dew hat and a summer-blockbuster smile.
It's a fitting, symbolically resonant, victory for Paul Rodriguez Jr. Rodriguez is among just a small handful of professional skateboarders -- a short list that includes Dyrdek -- who have served as global ambassadors for skateboarding while adroitly maintaining an almost pristine relationship with "the base" or "core" demographic. Though Rodriguez is now surely fluent in the language of "market-share analysis," "loyalty segments" and "portfolio planning" he has not become so rarefied as to alienate the average street skater, Thrasher photographer, TransWorld editor or nostalgic writer. He exists in, and synthesizes, two worlds. Mr. Rodriguez himself pioneered this new territory. In some ways Street League is a house he helped build.
The SLS series would seem, therefore, to be a perfect venue for such a transitional figure. Much like Rodriguez, Dyrdek has self-consciously set about creating a media property that would simultaneously appeal to both "core" and "mainstream" audiences, without offending the sensibilities of either constituency.
And yet, Rodriguez had never quite been able to meet Street League's demands. Though he is, at 27, a veteran contest skater, he has never quite mastered its digitized rhythms. "Contest jitters," "self-doubt," "stress," "anxiety," whatever you want to call it, his head hasn't seemed in the right place and he knew it.
But that all seemed to melt away with that boy-of-summer smile.