Preview
Practice
Finals
Commentary
Nyjah Huston won Street League's 2012 championship on Sunday, at the Prudential Center in Newark, N.J. -- and did so in a persuasive, if not quite flawless, fashion. For his labor he received a $200,000 cash prize; a lavish diamond-encrusted, gold-plated, Swiss-made Nixon-brand commemorative watch and matching ring set (valued at $100,000); and a glinting metallic orange Chevy Sonic automobile.
"The tragedy of life is not that man loses but that he almost wins," said early-20th century American journalist Heywood Campbell Broun.
Broun could have been talking about the League. He could have been talking about Nyjah Huston. It is a quote that the 17-year-old had come to understand all too well.
Huston had been denied a season sweep in 2011, when Sean Malto reigned at last year's Championship here in Newark. Huston, it was widely reported, had felt the defeat keenly, all the more so knowing how close it had been in reach.
2012 Street League Championships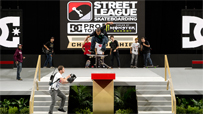 WIDTH="203" HEIGHT="114" BORDER="0" ALT="">
Nyjah Huston emerges victorious at the 2012 SLS Championships. Check the photos. Gallery

Huston had almost won last year. He had had the championship in his hands in 2011, but somehow loosened his grip.
He would not make the same mistake twice.
Tonight he hoisted the silver SLS trophy.
During the coronation ceremony this Sunday, Rob Dyrdek, SLS's charismatic impresario, pressed a microphone to Huston's palpably relieved face.
"Tell the people what it feels like to be the champ," instructed Dyrdek.
"It feels awesome," Huston said.
Dyrdek then presented him with "a beautiful gold watch filled with diamonds."
They were no match for the sparkle in the teenager's eyes.
Over the League's past three years -- in the course of a total of 12 vigorous contests -- its skaters have seen how redoubtable the SLS competition can be. Strategy, mental fortitude and unparalleled skating ability are all essential ingredients to any League win.
Huston displayed all of those qualities this Sunday evening at the ESPN2 broadcast event -- skateboarding's upstart self-styled World Series/Super Bowl/World Cup rolled into one.
The seven other SLS finalists -- who, like the new champion, had been whittled away from a League pool of 24 skaters -- were able swimmers.
Chris Cole landed a variety of bluntslides on the big out ledge. His frontside 270 to switch backside lipslide on the A-frame rail was a pleasure to behold. Ryan Sheckler was able to save himself from elimination late in the game with a massive backside 180 kickflip over a kicker and centerpiece A-frame rail, though this insured Malto's departure. In the big section he landed a huge cab flip. The crowd gave a rousing ovation for Bastien Salabanzi's double kickflip frontside boardslide.
But in the end there is Nyjah, the mini-Muhammad Ali.
Paul Rodriguez Painfully Close
And yet, Huston's performance was not at all times assured.
Huston faltered most noticeably in the "best trick" section, where normally he is often in peak form. A hardflip to five-O on the hubba ledge caused him to stumble. He looked miserable as only he can.
Not so Paul Rodriguez -- he of the 1000-watt-smile and Nike, AT&T and Target endorsements.
Paul Rodriguez came closest to unseating Huston at the $375 million arena, 18,500 capacity professional sports arena about 12 miles from downtown Manhattan, home to the New Jersey Devil's NHL team and host to the 2011 NBA draft.
In an at times tense debate, Rodriguez made many a counter argument -- answering Nyjah Huston's kickflip backside lipslide with a huge switch kickflip over the rail.
Indeed, for a time it looked like Rodriguez would be able to claim his second Street League victory, and spent much of the first two sections -- "the run" and the "best trick" sections -- hovering comfortably close to first.
Rodriguez immediately established his dominance in the best trick section with a stylish, first-try nollie crooked grind nollie late front foot flip out. (This latter a bit of a knowing nod to early '90s technicians such as Willy Santos.) Such hybrid vigor earned a 9.6 and gave him a sizable lead through the entire section. (Only the highest trick counts in the best trick section.)
When he landed that trick it was one of those moments philosophers Sean Kelly and Richard Dreyfuss speak of in their book "All Things Shining."
"But there are moments in sport-- either in the playing of them or in the witnessing of them -- during which something so overpowering happens that it wells up before you as a palpable presence and carries you along as on a powerful wave," they write. "At that moment there is no question of ironic distance from the event. That is the moment when the sacred shines."
This seemed such a moment.
Earlier, Rodriguez also made much headway in the "run section," pushing sure-footedly into a flawless second run featuring a textbook perfect switchstance bluntslide.
But it was the final "big section" -- a genre that suits Huston well -- where Huston regained lost ground that, in the end, he did not cede until victory was at hand. His backside 270 lipslide on the big handrail made up for many of his earlier mistakes.
Some day, presumably, some members of the Prudential Center audience will be able to tell their grandchildren that they saw Nyjah Huston do a big spin boardslide to fakie.
"This is a championship Sunday for the ages," said on-air commentator Sal Masekela. "History in the making."
"It's cold out here," remarked Dyrdek as Luan Oliveira, of Brazil, was the first to be eliminated. Malto, the defending champion, also faced a fairly early exit.
"Drama for days," Masekela said.
P-Rod and the Tragedy of Life
No one has won Street League by landing their last trick. But it seemed as though Paul Rodriguez might have been able to reverse the tide of history … if only he could withstand the pressure of knowing that if only he could land his last trick, a switchstance frontside 180 heelflip down a triple set in front of a stadium-full of friends, family, fans and elite professional skateboarders … he could beat Nyjah, dislodge him. Huston had stumbled on two tricks in the Big Section, in theory, leaving a wider opening for Rodriguez to claim the championship crown and Chevy Sonic. It is a lonely game.
The pressure was palpable.
He pushed.
He flew.
He fell.
Next thing you know he was graciously congratulating Huston on his victory and the season was all over, just like that.
"God bless Nyjah Huston," Paul Rodriguez said.
The tragedy of life is not that man loses, it's that he almost wins.