Good things come to those who wait, and in typical Alaska fashion the sun crept out Wednesday for the first time in two weeks. "Best day of my life" was not an uncommon phrase being thrown around base camp at Tailgate Alaska on Thompson Pass in Valdez, Alaska, and new heroes were born at the King of the Hill big mountain snowboard competition.
Tailgate Alaska 2011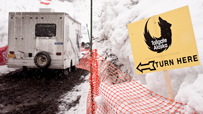 WIDTH="203" HEIGHT="114" BORDER="0" ALT="">
Check in on all the fun from the King of the Hill parking lot party. Gallery

"It's like walking around in a dream," 2011 King of the Hill winner Will Brommelsiek said. "Knowing who has won this contest [in the past] and having this happen with all my friends around, it's the best thing that's ever happened to me."
Riding in Alaska will make you say things like that. Take it from 20-year-old Ross Baker, who made his first appearance in Alaska this season and earned a second-place spot in the event with two of the most technical lines of the day. Or take it from the Rome SDS staffers, who had their first heli-riding experience on Wednesday with fresh snow and blue skies. Or ask the 50 skiers and snowboarders who got to ride the 50-plus degree Bro Bowl "venue" -- comprised of tight chutes, open faces and hairy rock bands -- all trying to earn the titles of King and Queen of the Hill, along with buck knives, swords and heli time.
"You end up really getting to know yourself, what you're capable of and playing with those limits," said sixth-place finisher Rob Kingwill, who, after leaving Valdez, will head to Cordova to film with Seth Wescott for a Warren Miller movie. "If all the conditions come together, you can have the runs of your life up here. It takes a lot of courage to step out and go for it, but it's those ultimate moments that you seek out and wait for."
Vera Janssen, last year's Queen of the Hill, agreed.
"To me snowboarding's about freedom, exploring new terrain and meeting new people," she said. "As soon as I heard about [KOTH], I knew it was the perfect kind of event for me. Some events just keep the spirit of snowboarding alive."
The only big mountain snowboard competition in the state, KOTH defined Alaskan riding during the mid-to-late '90s. After a 10-year hiatus, the event was resurrected in 2010, with riders such as Travis Rice, Scotty Lago, Mark Landvik and Shaun Farmer showing up to throw down in prime Alaskan conditions.
"I figured it was time to come back to AK this year, as I haven't been here for 10 years," said two-time KOTH winner and big mountain pioneer Steve Klassen, who, at 46, is still stomping hairball lines similar to those of men half his age. "I hope the event keeps building and being like it once was."
According to event organizers and snow safety staff, it's lucky KOTH even happened at all. After locals were calling this winter the worst in 30 years, Thompson Pass welcomed the April snow showers -- eight feet and counting -- that offered a much needed reset to the snowpack and coverage of exposed rocks underneath.
Low visibility and near nonstop snowfall canceled last week's World Extreme Skiing Championships and sent a field of skiers home disappointed.
"This year's been more like the AK that I first encountered 10 years ago when we literally saw sun for five hours in three weeks," Kingwill said.
But on Wednesday, the venue saw enough hours of sunlight and perfect conditions to execute two runs for the snowboarders. A truncated version of the WESC also ran for the seven skiers who didn't flee AK last week and were still on site, ready to compete.
Valdez local Dan Vandermuelen won the ski comp with the highest combined score (for skiers or snowboarders) of the day, which was also the only score that topped 500. "I'm very relieved," Vandermuelen said. "It's hard to ski to your full potential without a resort out your back door, and that was maybe my 20th time skiing this year. I put a lot of thought into my line selection." Don't mind that he's also had 300 heli days in the Chugach over the course of his life, and his lines looked like they were straight out of a ski movie.
Other standout lines belonged to KOTH winner Brommelsiek, who stomped the double-cliff drop of the day, and park warrior Jeremy Thompson, who found unique features throughout the venue. North Face Masters overall champion, Aaron Robinson, straight-lined both of his runs, once switch. Iris Lazzareschi had the most aggressive run on the ladies' side, landing a solid method off a windlip and threading the needle through a tight section near the bottom.
2011 King of the Hill -- Final Results: Women
2011 King of the Hill -- Final Results: Men
2011 WESC/World Freeriding Championships ~ Final Results