TTR 6Star Billabong Air & Style Innsbruck
onClick="window.open('http://www.espn.com/action/photos/gallery/_/id/6095898/air-style-innsbruck','Popup','width=990,height=750,scrollbars=no,noresize'); return false;">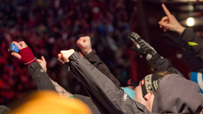 WIDTH="203" HEIGHT="114" BORDER="0" ALT="">Check out photos from the Air & Style in Innsbruck.
The second TTR 6 Star Air & Style of the season just wrapped up in Innsbruck, Austria, with Canadian Mark McMorris, hot off a second-place finish in his first Winter X, taking first place with his now-trademark cab double cork 12 nose grab in front of a ridiculously hyped up crowd of over 12,000 spectators. Last year's TTR World Tour Champion Peetu Piiroinen came in second with a back 10 double cork, and Austria's Werner Stock grabbed third with a switch back 12.
In case you're not up to speed on the Air & Style format, riders compete in head-to-head bracket-style elimination rounds. They draw names the night before the contest, so the match ups are left up to fate. And so it was that Sage Kotsenburg took out Big Air dominator Sebastian Toutant in the first round. Toutant, per usual, had his cab 12 double corks on lock, but Kotsenburg threw a cab 1440 double cork -- and while it was not nearly as clean as Toutant's, it was a cab 1440 double cork.
Again, it was a switch frontside 1440, corked, board rotating around four whole times, landing switch. There will be a quiz on this at the end of the season.
"I was at the top and just thinking how I can get past Seb," said Kotsenburg. "I just totally ran on adenaline and decided to go for it and stomped it. That was the first time I've done that trick. I never tried it before -- basically I just winged it."
Kotsenburg didn't try to double his luck when he went on to meet McMorris in the second round.
"[It was] such a heavy rider field," said McMorris, who has had many top finishes elude him by hair-width margins until this point. "To be on top of the podium is really a dream coming true. I have been second and third at a lot of events this year and to finally win something means a lot to me. It's my first 6Star event win."
Scotty Lago, who competed in all four events at Winter X with a wired-shut broken jaw that has not miraculously healed since last Sunday, hit his head on a snap back from a slid-out landing on his first run and pulled out of the rest of the contest. Iouri Podladtchikov and Elias Elhardt had to pull out before the comp due to injuries sustained at the Winter X. (IPod popped out his shoulder, and Elhardt tore some ligaments in his foot.)
In a strange twist, instead of pulling replacement riders for the two from an alternate list (McMorris was an alternate for the Air & Style Beijing, but never got to officially ride), they pulled them from the Rookie contest that went down before the main event. Normally the winner of the Rookie comp -- Torgeir Bergrem, in this case -- gets an automatic invite to next year's Air & Style. Today both Bergrem and runner-up rookie Patrick Burgener advanced. Burgener was immediately taken out by last year's Air & Style Rookie winner Seppe Smits, who was then, in turn, taken out by Piiroinen. Torgeir's been competing in some high-tier TTR events this season, and advanced to the second round before losing to Stock.
Now that we've got a few of these contests under our belt, and are all now familiar with the new faces in the crowd, and the tricks they are likely to pull (cab 12 double cork) (no, wait -- front 10 double cork) (switch back 12!), the TTR judges are starting to talk about how they are going to start adding style back into the Air & Style equation.
The warning coming out of the judge camp is this: now that everyone seems to have double corks pretty much in the bag, points will start to be deducted for those who tuck their arms around their bodies when they spin. For example, Werner Stock held his knee to keep his spin going on his switch backside 12 and opened up and let go of his grab early. Going forward, this sort of behavior will not be tolerated. Or so they claim.
Dating back to 1994, the Air & Style is one of the longest-running, most-respected Big Air contests in snowboarding. This year it has expanded into three separate events. The first took place in Beijing, China this December. The last goes down next weekend in Munich, Germany.
Results: 2011 Billabong Air & Style Innsbruck