ESPN Snowboarding, in conjunction with the X Games, Red Bull, O'Neill and sebtoots.com, is proud to announce the exclusive online release of Winter X Games 15 gold medalist Sebastien Toutant's full video part.
There is no doubt that there is a generational shift happening in snowboarding, and that this new, young guard currently stepping into the spotlight is changing our ideas about what is and should be possible, both in trick progression and the way we watch it happening in real time.
Sebastien Toutant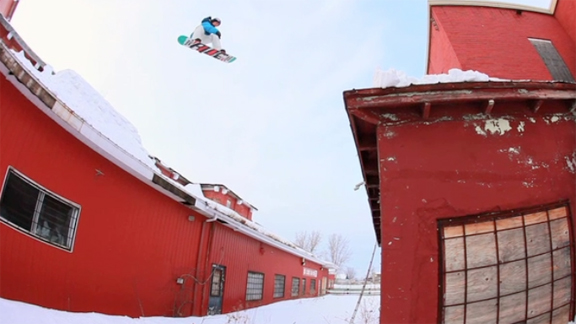 WIDTH="203" HEIGHT="114" BORDER="0" ALT="">
A look back at some of the highlights from Toutant's last year. Gallery

Winter X 15 Slopestyle gold medalist Sebastien Toutant is one of the snowboarders at the forefront of this new movement.
Coming up in Montreal, a city that has given rise to some of the best, most creative "urban" snowboarders in the world, has had its influence on Toutant -- but on an aspect of his riding that we rarely get to see.
"The background of Montreal is rails," Toutant said. "And street rails are more fun than park rails. You can use your imagination more." So this spring he and moviemaker Mathieu Cowan cruised around their French-Canadian stomping grounds filming for what was originally supposed to be a video showcase of Toutant's urban snowboarding skills, but has since turned into a much bigger video segment.
"I did so many contests this year I didn't have a lot of time to shoot. So we had to get it done in three days," said Toutant of his urban segment. "We went all around Montreal and Quebec -- to some new places, but also [places that have been filmed before]. But because we used a bungee and winch, were able to get speed to hit old spots in new ways."
Rather than put out a web video with a handful of urban clips, the 18-year-old from Montreal, who is known to his fans as Seb Toots, decided to gather all his best riding shots from the year -- park and urban -- and release a full video part. Then instead of trying to get the segment packaged into a larger snowboard movie with a traditional DVD release and accompanying promotional film tour in the fall, he decided to release it independently, and 100 percent online.
"We just wanted to try to do something different," Toutant explained. "It used to be that there were three or four big movies that everybody waited to see every year, and now there are like 10 or 15. We thought we'd see if a video part could have a bigger impact, just on its own."
Often, when an athlete makes a first appearance at an X Games event and then goes on to win it -- as Toutant did at Winter X 15 this January when he took gold in Slopestyle after posting the then-highest run score in the event's history in the prelims -- people think that athlete has "come out of nowhere." But the truth is Toutant has been on his way to the top for a while now.
Toutant won his first major contest (Ride Shakedown) and debuted in his first snowboard movie ("Montreal") when he was just 13. He learned his first double cork when he was 15, and went on to figure out more variations on the trick than almost anyone in snowboarding. This lethal double cork combo, which he unleashes in most contests with awe-inspiring precision, has already earned him countless trips to podiums worldwide.
Then, in April, Toutant became one of four snowboarders in the world to successfully land a triple cork -- a backside 1440, which he immediately tried to follow up with a frontside 1260. He hasn't gotten the 1260 yet, but when he does it's likely he'll be the only snowboarder who will be able to do multiple variations of the triple cork. And though no one, including Toutant, wants to see triples become a part of slopestyle contest runs, the fact remains that they will soon be there in his bag of tricks if he ever needs to pull one out.
All of which means it's worth taking the time to check out his video part, because if what we're seeing now is any indicator of what we're going to see in the future, one thing is abundantly clear: Seb Toots is just getting started.