Todd Franzen didn't know what was wrong last summer, only that something was.
He had taken a golf course maintenance job in his hometown of Breckenridge, Colo., where 18 years earlier he'd been the most touted junior snowboarder in America.
Franzen, 33 at the time, spent much of the summer hauling timber. He lost 20 pounds off his 6-foot-2 frame and felt stronger than he had in years.
Franzen Photo Gallery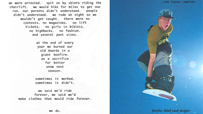 WIDTH="203" HEIGHT="114" BORDER="0" ALT="">
A look back Launch Gallery
But then he started sweating at night and running random fevers. He would get home after a grueling day at work and wouldn't be able to eat. "Things just weren't tasting as good," he said.
On Nov. 5, he felt a pain in his side that wouldn't relent. He checked into the ER the next day. Tests showed high white-blood-cell counts, a sign his body was fighting something.
A subsequent CAT scan revealed his liver was covered by lesions. Doctors took core samples and ran a biopsy. The news was dire. Five days after the pain started, they told Franzen he had Stage IV Hodgkin's lymphoma, the most advanced form.
What happened over the next 10 months radically altered Franzen's world view. Not because cancer destroyed his life -- almost the opposite, in fact. In a strange twist he still struggles to explain, cancer -- a disease that kills more than 500,000 Americans each year -- filled the same role snowboarding had nearly 20 years prior.
It gave him purpose.
Every young shredder dreams of making it big, but Franzen, the son of an excavator, didn't have to dream. He was the real deal.
When he and his younger brother, Chris, were growing up, their house was the skateboarding epicenter for central Colorado. They had four ramps in their yard, and on any given day, you were apt to see talent ranging from snowboarding legends Bryan Iguchi and Terje Haakonsen to skaters such as Andy Macdonald and Danny Way hanging out at the family's park.
Franzen initially was known as the shy, gangly grommet whose mom brought everyone sandwiches and lemonade. But his reputation quickly spread.
One of the first riders to master skateboarding tricks on snow, Franzen won the 1991 USASA junior national championship at age 15, was named to the original Bonfire Clothing pro team at 16 and had an unlimited travel budget from Morrow Snowboards when he was 17.
"He was one of the youngest kids I ever saw with that kind of raw talent," said former Olympic halfpipe star Todd Richards, who often rode with Franzen in Breckenridge. "I don't think the industry got a clear window into how good that guy really was."
Richards recalled a video shoot in the spring of 1993 when Franzen threw the first fakie-to-fakie 720 over a hand-built, 50-foot gap, one of the biggest jumps ever ridden at the time. "It was game changing," Richards said. "People remembered that for years."
Franzen spent six years in the spotlight, a monthly fixture in magazines and a film star each fall. Then, due to a collision of untimely circumstances, his pro career fizzled.
Franzen failed to qualify for the 1998 Olympics -- a shortcoming he says was not viewed well by his primary sponsors, Salomon and Bonfire, who dropped the 21-year-old from their pro team shortly thereafter.

I was relieved. I knew what was wrong with me. I knew what I had to do. But the next day was heavy. That's when it sank in. I was like, holy s---, I've got cancer.
-- Todd Franzen
Bonfire founder Brad Steward, who along with Jake Burton was in the midst of suing the U.S. Ski Association over the Olympic qualification process at the time, says the decision might have had less to do with the Olympics and more to do with the fact that ski companies and "core" snowboard companies were "still very much figuring out how to work together. The expectation placed on the team [when Salomon and Bonfire joined forces] was different and elevated from what many of the riders were used to."
In any case, having spent the previous winter designing and testing snowboards in France for Salomon, Franzen entered the following season with no significant film segments or photo coverage. Then he injured his hip during a competition at Breckenridge and had to sit out three long winter months.
"I was going to shop myself around again," Franzen said, "but after I got hurt, I was just like, what's the point? I was tired of hustling. I was burned out. It wasn't fun anymore."
Franzen found an outlet for a while making 411 snowboarding videos, but for the most part he spent the next 12 years searching for direction.
The first hours after Franzen's lymphoma diagnosis elicited a strange response. "I remember it very specifically," he said on a sunny afternoon in early August. "I was relieved. I knew what was wrong with me. I knew what I had to do. But the next day was heavy. That's when it sank in. I was like, holy s---, I've got cancer."
Franzen has endured 15 rounds of chemo. He lost his hair; scars dot his body. For weeks he has had a catheter in his neck for an autologous stem cell transplant, which took place Monday. According to Franzen, the transplant carries a success rate of 60 to 80 percent.
The catheter probably will remain in his neck until March, meaning the man who used to snowboard 250 days a year will be lucky if he gets five days this winter. But he's fine with that.
Franzen proposed to his girlfriend, Erika Moullen, the day after a milestone chemo treatment in early August. Despite hassles like not being able to shop at the grocery store or work near dust due to his weakened immune system, Franzen's positivity has never waned.
"His attitude and outlook on the whole thing have kept us going as a family unit," said Moullen, whose two children live with her and Franzen. "He's made it hard for us to feel down."
Sitting on a riverbank in double-knotted Vans, a plain black T-shirt and gray pants, Franzen does not seem bitter. But for a long time, he was.
He felt abandoned by the snowboard industry to which he'd committed his life. He still judges contests like the Aspen Open, plays golf with ex-pros like Frank Wells and throws inverts in the pipe. And his hometown still adores him, packing two fundraisers from wall to wall earlier this year -- an ode to his well-known, blue-collar parents, who fell in love in Breckenridge 40 years ago.
But it wasn't until Bonfire and a group of veteran snowboarders hosted a benefit for Franzen in Denver last winter, raising $3,000 to help with his bills, that he felt fully restored.
"As horrible as cancer is," Franzen said, "in the big scope of my life, it has been nothing but a good thing. The diagnosis brought out a sense of renewal, gave me a direction I needed. Things began to fall into place. My relationship with Erika really started to make sense. It took having cancer to put a lot of my past into perspective.
"Even within snowboarding, I've had such a warm, positive response from the industry, just feeling like people are genuinely pulling for me. It's the first time in a long time I've felt that."
A number of Franzen's friends and family members refer to him as someone who was lost and then found. They mention the ironic void his disease has filled, a theory he confirms.
"As strange as it sounds, he was on a downswing for so long, I think cancer gave him hope," said his brother, Chris, a former pro skateboarder who lives in Sao Paulo. "I haven't seen him this happy in a long time -- probably since he was snowboarding."
Franzen admits he is afraid of the unknown fate ahead, but he remains strong and defiant.
"I definitely have things that I want to accomplish and I'm going to accomplish," he said. "I'm not going to die from cancer. My plan is to die from old age."
To follow Todd's progress, you can find him on his blog: toddfranzen.blogspot.com.