Drop the hammer on a double cork in a pipe contest these days, and chances are you'll land that sucker near a dozen other guys willing and able to do the same. Toss on a suit, some freshly polished dance shoes, and teach the beauty standing next to you the foxtrot and suddenly, you're one of a very few.
More Vito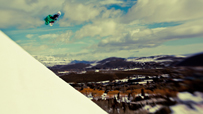 WIDTH="203" HEIGHT="114" BORDER="0" ALT="">
Think riding halfpipe and doing the Foxtrot is all Louie Vito is about? Launch Gallery

The idea for the video above was hatched amidst one of last season's deepest days at Powder Mountain in Utah. Pillows were slashed, gullies were harvested, and while dipping into neck-deep lines off the cat, photographer/cinematographer Stan Evans and Louie Vito came up with a plan that would eventually merge "Dirty Dancing" with a hectic day of slushy pipe shredding in one high-tech two-minute spot for Kicker Audio.
"Dancing With the Stars was a great opportunity to reach a whole different demographic and hopefully bring some new fans to snowboarding," said Vito of the thing that he is most known for in the mainstream. "It was Stan's idea to do the spoof."
We caught up with Vito to talk to him a little bit about the video spot, living out of a suitcase, backcountry shredding, and baring it all for ESPN The Magazine on his recent "Body Issue" shoot.
ESPN: Tell us about the ESPN "Body Issue" experience. What was going through your head when you dropped your clothes for the photographer?
Louie Vito: "The Body Issue" is something I wanted to do. They don't have to put an action sports person next to the Blake Griffins and Apolo Ohnos of the world, but they did. So just to be in it was an honor. It was a little awkward at first but the scene was pretty mellow. Only a few people were there, and it isn't like the people there want to see your junk -- it's tastefully done. They are looking more at trying to capture your physique as best as possible. I was happy with the way it turned out. I did probably 50 jumps, shooting each side, so we got a lot of good ones.
How do you think fans will react to this Kicker video you just made?
I think a lot of people will like it, especially the people who supported me in both things, dancing and snowboarding. But I know you get those message board tough guys but they don't really matter anyways.
I just want people to see it and kind of see the fun in snowboarding and my world.
Considering your "Dancing With the Stars" experience, you must have shot something similar to this before?
I have shot dancing before, but not when I'm the only one who knows how to ballroom dance. I had to teach the model to do the foxtrot. I did a show on dancing [before], but I never grew up learning how, and a lot of the time my partner on the show would lead me.
I see your dog up on Twitter all the time. How come she didn't make the cut?!
Gucci is a camera whore. I adopted her when I was living in L.A. for "Dancing With the Stars" and within months she had shots in Rolling Stone magazine. She poses so beautifully ANY time there's a camera out. She steals the spotlight.
How long did it take to shoot for the entire commercial?
We shot all the snowboarding stuff in one day, which was a long day. The weather was super warm and the pipe was getting worked super fast, which made it all the more challenging. Luckily I had sled rides but that just means more laps; and since we shot from sun up to pretty much sun down, that was a lot of laps.
How did it feel to toss doubles for hours on end?
I am a pretty tough critic on my snowboarding so I just wanted to make sure I liked what we shot. But at the same time, we had a lot to shoot and the pipe was really soft so we had to keep it moving. I love doing dubs though.
Michael Jordan used to practice shoot 100 free throws a day, even after he was averaging 84 out of 100 from the line. Are you going to spend your offseason practicing 100 one-hits in the pipe to get your height on par with the competition?
Well if you watched the contests I did last year, you can see my amplitude going up after each contest, ending with Winter X Europe. I am just going to continue doing what I am doing now because you can notice a difference.
So, what are you doing to find that extra height when you need it? Maybe jet propulsion or an extra hit of coffee in the morning?
Just focusing more on my edging and my line across the flat bottom [in the pipe], as well as just focusing on going bigger rather than 100 other things.
Who keeps you pushing so relentlessly? Anyone have a particular influence on you over the past couple of years?
My mom and dad always have taught me to push myself. My dad always told me "Be happy, but don't be satisfied. Once you are satisfied, you will stop progressing," and I really try to live that. After a contest it's cool to do well, but then it's on to the next one. You have to work hard because there are 1,000 other kids who would do anything to be in your shoes and they're nipping at your heels.
What keeps you from saying, "Man, I'm getting sick of halfpipe. I'm going to retire and go milk pow runs in the backcountry"?
There are a few things: First, I love contests. I love the pressure, the crowd, and the fact that you have to land right then and there. Pipe riding isn't slowing down either, so that always keeps things interesting. Danny Kass told me to take advantage of riding contests now, because I will have plenty of time to ride pow and film later. He is someone who has helped me a lot through the years. I respect him as a snowboarder and a mentor a lot.
From these photos it looks like you found some fine-looking cliffs to chuck out at Powder Mountain. What lit a fire under your butt to go all "Art of Flight" that day?
It's funny to me because everyone only sees me riding pipe contests, but I like to ride everything. I had a lot of rails in Clancy's "The Constant Struggle" and my first year riding in the backcountry I had a few shots in Grenade's "The Boned Age." Any time I can go ride something else and prove to myself and others that I can ride anything put in front of me, I try to do it.
Sounds like you guys had near death while you were filming down a natural halfpipe during that session?
Stan told me to make hard slashes so the Go Pro POV shots would have mad snow slashes. We came up to the cat track at the end and I wanted to make one more hard toe edge slash, and I hear Stan yell behind me. I pretty much flipped him and he flew and landed face first on the cat track with his huge camera bag on. Luckily for me, I'm shorter and I was tucked up when he tried to dive over me. I was just surprised I was alive. Stan is the size of a linebacker.
Describe what you have in store for next season in two minutes. Go.
Film a little, stick to the contest scene, do my charity rail jam in Ohio Dec. 30 -- have fun!